While not wise, Tiger's spit no huge deal
February, 14, 2011
02/14/11
12:12
PM ET
As soon as the phlegm flew from his mouth, we knew that Tiger Woods had coughed up more controversy.
And that's not to make light of the situation.
[+] Enlarge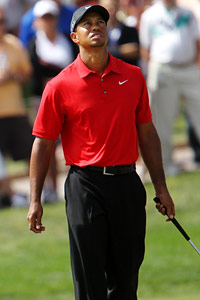 Marwan Naamani/AFP/Getty ImagesOn the 12th hole Sunday in Dubai, Tiger Woods spit on the green while crouching over his golf ball. TV commentators admonished Woods on the air.
Woods let it fly on the 12th green of the Emirates Golf Club on Sunday during the final round of the Dubai Desert Classic, although he has been known to spit in the past without quite the same reaction.
Everything he does is scrutinized, so it should come as no surprise that the incident has become big news, even eliciting a fine from the European Tour.
But Woods spitting on the golf course is common, as routine as walking down the fairway. Many think nothing of it, especially in America, where we are used to our sports stars spitting tobacco, sunflower seeds, you name it.
Later Monday, Woods apologized for the incident via Twitter.
"The Euro Tour is right -- it was inconsiderate to spit like that and I know better. Just wasn't thinking and want to say I'm sorry," he wrote.
Perhaps it is golf's pristine image that frowns on the practice, and it cannot be dismissed that many world cultures, including those in the Middle East, consider it offensive to do so.
A chronic allergy sufferer, Woods might easily be excused for having to clear his nasal passages in such a manner, although to hack it out on a putting green was probably not wise.
In the aftermath, Woods is catching heat around the world, a Sky Sports commentator calling it one of the "ugliest things you will ever see on a golf course."
Well, it could be argued that urinating, throwing clubs and berating slow players could be viewed just as dimly, although such incidents are not typically seen at professional golf events.
Woods knows that the camera is always on him, so any action is magnified, and he should know better. It didn't help that his spitting occurred at a time in his round when he was clearly frustrated, having just hit a poor drive, a lay-up, a poor approach and a poor par putt that left him crouched behind his ball, lining up his fifth shot on a par-5 on which his chances of winning evaporated.
This is a reminder of the public flogging Woods took in the aftermath of the 2006 Masters, when he caused an international incident by describing his poor putting during the final round.
"I putted atrociously today," Woods said after tying for third. "Once I got on the green I was a spaz. This is the most three-putts I've ever had here."
British media spent several days admonishing Woods for his "insensitive" remarks while it caused barely a shrug on this side of the Atlantic. Why? Because in the United Kingdom, the term "spaz" is clearly associated with the disabled. Here, that is not so much the case. It was taken for how it was intended, Woods describing himself as being clumsy or awkward on the greens.
So, back to spit-gate. Did Woods intend to offend anyone, making some statement of disgust toward the people of Dubai or anyone who finds spitting to be offensive? That would hardly seem to be the case.
If anything, he was offended by his own poor play at the moment, and showing his own form of disgust.
While the act is not to be applauded or condoned, a little perspective is also in order.
Bob Harig covers golf for ESPN.com. He can be reached at BobHarig@gmail.com.