Jack Nicklaus reminisces about '86 Masters
March, 2, 2011
03/02/11
4:04
PM ET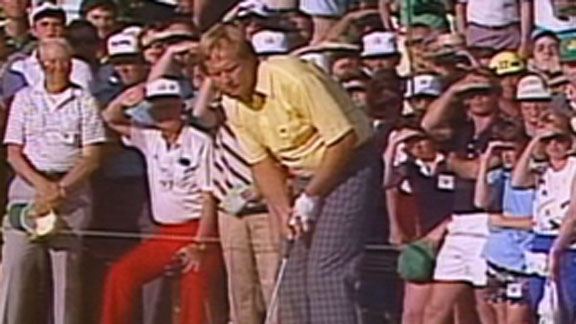 Masters Moments: 1986
PALM BEACH GARDENS, Fla. -- Jack Nicklaus always draws a crowd.
Even at age 71, as a once-a-month golfer with "95 mile-per-hour" clubhead speed that he laughed about Wednesday in front of a room full of reporters and later during a pro-am at the Honda Classic, the Golden Bear might have been the main attraction at PGA National.
Nicklaus has always done self-deprecation well, remarking many times over the years that people "always said they wanted to play like me. Well, now they can."
That is not exactly true. Nicklaus does pretty well for a part-time player, and probably hates to put his game on display like this, knowing that it will always be judged against his record, which is the best in the game.
Nicklaus plays in the pro-am here at PGA National because the tournament benefits the Nicklaus Children's Health Care Foundation. His was clearly the marquee group, as former Florida Gator and Heisman Trophy winner Tim Tebow, former Miami Dolphin Jason Taylor and musician Kenny G were also part of the foursome.
A longtime resident of North Palm Beach, Nicklaus won the Honda twice back in the days when Jackie Gleason's name was on the tournament.
Of course, his legacy was secured with his success in major championships, winning a record 18, the last of which came at the 1986 Masters. That stirring Sunday at Augusta National will come up often as the 25th anniversary approaches of one of golf's most iconic occurrences and it was the main reason for chatting for more than an hour with the media.
"I don't care where I go, I always run into somebody who says, 'I was in an airport in '86, I canceled my airplane and sat there and watched it because I couldn't leave.' Or I had to do this or I had to do that and I had to stop.
"Amazing the number of people that just told me those kind of stories. I said, you've got to be kidding."
There were several resonating qualities to that victory: at age 46, Nicklaus became the oldest Masters champion; he shot a final-round 65, including a back-nine 30; he was six years removed from his last major title; and he beat a list of future Hall of Famers such as Greg Norman, Tom Kite, Seve Ballesteros, Tom Watson, Bernhard Langer and Nick Price.
His son, Jackie, was on the bag, his wife, Barbara, was in the gallery, his mother, Helen, was at Augusta National for the first time since 1959.
"There were a lot of things that happened that year that were kind of interesting," Nicklaus said.
The Golden Bear can't recall everything about that week, but for fun, he was asked if he could remember the clubs he hit into the greens during the final round.
"Every significant club," he said. "I don't remember what I hit at [No.] 9, but I remember the putt, certainly. I don't remember what I hit on 10, but I remember the putt.
"I don't remember what I hit on 11 but I hit the putt [a third straight birdie]. I hit 7-iron at 12 [bogey] and 3-iron into 13 [two-putt birdie]. I think I played 7-iron into 14 [par]. I hit a 4-iron into 15 [eagle]. I hit 5-iron at 16 [birdie]. I pitching wedge at 17 [birdie to take the lead] and I hit 5-iron at 18 [par].
"But outside of that, I can't remember."
That, of course, meant a room full of laughter.
Bob Harig covers golf for ESPN.com. He can be reached at BobHarig@gmail.com.