Global reaction to passing of Seve
May, 7, 2011
05/07/11
2:15
PM ET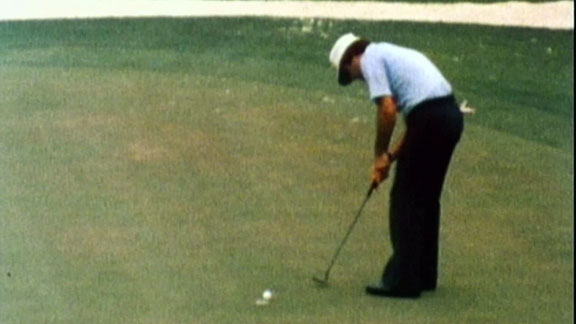 Masters Moments: 1980
NEXT VIDEO
Any time a legend of the game passes away, everyone seems to have a story about the time they saw him make a miraculous shot, or the afternoon they witnessed him do the impossible.
In an effort to share some of the great stories from around the world, here are a few links and quotes from stories that are certainly worth a read if you ever enjoyed watching Seve play. Or maybe more importantly, if you never got that chance.
In Ballesteros' native Spain, the media led the homage to their golf hero. Both Marca.com and El Pais dedicated their home pages to thoughtful tribute.
Marca.com's home page featured a photo with the message "Hasta Siempre, Seve," to mean that Spain will remember him always, as well as anecdotes and tributes, plus links to photo galleries and a forum for fans to express their appreciation of Ballesteros, who in 1980 became the first European to win the Masters.
The coverage included an interview with Jose Maria Olazabal and the headline: Olazábal: "All the tributes that could be given to Seve wouldn't be enough."
El Pais on Saturday led its home page with the headline "Goodbye to a great legend of golf," accompanied by a photo of Ballesteros winning the 1979 British Open.
Spain's secretary of state, Albert Soler, singled out the role Ballesteros played in popularizing the sport in Spain.
"Seve was our Gasol or Nadal of the '80s. He put Spain on the map internationally. He was an incredible ambassador for our sports."
El Pais.com columnists Jose Samano and Juan Morenilla said it took Spain much longer than it took the rest of the world to understand how important Ballesteros' 1979 Open Championship victory was.
"Seve gave golf a new dimension and helped Europe plant its flag in the United States," Samano wrote.
Morenilla called Ballesteros a "rebellious revolutionary."
"His pride was the spark that inspired the European players to face the U.S. team and beat them in the Ryder Cup -- like in the magical win in Valderrama in 1997 -- to convert that event into one of world stature."
El Pais columnist Carlos Arriba called Ballesteros "a shooting star so brilliant that even the trail it leaves behind is blindingly bright." Arriba said the four-time British Open winner was "adored by the British."
"Ballesteros came up from nothing during the miserable sports era of Franco's Spain," Arriba wrote. "He became one of the best Spanish athletes in history, if not the best, and one of the most undervalued. Maybe it was because golf was, and still is, a little played sport among Spain's wealthy.
"Seve must have wished many times that he had been born in Scotland, where golf courses are as common as are meadows in [his native] Cantabria. For British children and golf fans, the obligatory question is still: Ballesteros or Faldo? Just as we would ask: [Spanish cycling legends] Lorono or Bahamontes? [Spanish bullfighters] Joselito or Belmonte?
Another leading sports website in Spain, as.com, offered its readers condolences from golfers around the world, quoting Spain's prime minister, José Luis Rodríguez Zapatero.
"Seve marked a before and after in the history of Spanish sports, because by his example he opened the doors to the extraordinary moment in which we now find ourselves in our sports," Zapatero wrote in a telegram to the Ballesteros family.
El Pais also translated and headlined a column by British writer and Ballesteros biographer Alistair Tait from GolfWeek, 10 reasons Seve was sensational.
---
In other coverage from Europe, Lawrence Donegan writes how Seve's importance to the game of golf spanned the globe.
Robert Green discussed how it wasn't all about whether Ballesteros won or lost, but how he played the game that drew millions to him.
Mark Garrod explains that Seve was one of a kind.
Sam Torrance believes Ballesteros was an inspiration and also talks about how much he liked to defeat the Americans at the Ryder Cup.
Jim Gracey writes that there have been many tributes already to Seve around the world.
The Independent newspaper in Ireland lists Seve's six best shots.
Ian Ladyman writes that Ballesteros connected with fans in a way no other golfer seemed to be able to.
Have a link to another great Seve story? Email it to ESPN.com and we'll post the best ones.