Why would you ever skip the British?
July, 10, 2011
07/10/11
1:09
PM ET
SANDWICH, England -- The idea of skipping a major championship when eligible and if healthy seems sacrilegious, especially in light of how difficult the biggest tournaments can be to qualify for, as well as the big payday on offer.
While it is rare for a top player to do so today -- Tiger Woods, for example is only skipping the Open because he is injured -- it used to be quite common for Americans to forego an opportunity to play for the Claret Jug.
[+] Enlarge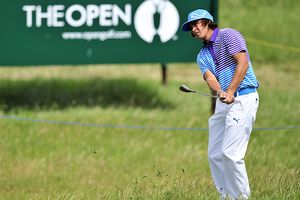 Glyn Kirk/Getty ImagesRickie Fowler is among a large contingent of American golfers playing in the British Open. Decades ago, most U.S.-based pros didn't make the trek across the Atlantic for the year's third major.
This was especially true in the era before Arnold Palmer made it popular for Americans to cross the Atlantic and play in golf's oldest tournament.
Ben Hogan, for example, played in the Open just one time, and won it at Carnoustie in 1953. Sam Snead won the 1946 Open at St. Andrews, then played it just one more time, in 1962 -- when he tied for sixth. Byron Nelson played the tournament just twice.
Even Palmer, who won the Open in 1961 and 1962, skipped it in four of nine years at a time he would have been considered in his prime.
Back then, travel was arduous, and the purse was tiny, often making the journey a money-losing proposition even if a player performed well.
"Back in the middle '70s, you literally had to finish in the top five to break even on the trip," said ESPN analyst Andy North, who twice won the U.S. Open but played the Open Championship just four times in his career; North also wanted to show loyalty to his home-state Milwaukee Open, often played the week prior.
"From a business standpoint and for me looking at it, even though it was this great event, it made more sense for me to play Milwaukee and maybe not go over, and you do a couple of corporate days and it was a much better financial and business decision.
"That's changed so much. The money has changed. Everybody can afford to go over there now. It was some bull-headedness on my part in '85 [the year he won his second U.S. Open] for not going ... I enjoyed playing much more toward the end of my career when I really did appreciate what links golf was all about."
Curtis Strange also skipped the Open on many occasions, a decision he now regrets. One of those was in 1985, when won the money title but didn't play at Royal St. George's. He did not play the tournament five times in the 1980s.
"It's the biggest mistake I've made in my career," said Strange, also an ESPN analyst. "I didn't have anybody telling me -- not that this is an excuse -- but I really didn't have anybody telling me to get my butt [here] and play because it is the oldest and grandest championship in the world. And it really is.
"With that said, when I first went over, I didn't get a good taste of links golf. I was an American playing American golf and I think it's true with a lot of players. I just learned to appreciate it as the years passed, and the next thing I knew, they were past."
Nowadays, top players turn the journey into a positive. Many will head over early, sampling other links layouts in the area. Some played in the Scottish Open, which is played on a links course and at least is in the same time zone. Even those competing in the John Deere Classic in the U.S. at least had access to a charter flight to get them here more quickly.
One thing you don't hear about being a factor these days, and that's the money. This year, the winner will receive $1.43 million, and the purse will be among the biggest on the PGA Tour.
Bob Harig covers golf for ESPN.com. He can be reached at BobHarig@gmail.com.