Who is Tiger's best option at caddie?
July, 21, 2011
07/21/11
7:54
AM ET
A new caddie for Tiger Woods. Hmmm …
[+] Enlarge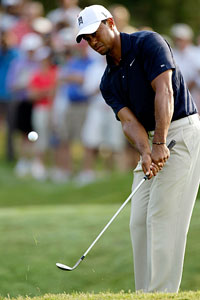 AP Photo/Chris O'MearaWho is the best fit for Tiger's bag?
Guess it's just Bones and Lefty now. They're the only ones left for a big breakup.
Every caddie knows it in his heart. The bag is just temporary, no matter what good friends you are, no matter how many cuts you made together, no matter how much money you've made together. Not even the amount of dirt you have on one another -- the name that's embroidered on the bag on my shoulder is just temporary.
It's business, nothing personal.
The good news for Stevie Williams is that he already has a job, and it's not just a good one, it's what we in the caddie business call an ATM machine as opposed to a lottery ticket.
It's cashing checks every week instead of missing cuts hoping for that one BIG week. And the way it seems, Stevie and Adam Scott could have a long successful run together. They could be done tomorrow. I got fired on a Thursday after the first round! So Stevie is set.
What does Tiger need? That's the $100 million caddie question today.
Here's how I break I down the different types:
•The Yes-Man Caddie: Never questions what his player does, what club he hits or what line he chooses with a putt. Gets yelled at a bunch, and usually doesn't last more than a month on a guy's bag -- unless it's a relative. The good news is the clubs are always clean and there are a ton of caddies to choose from.
No good for Tiger.
•The Numbers Caddie: Knows every yardage from every blade of grass on the golf course. Knows the weather forecast for every 15-minute increment from an hour before tee time to two hours after (just in case of a delay!). Knows every break on every green, and even some greens on the course across the street. Weakness is helping in club selection and conversation on the golf course. Most numbers guys -- think fantasy baseball on a computer in Grandma's basement and little human contact other than the pizza delivery guy -- are not the most "fun" guys to hang out with. And that's what 80 percent of the job is, the time between shots.
No good for Tiger.
•The Party Caddie: You don't really think he'd go this route, do you?
•The Fun Caddie: This caddie is great to be on the course with. Ninety percent of the time he's keeping things light and fun. Always willing to talk about any subject at a moment's notice, and usually has some information on it that surprises you. Downside of the fun caddie is that when you're not playing well, he ain't the guy to help pull you out. He'll be the guy talking to women in the gallery and making plans for the weekend -- because you won't be playing.
No good for Tiger.
So what's Tiger to do?
Hunter Mahan's caddie, John Wood, told me the best comment I've heard yet.
"You have to ask yourself the question: Why do you wanna caddie? If the answer is for the money, then no, you aren't the guy. But if it's because you want the chance to be a part of history and the chase for major championship titles, then yeah, you take a shot."
Paul Tesori, who carries the bag for Webb Simpson, had an interesting take.
"Tiger has such a high golf IQ that he's not that difficult to work for on the golf course. There isn't much you're gonna have to do. He's so smart on the course I truly believe he could've won at least 13 of his majors with you on the bag. That's not to take anything away from Stevie, who is one of the best caddies in the world. Believe me, I know."
He would; he caddied for Vijay Singh when he was the world No. 1. He said the same thing about Vijay's golf IQ.
"All of their work is done before they get to the tournament. Once they're on the course, less is more as far as information goes."
Chad Reynolds, who caddies for Nick Watney, has the best idea, because I agree with it and this is my column: "It's gonna be a buddy."
Aaaahhhh!
•The Buddy Caddie: The guy you've known since college, high school or before. The guy who knows everything about you. Most importantly for Tiger, the guy who will respect your privacy, especially with the media crush that's initially gonna come with carrying the bag those first few weeks. (How long was it before the media heard boo from Stevie?)
Joe LaCava? Nope. He's with Dustin Johnson. John Wood? Nope, he's with Hunter Mahan. Chad Reynolds? Nope. He's with Nick Watney. Paul Tesori? Nope, He's with Webb Simpson.
Yes I know, those are all American caddies, but all the European caddies I called were still in pubs celebrating their world rankings. Caddie rankings, you ask? That's for another column.
I asked a few guys, who asked not to be named in this column, if there was a dollar figure that would get them to leave their current players. Only one said yes. The wife of a caddie whose husband said no said, "$1 million!" He still said no.
Tiger, I am available, but I don't think you can afford me. Just kidding, some $50s in envelopes and … never mind.
Of course, your boy Jerry Chang would be a good fit, too. And that may be the best thing.