Tiger Woods-Steve Stricker not a done deal
November, 15, 2011
11/15/11
7:14
AM ET
MELBOURNE, Australia -- They have played together in each of the past two Cup competitions, so it would make sense for
Tiger Woods
and
Steve Stricker
to be partners during the Presidents Cup.
[+] Enlarge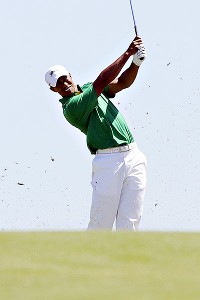 AP Photo/Andrew BrownbillTiger Woods paired with Steve Stricker both at the 2009 Presidents Cup and the 2010 Ryder Cup. But a third straight team competition pairing isn't guaranteed, or so it seems.
But it's not a given, at least not for all four matches.
Dustin Johnson could be part of the Tiger mix when U.S. captain Fred Couples announces his first-day pairings on Wednesday. Or maybe not. But it is clear that Woods has enjoyed playing with Stricker over the past two years; they've gone 6-1 as teammates at the 2009 Presidents Cup and 2010 Ryder Cup.
"Hopefully we'll get put out there together,'' Woods said at Royal Melbourne on Tuesday, when the entire U.S. team assembled for practice rounds. "I know that we feel very comfortable with one another, and we were talking about it today -- there's a certain comfort level about each other's games, and we know each other's games for the years that we have been on these Cups. And knowing how to read each other's putts. I think that helps, too.''
Stricker has not played since the Tour Championship in September; he has been dealing with a disc issue in his neck, for which he received a cortisone shot. There had been some concern that he would not be able to play, but Stricker said he feels fine and that his game is coming around.
"I never got too far away from it at home,'' he said. "... We had good weather all fall. It seemed like I played two or three times a week, just playing and going out with friends or something. Then I worked pretty hard the last 10 days at home, hitting a lot of balls. Then went out to Phoenix for a three-, four-day period just to play before coming over here.''
Woods could also be paired with the long-hitting Johnson, who acknowledged the possibility, but hedged.
"I don't know if we are supposed to be saying who we are playing with,'' he said.
Much of the pairings speculation has centered on whether Woods will face Australia's Adam Scott in any of the matches. Scott, of course, employs Woods' former caddie, Steve Williams, who has been the subject of considerable talk in recent weeks.
International team captain Greg Norman suggested such a matchup -- whether in the team formats or singles -- is almost inevitable, although the captains go back and forth pitting their players against the others, so it could be avoided.
Scott said he had no problem playing against Woods.
"If Greg thinks it's the right match to put out there, just go out there, like I said, and try to win a point,'' Scott said. "I don't think there's too much point worrying about it. I have to play four hard matches and none of them are going to be easy.''
Woods tried to downplay the possibility from the standpoint of his comments last week at the Australian Open; Woods said he and Williams had shaken hands in response to racially sensitive comments the caddie had made at an event in China.
"It's already done,'' Woods said. "I addressed it last week and I said life goes forward, not backwards.''
Bob Harig covers golf for ESPN.com. He can be reached at BobHarig@gmail.com.