Why Tiger will, and won't, win The Masters
April, 10, 2013
04/10/13
7:12
AM ET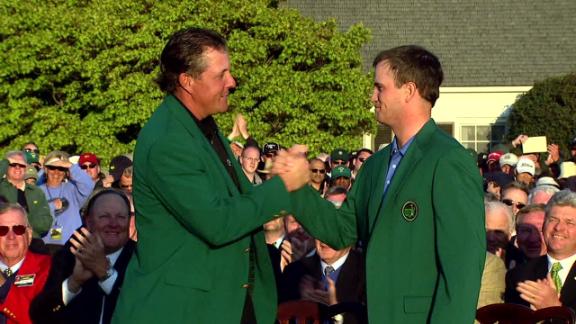 The Wearing Of The Green Jacket
The mirrored statistical pace Tiger Woods and Jack Nicklaus have at this point in their major championship careers is downright eerie.
Nicklaus turned 37 in January of 1977. Entering that following April's Masters, he had won 14 majors in 60 starts as a pro. Woods turned 37 last December. Entering this year's Masters -- he's won 14 majors in 60 starts as a pro.
With three victories already this season, and a game that appears to be in top form, there seems to be no better time than now for Woods to claim his fifth Masters title.
Still, with the memory of 2012's disastrous major championship weekends fresh in everyone's mind, many are reluctant to predict Tiger winning major No. 15 this week at Augusta National. We at Numbers Game tell you why Woods will -- and will not -- win the 2013 Masters Tournament.
Why he will win
1) Tiger is putting better than he ever has.
The numbers say that Woods is putting at a more efficient clip than he ever has in his PGA Tour career.
Woods currently leads the PGA Tour in strokes gained-putting, an all-encompassing metric that measures the value of a player's putting performance relative to the field. Woods is currently gaining 1.48 strokes per round on the field. This is the 10th year the statistic has been tracked on the PGA Tour. His previous best entering Augusta? +0.84.
Tiger's last two starts -- at Bay Hill and Doral -- are among the three best strokes gained-putting performances of his career. Woods' win at Bay Hill saw him gain 11.2 shots on the field putting -- almost 2 shots more than in any other event in his career since the inception of the statistic.
How much better is Tiger putting this year? In addition to leading in strokes gained, Woods is inside the top five on tour in putting inside 10 feet, between 10 and 15 feet, between 4 and 8 feet and 3-putt avoidance. Tiger was outside the top 30 in each of those statistics in 2012.
2) Tiger is eliminating the left side of the golf course.
It's no secret that when Tiger misses off the tee, he prefers to miss right. The numbers tell us that Tiger is working -- successfully -- to eliminate the left side of the golf course.
Off the tee in 2012, Woods hit the left rough a staggering 17.3 percent of the time, ranking 170th on the PGA Tour. Despite his victory at Bay Hill preceding Augusta a year ago, Tiger was tied for 83rd in the statistic entering the 2012 Masters.
This year, it's a completely different story. Woods is tied for ninth on the PGA Tour in left rough tendency, hitting it there off the tee less than 10 percent of the time. The last time Tiger ranked in the top 30 in this statistic? That would be 2008, when he won the U.S. Open.
3) Tiger is dominating the par 5s like he did in his prime.
From 1997 to 2009, Tiger Woods ranked inside the top five in par-5 scoring average on the PGA Tour every year. He led the circuit in the statistic every year but two during that span.
But in 2010 and 2011, Woods would have ranked outside the top 20 in the statistic if he had played enough rounds to qualify. And last year, Tiger was just 1-under on the par 5s at Augusta National -- his worst score on those holes as a professional. It's no coincidence last year was also his worst Masters finish as a pro (T-40).
Woods is coming off a performance at Bay Hill where he played the par 5s in 14-under, 2 strokes better than anyone else in the field. In his three wins this year, Tiger is a combined 35-under on par 5s. He's 11-under on par-3s and par-4s.
Woods' par-5 performance has been more important than the average PGA Tour winner this year. In his three wins, par 5s account for 76 percent of Tiger's strokes under par. For the last eight stroke-play winners not named Woods on tour, that percentage is 55.9.
Each of the last four Masters winners were 9-under or better on the par 5s. Tiger has equaled or surpassed that at Augusta seven times in his career, never finishing worse than T-6 when that happens (winning twice).
---
Why he won't win
1) The weekend magic in the majors is gone.
Despite winning three times, Tiger Woods' 2012 season was defined by his weekend stumbles in major championships. Woods was 8-under in Rounds 1 and 2 of majors last year, but was 15-over in Rounds 3 and 4. Not once in 2012 did Woods record a round under par on the weekend in a major championship.
The trend didn't start in 2012, though.
From the 2004 U.S. Open through the 2009 U.S. Open, Tiger Woods made 18 cuts in majors (19 starts). On each of those 18 weekends, his final position was either better than his 36-hole position, or he maintained the lead and went on to victory.
In the 12 major starts he's made since, Woods has made 10 cuts. In those 10 tournaments, Woods went the other direction on the weekend nine times. The lone exception was the 2010 U.S. Open (T-25 Friday night, finished T-4).
2) Tiger's touch shots aren't back to his gold standard.
A common saying regarding elite players and swing changes is that "the wedges are the last to come around." In Woods' case, the statistics say they're not completely back, despite his recent success.
Entering the 2005 Masters, Tiger Woods was inside the top 20 on tour in several approach shot proximity categories, including between 50-75 yards. Woods is tied for 89th in the statistic in 2013.
On all approach shots between 50-125 yards, Woods was T-7 on tour. This year, Woods is 43rd.
3) Bay Hill wasn't a harbinger for victory in 2012.
In 2012, the Arnold Palmer Invitational was Tiger's last event before the Masters. Woods led the field in par-5 scoring that week, was top-5 in the field in strokes gained-putting and marched to victory by multiple shots. The world was preparing for Woods' return to victory at Augusta.
Sound familiar?
Tiger racked up his eighth Arnold Palmer Invitational title a few weeks ago in his last start before the Masters. He led the field in par-5 scoring, was first in strokes gained-putting and seems fully prepared to win at Augusta.
For many, nothing Woods has done over the last two years will be validated until he wins another major championship.
The numbers can explain why Tiger is the overwhelming favorite to win at Augusta. They also tell you that betting against Woods would be a wise choice.
With or without a Woods win, the 2013 Masters promises to be one of the most exciting weeks of golf in years.