April, 3, 2011
04/03/11
8:35
AM ET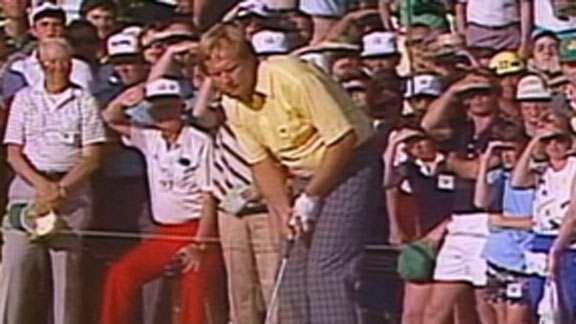 Masters Moments: 1986
The 1986 Masters moved people unlike any other golf tournament before or since. It had die-hards and casual fans alike on the edge of their seats, stopping in airports, calling friends and relatives, weeping.
At the source of their joy, amazement and wonder was a 46-year-old man contending to win a golf tournament, the Masters of all things, at storied Augusta National Golf Club, coming from behind, shooting 65 and beating a cast of future Hall of Famers.
To this day, Jack Nicklaus, now 71, remains stunned 25 years later at the reaction the 50th Masters still generates, how winning a sixth green jacket touched so many people. "I don't care where I go, I always run into somebody who says I had to do this or I had to do that or I had to this or I had to stop that," Nicklaus said. "Amazing the number of people who told me those kind of stories."
Perhaps even more remarkable are the memories of those who were there, including some of the players Nicklaus defeated that day. They, too, were striving for a piece of history and yet, in retrospect, remain honored to be part of it in a different way.
"It was one of the highlights of my golfing experience, my golfing life," said Nick Price, who a day earlier set the course record of 63 and was in the final pairing with Greg Norman and eventually finished fifth. "Because there was so much going on that day."
April 13, 1986 -- one of the most memorable days in golf history.
Nicklaus had shot rounds of 74-71-69 and was tied for ninth at 2 under par, four strokes behind leader Norman. The 17-time major winner was in the fifth-to-last pairing along with 1985 British Open champion Sandy Lyle. Price, defending champion Bernhard Langer, Seve Ballesteros, Tom Kite and Tom Watson were all ahead of him on the leaderboard.
Although four strokes is not much to overcome, especially at Augusta National, it is interesting to note that CBS never showed or mentioned Nicklaus until 39 minutes into its final-round telecast. It didn't have Nicklaus' birdie putt at the 9th hole live. It didn't have what had occurred moments before -- hole out eagles on the par-5 8th by both Kite and Ballesteros -- broadcasted at all.
Kite: "[Nicklaus] was not even a factor in the golf tournament throughout a large part of that round. Then starting on No. 9, he lit it up. It changed the whole thing. But quite honestly, it was between Seve and Greg Norman and myself. That was basically who you thought was going to win the golf tournament. Probably not one person thought anything differently."
Nicklaus hit driver, 4-iron to set up a 25-foot birdie putt at the 10th (also not shown live), which he made, to go 4 under par and trail Ballesteros by four. Then CBS took notice. He hit driver, 8-iron to 20 feet at the 11th and made that, too. With three birdies in a row and a Ballesteros bogey at No. 9, Nicklaus had pulled within 2 strokes. Gary Koch, now an NBC analyst, played with Bob Tway in the group in front of Nicklaus.
Koch: "You knew something was going on obviously by the noise being made in the gallery. We started to look back before we played our shots; it had gotten that loud. If you were in the middle of a stroke and he hit something, it would have been disturbing."
But Nicklaus bogeyed the par-3 12th, pulling a 7-iron to the back left fringe, chipping to 6 feet then missing his par putt as the ball nicked a spike mark. Nicklaus angrily tapped it down, and many figured he was done, that the unlikely comeback story was over.
Nicklaus said the bogey angered him into playing more aggressively, and he nearly paid the price with a pulled drive at the par-5 13th. He hit a 3-iron to the green and two-putted for a birdie getting him back to 5 under par, two strokes behind Ballesteros, one behind Kite and tied with Jay Haas, Payne Stewart and Norman, who had double-bogeyed the 10th. Nonetheless, CBS's Ken Venturi seemed to think even birdie with just five holes left to play would be too little, too late, calling it a "valiant try today," as Nicklaus walked to the 13th green.
Lyle: "I had never played with him before in any kind of tournament. You are witnessing an incredible moment in history. The crowd was unlike anything I've experienced. When you're in that kind of sunken bowl, tall trees and lots of people, and at the top of their voice … it can almost blow you over with the vibrations coming in. You've got to be in that situation to feel it."
The 14th was rather routine -- if there can be such a thing. Nicklaus hit a 6-iron to the back fringe and chipped up close for his par. Behind him, Ballesteros made his second eagle of the day, hitting a 6-iron to the 13th. Kite was just two back after a birdie. As he teed off at the par-5 15th, Nicklaus was 4 strokes behind, tied with Norman.
CBS's Jim Nantz, who was working his first Masters telecast: "The moment was so gigantic. I've tried to explain this to people through the years. And part of this of course is a young impressionable 26-year-old announcer working the Masters for the very first time … mortified by the idea of making a mistake and being late in the game in the 16th tower. We had announcers from 10 on in. 'How are you going to tell the story? What are you going to say that hasn't already been said? What's going to happen here?'"
Nicklaus hit a good drive at 15 and was left with 204 yards. "How far do you think a 3 [eagle] would go here?" he asked his son and caddie, Jackie, before settling on a 4-iron that he knocked to 12 feet.
As he looked over the putt, CBS went to Tom Weiskopf, who was in the Butler Cabin, for his thoughts. The former British Open champion would prove to be brilliant. "Never needed an eagle more," Weiskopf said. "He's just too far behind. He really needs to make 3 here. That's a must for Jack Nicklaus, I feel."
Nicklaus rolled in the putt, Jackie leapt in the air and all hell was breaking loose.
CBS' Ben Wright with the call: "Yes sir! The battle is joined. My goodness. There is life in the old Bear yet."
Lyle: "The eagle at 15 really kind of set things in motion as far as having an outside chance. He knew from experience, been there done that, if you get in the clubhouse with the lead, and to sit there and people might come back to you. … The crowd, the noise was coming from all angles. From above, the side, behind. It echoes around that area for ages. It was a sense that Jack had a chance. And I think it might have put Seve off as well.
Price: "Greg and I were in the last group, we got back on 13 tee and there you normally look down 13 fairway and there's a swath of people. And there were like 30 people watching us. It was like a Monday practice round. In fact, there's more people on Monday. … I think the turning point was when he eagled 15. It was, 'Oh, here comes Jack, and he means business.' You just had roar after roar after roar."
Curtis Strange, who tied for 21st: "As a player, if you're not winning, you finish the round, I don't care where it is on Sunday, and you escape as quickly as possible. Well, that afternoon I, along with all of my colleagues, sat in that locker room in the player dining there with a lot of press and were riveted to the TV. We didn't leave. It was truly amazing.''
Nicklaus was 2 strokes back headed to the par-3 16th, and Nantz, despite being a rookie announcer, set the stage perfectly. He noted how Nicklaus had made a big birdie putt at the hole on his way to winning his first green jacket in 1963 and that he had holed a long putt at the 1975 Masters on his way to a fifth.
"If anyone has owned this hole, it would be Jack Nicklaus," Nantz said.
When Nicklaus backed off for a moment, it allowed Nantz to ask Weiskopf a question about what must be going through Nicklaus' mind. "If I knew the answer to that question, I'd have won this tournament!" Weiskopf said to nervous laughter. "No, he's just going to fire at the pin … you're destiny is right here." And that is exactly what happened, as Nicklaus struck a 5-iron that soared through the air. "Be the right club," Jackie implored. "It is," Jack said, not even following the flight of the ball.
Nantz: "The moment was so large. There was so much energy. The place was abuzz. We use that term 'electric,' but it really, really was. The air was thick with electricity. … It came spinning off the hill and for a moment there, I thought it was going in."
Ben Crenshaw, who won the Masters two years prior and would again in 1995, finished his round early but stuck around: "That was the day that raised the hair on your neck when you watched it. It was amazing … when he hit that tee shot on 16, right up next to the hole, that might have been the loudest roar ever at Augusta."
The ball came to rest 3-feet below the hole. Lyle still had to hit his tee shot and knocked it on the green about 15 feet below the pin. They made the trek to the green, and CBS kept the camera on Nicklaus for the entire walk as he waved to the crowd. Nantz said nothing, and all you could hear was wild cheering.
Incredibly amid all of that, Lyle rolled in his birdie putt. Then Nicklaus did, too. He had moved to 8 under for the tournament and was just one back. "The Bear has come out of hibernation," Nantz said as Nicklaus walked off the green.
Kite smiled in disbelief standing in the 15th fairway as the noise reverberated around him. He and Ballesteros were preparing to play their second shots to the green. Kite knocked his to 20 feet, but Ballesteros, from 198 yards with a 4 iron, was between clubs. A combination cheer/groan soon followed. "I knew exactly what had happened," Nicklaus said. The ball was in the water.
With Kite making a birdie, there was a three-way tie for the lead. Nicklaus played his drive -- which he pulled well to the left, into the seventh fairway -- then a tricky pitching wedge second shot to the par-4 17th green, leaving himself an 18-footer for birdie.
Lyle: "That was a very, very nasty putt. You could putt 30 balls from that spot and you'd be lucky to make two of them. I was trying to read it, too, and it was incredible. It seemed to go both ways. Even he had a spot of bother trying to read it, but you wouldn't think it. It looked very easy on TV, but from a player's point of view that was as good of a putt as you'll see."
CBS' Verne Lundquist's call: "This is for sole possession of the lead." After more than 10 seconds elapsed, Nicklaus made contact with the ball, using an oversize putter called the Response. As it rolled, Lundquist again: "Maybe. … Yes sir!"
Price: "We were walking past 17 green on 15 fairway when Jack made that putt. The green is up a little bit so we can sort of see Jack's head and we saw the putter go up and we knew it was going in, and the loudest roar I have ever heard on a golf course right there and then.
"And of course, on the back of the patron's badges, [it says] do not run. Well, people were running everywhere. You saw all of the guys just running, trying to find a spot because they knew it was something magical that was happening."
For the first time in 11 years at Augusta National, Nicklaus had the lead to himself at the Masters. His mother, Helen, was in the gallery, her first visit to Augusta National since Nicklaus' first year there, 1959. His sister, Marilyn, too. "Why would they pick 1986?" Nicklaus wondered recently.
Nicklaus hit a 3-wood off the 18th tee to avoid trouble, leaving him a long second shot in. From there, he hit a 5-iron that stayed on the bottom portion of the green. From 40 feet, he knocked the first putt to within inches of the hole, tapped in and walked with his arm around Jackie to deafening noise.
Lyle: "He very carefully manipulated his way around that golf course. Even on the last hole, it was a very solid hit; he was very focused. He was only about 2 yards off his landing area with a 5-iron and [that] putt there only needed another few inches of roll."
Jackie: "It seemed like a longer putt than it was, and I remember telling him to keep his head still. He said, 'I think I can handle this one.'"
Barbara Nicklaus, Jack's wife: "I have my own little route out there. The question most everybody has asked me is about 18, and I have never seen the 18th green. I know where the ball hits on that green. And they say, wasn't that sweet watching Jack and Jackie walk off the green? But I didn't see it until the next morning."
Now it was off to sign the scorecard. A final-round 65, which included a 30 on the back nine. Birdies at 9, 10, 11, 13, 16 and 17. An eagle at 15. A bogey at 12. And then he had to wait.
Ballesteros' bogey at the 15th had shaken him, but Kite was still right there, only a shot back. And Norman, seemingly out of it after a double bogey at the 10th, had stormed back, making consecutive birdies at 14, 15, 16 and 17 to tie. But Kite agonizingly missed a birdie putt at the 18th. And Norman sprayed his approach shot into the gallery, leading to a bogey on the home hole.
Kite: "No question about it, I had a great chance. I was excruciatingly close and that was a big disappointment. I performed really well coming down the stretch. I had some great opportunities. Eagle putt on 13, eagle on 15, both from makeable range that could have gone. Certainly the putts on 14 and 18 … any one of those putts would have been key to turning the thing around."
Norman: "I made a mental mistake. I had been aggressive with my irons all day but decided to back off a 4-iron a little bit. It was bad judgment on my part."
Norman attempted a chip shot that ran past the hole on 18, and he failed to make the par putt. Nicklaus, in the Butler Cabin, was the oldest winner of the Masters at 46. He had his sixth green jacket, his 18th professional major and what would turn out to be his 73rd and final PGA Tour title.
Price: "It was just incredible atmosphere. Even when I won my majors, it didn't feel anything like that, that atmosphere. … I remember seeing Sandy Lyle in the locker room afterward. I was in there and he had played with Jack. I said, 'What was it like?' It was like he was speechless. He couldn't describe it."
Lyle: "It was a great thrill. I loved to see him do it at that stage."
Nicklaus: "They are all very special to me. And you can't really rank them, but I think it's obvious that one stands out simply because most of the other ones were during the bulk or the basic part of my career, and I expected to win. … In '86, I don't even know why I was playing golf then. I didn't want to quit playing golf but I really didn't have any goals. … It was a neat win and one that I guess nobody really expected me to be in contention at that point in my career, particularly even me."
It remains one of those days sports fans remember what they were doing, how they came upon the final round, how much Nicklaus' victory meant to them. Even those he beat thought it was special, despite their own disappointment.
Nantz, who will work his 26th Masters for CBS this week, probably summed it up best.
"I think a lot of people would have to say it's the greatest moment in the history of the game," he said. "It was the greatest championship in the history of the game. His encore victory. Unexpected. His sixth green jacket.
"And at the time, 46 years old sounded like 60 of today. It was unthinkable. It was absurd to even consider that a 46-year-old could win the Masters golf tournament.
"So many things that took it to another level. Jackie being on the bag. Jack not having won a major in six years, not won a tournament in two years. Shooting what he shot on the second side.
"And then you think about the principals who were in the mix there. From Seve to Tom Kite to Greg Norman. Nick Price shot 63 on Saturday. There were a lot of factors that made that maybe the greatest tournament of all time."
For an interactive timeline of classic moments in Masters history, check out Masters.com.
Bob Harig covers golf for ESPN.com. He can be reached at BobHarig@gmail.com.
April, 2, 2011
04/02/11
6:40
AM ET
The huge lead made it more of a coronation than a competition, the result all but decided before the leaders even teed off. That Tiger Woods was in front by 9 and would go on to win by 12 made the day all the more remarkable.
The 1997 Masters will be remembered for many things, not the least of which was the record-setting fashion in which it was achieved.
But Woods also made history of another kind that at times throughout golf's past might not have seemed possible.
"No one will turn their head when a black man walks to the first tee after this," said Lee Elder, who in 1975 became the first African-American player at the Masters. "It could have more potential than Jackie Robinson breaking into baseball."
Elder arrived at Augusta on that Sunday morning to take part in the history-making day, which turned into a celebratory stroll among the masses for Woods, whose huge lead was never threatened.
He shot 69 to complete 72 holes at 270, 18 under par. Tom Kite, with 70, finished 12 shots back -- the widest margin of victory in any Masters.
Woods broke the tournament scoring record held by Jack Nicklaus and Raymond Floyd, and at 21 became the tournament's youngest winner.
All of that was important to him, but winning at a club that didn't invite an African-American member to join until 1990 and was long charged with keeping minorities out of its tournament was also on Woods' mind.
"I think that's why this victory is even more special," he said that day after winning his first major championship in his first start as a professional. "Lee Elder came here today and that meant a lot to me. He was the first. He was the one I looked up to, Charlie [Sifford], all of them. Because of them, I was able to play here. I was able to live my dream because of those guys.
"They came down and inspired me. I knew what I had to do. It really reinforced what I had to go out there and try to accomplish."
The victory was his fourth on the PGA Tour in just his 15th start since turning pro in August of 1996. And there was never much doubt about it on that Sunday. He never let anybody get closer than the nine-shot lead he carried into the final round.
For a time, he threatened the record for the largest margin of victory in a major championship set by Old Tom Morris in 1862 when he won the British Open by 13 shots. (Woods would later get that record when he won the 2000 U.S. Open by 15).
Other than a front-nine 40 to open the tournament, Woods was nearly flawless. He dominated the par-5s, playing them in 13 under par. He was 16 under par on the back nine, breaking Arnold Palmer's record of 12 under set in 1962. For the tournament, he hit 55 of 72 greens in regulation, averaged just more than 29 putts per round and had a driving distance of 323 yards.
"To shoot 18 under par on this golf course, as difficult as it played all week, is an incredible feat," Kite, the runner-up, said afterward. "I don't care what race he is. He's a golfer. He's a person. He's a great kid. He's got very high standards. His parents did a hell of a job raising him. When you see nice people do great things, it's pretty awesome."
For an interactive timeline of classic moments in Masters history, check out Masters.com.
Bob Harig covers golf for ESPN.com. He can be reached at BobHarig@gmail.com.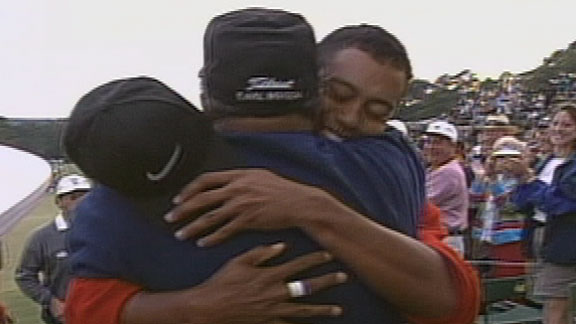 April, 1, 2011
04/01/11
6:49
AM ET
How do we know when a golf shot is truly historic, when it will forever live in the hearts and minds of the fans? When it has a name.
Gene Sarazen's is known as "the shot heard 'round the world."
Seventy-six years after Sarazen holed a 4-wood from 235 yards for double-eagle on the 15th hole in the final round of the 1935 Masters, it endures as one of the single greatest shots in the history of the game.
"I took my stance with my 4-wood and rode into the shot with every ounce of strength and timing I could muster," he later wrote in his autobiography, "Thirty Years of Championship Golf." "The split second I hit the ball I knew it would carry the pond. It tore for the flag on a very low trajectory, no more than 30 feet in the air."
Although he didn't see the ball go into the hole, he could tell by the gallery's reaction -- all 23 members, he later estimated -- that something special had just occurred.
With one swing, Sarazen -- born Eugenio Saraceni and nicknamed "The Squire" -- erased a three-stroke deficit, tying leader Craig Wood with three holes to play. Unlikely? That's what those at the course writing out the winner's check believed, too, as they had already scrawled Wood's name on the $1,500 first-place prize.
Instead, the two men remained deadlocked through 72 holes, forcing the tournament's first and only 36-hole playoff. While Sarazen failed to produce another shot worthy of worldwide remembrance, he did post scores of 71-73 to defeat Wood by five strokes, winning the second edition of the Masters in historic fashion.
For an interactive timeline of classic moments in Masters history, check out Masters.com.
Jason Sobel covers golf for ESPN.com. He can be reached at Jason.Sobel@espn.com.
March, 31, 2011
03/31/11
6:33
AM ET
There aren't many tournament results that are so monumental, so groundbreaking that they propel a new phrase into the common golf lexicon. The 2001 edition of the Masters was an exception to this rule.
With a 15-stroke victory at the U.S. Open, an eight-stroke victory at the British Open and a playoff victory over Bob May at the previous year's major championships, Tiger Woods entered 2001 with an opportunity to own the game's four most important pieces of hardware at the same time. Of course, it wouldn't quite be the Grand Slam -- which in true nature entails winning all four in a single season -- but it would certainly be a noteworthy achievement. And so was born a term to detail exactly what was taking place.
Tiger Slam.
What the phrase lacked in originality, it more than made up for in excitement potential. Never before under the current major championship structure had one player owned all four titles at the same time, but Woods was on the precipice of history.
As always, he entered the Masters as the prohibitive favorite, already having claimed victories at the Bay Hill Invitational and Players Championship. And once the tournament began, Woods didn't disappoint.
An opening-round 70 gave way to ensuing scores of 66-68 in the middle rounds, which in turn led to a final-round pairing with rival Phil Mickelson.
Leading by one entering Sunday, Woods opened with a bogey, but carded six birdies en route to another 4-under 68, enough to give him a two-shot win and help the newly named Tiger Slam come to fruition.
"It is special. It really is," Woods said afterward. "To win four of them in succession, it's just hard to believe, really, because there's so many things that go into winning a major championship. For that matter, any tournament, but more so majors, because you've got to have your game peak at the right time, and on top of that, you've got to have some luck. You've got to get some good breaks, and you've just got to have everything kind of go right. And to have it happen four straight times, that's awfully nice. Some of the golfing gods are looking down on me the right way."
For an interactive timeline of classic moments in Masters history, check out Masters.com.
Jason Sobel covers golf for ESPN.com. He can be reached at Jason.Sobel@espn.com.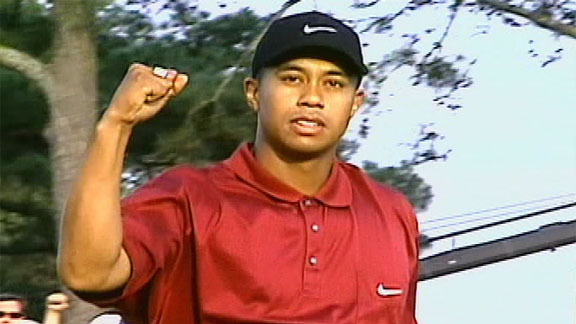 March, 30, 2011
03/30/11
5:09
AM ET
Records are meant to be broken. With each passing generation, world-class golfers have surpassed their predecessors. Bobby Jones' records fell to Ben Hogan, Hogan's records fell to Jack Nicklaus, Nicklaus' records might very well be in the process of falling to Tiger Woods.
Well, not all of 'em.
In 1953, Hogan set a record that has yet to be broken or tied, and has rarely even been challenged. That year, he won the first three legs of golf's Grand Slam, claiming titles at the Masters, U.S. Open and British Open.
And he had good reason for not winning the fourth: At the time, the actual days the PGA Championship was played overlapped with the British Open, so Hogan skipped that one, as he often did during his career.
The first of those three major championship victories was record-breaking in itself. With rounds of 70-69-66-69 at Augusta National, his overall total of 14-under 274 not only tied the widest margin of victory to that point (five strokes), but set the new standard for scoring, one which would remain for another dozen years afterward.
Lest you believe the ever-ornery Hogan wasn't impressed with his own performance, he followed the win by giving himself proper praise, saying, "It was the best I ever played for 72 holes."
For an interactive timeline of classic moments in Masters history, check out Masters.com.
Jason Sobel covers golf for ESPN.com. He can be reached at Jason.Sobel@espn.com.
March, 29, 2011
03/29/11
6:25
AM ET
Appreciation comes with time, but there might not ever be enough of that when it comes to Nick Faldo's 1996 Masters victory. The tournament will always be remembered for Greg Norman's collapse. He bled all over Augusta National.
Meanwhile, Faldo shot a 67, one of the best final rounds in major championship history, especially considering the six-shot deficit he faced that day.
So is it more about Norman's collapse or Faldo's charge?
It is difficult not to make Norman's final-round 78 the story, when anything around par would have gotten the job done, no matter what Faldo did.
But you have to give credit to the Englishman for applying the pressure.
One of the most popular players in the game seemingly had his hands all over that elusive green jacket. With an opening 63, he tied the course record. He took a six-shot lead into the final round. It disappeared in 11 holes. Faldo went on to win by five.
Everyone, of course, remembers Norman's collapse. But you have to admire Faldo's 67.
"It was an unusual day. We all know what happened," Faldo said. "It was a hell of an atmosphere going on. It was quite an arena to play in. Augusta is amazing to play in anyway. But when something like that is happening … it really was quite electric, an unusual atmosphere."
The Shark had endured so many close calls at the Masters, including his wayward approach to the 18th a decade earlier, when Jack Nicklaus won, and his playoff defeat in 1987, when Larry Mize chipped in on him. This was to be his time.
It began to unravel, unbeknownst to Norman or anyone else, when Faldo birdied No. 18 on Saturday. That put him in the final pairing with Norman. Playing head to head with one of the game's all-time steely competitors proved difficult for Norman; had Faldo not birdied at the end of the third round, Norman would have played the final 18 with 25-year-old Phil Mickelson.
Faldo made one bogey on the front nine but had three birdies to keep the heat on Norman, whose six-shot advantage was all gone by the time they reached the 12th tee. There, Norman's tee shot went in the water, and he fell behind by two.
Birdies by Faldo at the 13th and 15th holes kept Norman at bay. And when Norman hit his approach in the water at the par-3 16th, it was over, making Faldo's birdie at the 18th anticlimactic.
In an uncommon show of emotion, Faldo hugged Norman and uttered a few words in his ear. He kept what he said a secret for eight years, finally letting out that, in so many words, he told Norman not to let the media or anyone get to him.
"I felt for the guy because I would hate for that happen to me," Faldo said. "People make assumptions, six-shot lead. There are no assumptions at Augusta. My goal was to get within three after nine. And a three-shot lead on the back nine at Augusta is nothing. I genuinely felt for him. I wouldn't want that to happen to me. I've been fortunate. I haven't been scarred by this game."
No, but will he be appreciated for that victory? Will the masses remember Norman's collapse or Faldo's fine play?
"At the end of the day, you look at the scorebook," he said. "In years to come, you see 'Faldo, 12 under.' The next best is 7 under. I always say, you know where the tape is. It's at the end of 72 holes."
For an interactive timeline of classic moments in Masters history, check out Masters.com.
Bob Harig covers golf for ESPN.com. He can be reached at BobHarig@gmail.com.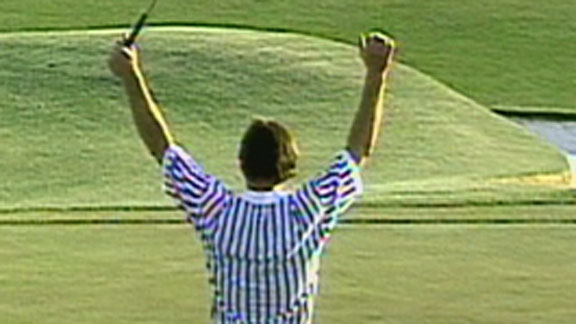 March, 28, 2011
03/28/11
8:06
AM ET
The 1960s was a decade defined by memorable quotations.
From John F. Kennedy ("Ask not what your country can do for you; ask what you can do for your country") to Martin Luther King Jr. ("I have a dream") to Neil Armstrong ("That's one small step for man, one giant leap for mankind"), their words reflected a changing culture and evolving society.
In golf, the most famous comment might not have changed the world, but it did leave a lasting impression. Five simple words from would-be 1968 Masters champion Roberto De Vicenzo endure as the ultimate agony from an honest mistake.
"What a stupid I am."
The records show that Bob Goalby was the winner of that year's competition, prevailing by one stroke over De Vicenzo. It's not that such numbers are inaccurate, but the leaderboard hardly tells the entire story.
On the penultimate hole of the tournament, De Vicenzo made a birdie 3, but playing partner Tommy Aaron inexplicably marked him down for a 4. When the round was complete, the pro from Argentina failed to notice the error and signed an incorrect scorecard. Rather than facing Goalby in a playoff, he was forced to keep par on the 17th hole instead of birdie, resulting in that one-stroke margin of victory.
Goalby received the green jacket, De Vicenzo received a lifetime of ignominy.
It might not have been the world's most important quote of the decade, but Roberto's lament remains as one of the most famous in golf's storied history.
For an interactive timeline of classic moments in Masters history, check out Masters.com.
Jason Sobel covers golf for ESPN.com. He can be reached at Jason.Sobel@espn.com.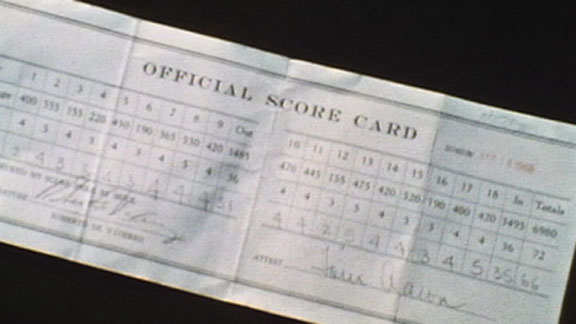 March, 27, 2011
03/27/11
8:18
AM ET
At just 28 years old, Arnold Palmer captured the first of what would be four green jackets by winning the 1958 Masters.
Palmer would go on to win at Augusta National in 1960, 1962 and 1964, as well.
Also in 1958, legendary writer Herbert Warren Wind coined the phrase "Amen Corner" describing the 11th, 12th and 13th holes that proved so critical down the stretch at the Masters.
For an interactive timeline of classic moments in Masters history, check out Masters.com.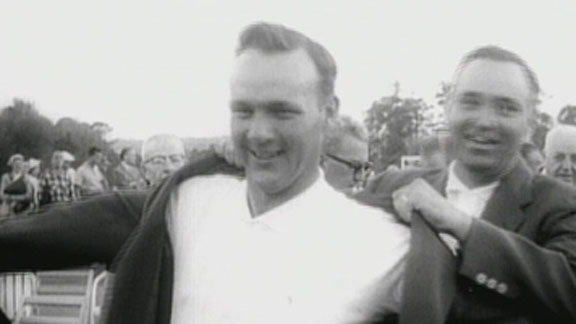 March, 26, 2011
03/26/11
8:24
AM ET
In the 10-year span from 1958-67, Arnold Palmer won four Masters titles and never once finished outside the top 10.
It is a record of achievement never equaled at Augusta National, but the King isn't without regrets from that time. Most notably in 1961, when thinking his second shot was safely on the final green and he could two-putt for victory, Palmer decided to receive a congratulatory handshake from the gallery.
Years later, in a story told and retold many times, he explained, "I guess the one moment from all of the Masters that I wish I could relive would be when I went to the ropes and shook hands with a friend as I played the last hole of the 1961 Masters with a one-stroke lead. That was a big mistake because the job wasn't done yet. I lost my concentration and wound up making 6 on the hole and losing the tournament by a stroke to Gary Player."
Instead of seeing his ball on the green, Palmer famously found it resting in a greenside bunker. From there, he could only manage double-bogey to lose by a stroke to Player, another great rival of the era.
It wasn't as if the Black Knight was an unworthy champion, either. After opening with rounds of 69-68-69, he polished off a final-day 74 by doing what Palmer couldn't. Player got up and down from the bunker on 18 to claim his first of three titles.
And yet, 50 years later this tournament is still remembered as much for being one Arnold Palmer let slip from his hands as a Masters that Gary Player won.
For an interactive timeline of classic moments in Masters history, check out Masters.com.
Jason Sobel covers golf for ESPN.com. He can be reached at Jason.Sobel@espn.com.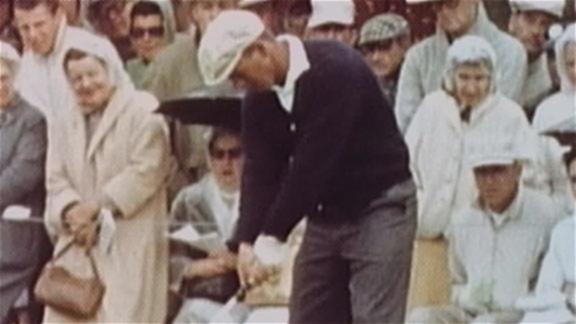 March, 25, 2011
03/25/11
9:11
AM ET
The shot will go down as one of the most famous in golf history, certainly a big talking point whenever the subject of most memorable Masters is broached.
But consider the fate of Larry Mize as he stepped to the 10th tee at Augusta National in 1987 for the start of a sudden-death playoff with Greg Norman and Seve Ballesteros.
Norman and Ballesteros had combined to win 91 worldwide tournaments, Mize just one. Norman was ranked No. 1 in the world, Ballesteros No. 3. Mize? No. 36.
So nobody was giving the Augusta, Ga., native much of a chance against two of the game's heavyweights, both of whom had contended at the Masters a year prior.
"I had a healthy respect for them," Mize recalled. "But you can't fear someone you're playing. I didn't have any fear. I was confident going into the playoff because I played well that week. And the birdie at 18 that got me in was a big factor as well."
Ballesteros bowed out with a three-putt bogey at 10. And when Mize missed the green well to the right of the 11th, with Norman on the front edge, a green jacket appeared imminent for the Shark.
[+] Enlarge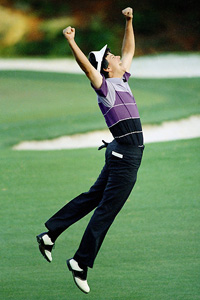 AP Photo/Joe BentonAugusta native Larry Mize celebrates his chip-in that gave him a victory in the 1987 Masters.
Mize figured he had just one play, a 56-degree wedge shot that he would bump and run. He figured he needed the loft because the greens were so fast. "I picked a spot and landed it right there," he said. The ball tracked toward the cup and dropped for a birdie that sent Mize dancing around the green in purple glory -- the color of his shirt.
Norman -- felled by a holed shot from off the green to lose a second straight major -- was stunned as he prepared to hit his putt that would not fall.
"All I could do was just wait there and take it," he said. "It was the hardest 45 seconds of my life."
The moment and the shot are so special to Mize that he says he has never tried to duplicate it.
"The thing is, if I go back and hit the shot again, then my memory is not of the shot," Mize said. "Now when I see the shot, it keeps the memory pure. It's one of the great decisions I've made. I've never gone back. The only way I go over there is if I hit the ball in that area during the tournament. It keeps it a great memory."
For an interactive timeline of classic moments in Masters history, check out Masters.com.
Bob Harig covers golf for ESPN.com. He can be reached at BobHarig@gmail.com.