Category archive:

Tiger Woods
April, 2, 2011
04/02/11
6:40
AM ET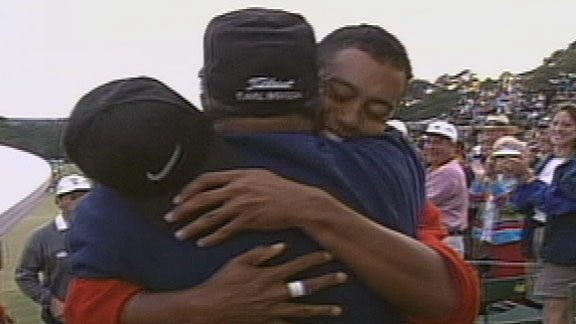 Masters Moments: 1997
The huge lead made it more of a coronation than a competition, the result all but decided before the leaders even teed off. That Tiger Woods was in front by 9 and would go on to win by 12 made the day all the more remarkable.
The 1997 Masters will be remembered for many things, not the least of which was the record-setting fashion in which it was achieved.
But Woods also made history of another kind that at times throughout golf's past might not have seemed possible.
"No one will turn their head when a black man walks to the first tee after this," said Lee Elder, who in 1975 became the first African-American player at the Masters. "It could have more potential than Jackie Robinson breaking into baseball."
Elder arrived at Augusta on that Sunday morning to take part in the history-making day, which turned into a celebratory stroll among the masses for Woods, whose huge lead was never threatened.
He shot 69 to complete 72 holes at 270, 18 under par. Tom Kite, with 70, finished 12 shots back -- the widest margin of victory in any Masters.
Woods broke the tournament scoring record held by Jack Nicklaus and Raymond Floyd, and at 21 became the tournament's youngest winner.
All of that was important to him, but winning at a club that didn't invite an African-American member to join until 1990 and was long charged with keeping minorities out of its tournament was also on Woods' mind.
"I think that's why this victory is even more special," he said that day after winning his first major championship in his first start as a professional. "Lee Elder came here today and that meant a lot to me. He was the first. He was the one I looked up to, Charlie [Sifford], all of them. Because of them, I was able to play here. I was able to live my dream because of those guys.
"They came down and inspired me. I knew what I had to do. It really reinforced what I had to go out there and try to accomplish."
The victory was his fourth on the PGA Tour in just his 15th start since turning pro in August of 1996. And there was never much doubt about it on that Sunday. He never let anybody get closer than the nine-shot lead he carried into the final round.
For a time, he threatened the record for the largest margin of victory in a major championship set by Old Tom Morris in 1862 when he won the British Open by 13 shots. (Woods would later get that record when he won the 2000 U.S. Open by 15).
Other than a front-nine 40 to open the tournament, Woods was nearly flawless. He dominated the par-5s, playing them in 13 under par. He was 16 under par on the back nine, breaking Arnold Palmer's record of 12 under set in 1962. For the tournament, he hit 55 of 72 greens in regulation, averaged just more than 29 putts per round and had a driving distance of 323 yards.
"To shoot 18 under par on this golf course, as difficult as it played all week, is an incredible feat," Kite, the runner-up, said afterward. "I don't care what race he is. He's a golfer. He's a person. He's a great kid. He's got very high standards. His parents did a hell of a job raising him. When you see nice people do great things, it's pretty awesome."
For an interactive timeline of classic moments in Masters history, check out Masters.com.
Bob Harig covers golf for ESPN.com. He can be reached at BobHarig@gmail.com.
March, 31, 2011
03/31/11
6:33
AM ET
There aren't many tournament results that are so monumental, so groundbreaking that they propel a new phrase into the common golf lexicon. The 2001 edition of the Masters was an exception to this rule.
With a 15-stroke victory at the U.S. Open, an eight-stroke victory at the British Open and a playoff victory over Bob May at the previous year's major championships, Tiger Woods entered 2001 with an opportunity to own the game's four most important pieces of hardware at the same time. Of course, it wouldn't quite be the Grand Slam -- which in true nature entails winning all four in a single season -- but it would certainly be a noteworthy achievement. And so was born a term to detail exactly what was taking place.
Tiger Slam.
What the phrase lacked in originality, it more than made up for in excitement potential. Never before under the current major championship structure had one player owned all four titles at the same time, but Woods was on the precipice of history.
As always, he entered the Masters as the prohibitive favorite, already having claimed victories at the Bay Hill Invitational and Players Championship. And once the tournament began, Woods didn't disappoint.
An opening-round 70 gave way to ensuing scores of 66-68 in the middle rounds, which in turn led to a final-round pairing with rival Phil Mickelson.
Leading by one entering Sunday, Woods opened with a bogey, but carded six birdies en route to another 4-under 68, enough to give him a two-shot win and help the newly named Tiger Slam come to fruition.
"It is special. It really is," Woods said afterward. "To win four of them in succession, it's just hard to believe, really, because there's so many things that go into winning a major championship. For that matter, any tournament, but more so majors, because you've got to have your game peak at the right time, and on top of that, you've got to have some luck. You've got to get some good breaks, and you've just got to have everything kind of go right. And to have it happen four straight times, that's awfully nice. Some of the golfing gods are looking down on me the right way."
For an interactive timeline of classic moments in Masters history, check out Masters.com.
Jason Sobel covers golf for ESPN.com. He can be reached at Jason.Sobel@espn.com.