1989 Masters: Nick Faldo wins in playoff
March, 18, 2011
03/18/11
7:28
AM ET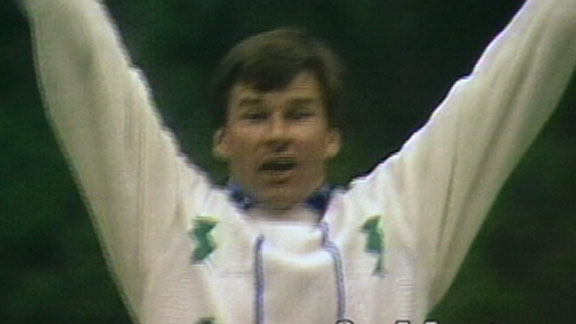 Masters Moments: 1989
All these years later, it is interesting to note that Nick Faldo bogeyed the 11th hole at Augusta National during all four rounds of the 1989 Masters.
His 5 there during a rainy final round dropped him five strokes back of the lead, but he rallied for a 65 that put him in a memorable playoff with Scott Hoch -- one that he seemed hopelessly out of when his approach to the first playoff hole, No. 10, found a bunker.
Hoch was on the green with a birdie putt that ran 2 feet by the hole, and Faldo was helpless as he blasted out and made a bogey 5. Hoch had a simple par putt for the win -- and he missed.
It was a major championship gaffe, as the ball didn't even hit the hole.
More than two decades later, Hoch has come to terms with his brush with immortality. Now 55, he won 11 times on the PGA Tour, played on two U.S. Ryder Cup teams and earned nearly $20 million.
But the botched putt remains his legacy. For a time, the phrase, "Hoch as in choke" was derisively used to describe him, although he went on to win eight of his titles after that Masters and climbed to as high as 11th in the world in 1997.
"It was a great experience, but you would have liked to have finished it off better than that," Hoch said. "I don't think about it anymore, except when someone brings it up. But for a while there, you can't help it. You strive to win major tournaments... I certainly would have loved to win that but I didn't."
Faldo won the first of his green jackets on the next hole by rolling in a 30-foot birdie putt. It was the second of his six major championships.
The Englishman had overcome a 77 in the third round, but understandably what is most remembered is Hoch's miss.
"What happened was I lined it up left. That's what I figure," Hoch said. "I've seen [the replays.] I've seen it from behind, most of the pictures. It felt fine, the stroke felt fine. I wanted to put it just inside the hole. I just lined up wrong. I felt comfortable.
"People were saying about me not hurrying up and putting it the first time, but the same thing happened on 17 tee. I wasn't going to have it happen again. I was standing over the putt, thinking 'Man, I'm going to win the Masters.' And that was the wrong thing to think about. And I kind of forgot what I had read in the putt. That's when I thought I have to get my head straight, backed off and looked at it again and went and putted.
"I was perfectly ready, it was the right thing, it was the right thing to do at the time. I just didn't make it. I would have been really ticked off at myself if I had putted the first time with the wrong thoughts in my head and to have missed it. It would have driven me crazy. At the time I did the right thing and got my mind where I needed to make the putt and I just didn't."
For an interactive timeline of classic moments in Masters history, check out Masters.com.
Bob Harig covers golf for ESPN.com. He can be reached at BobHarig@gmail.com.