1963 Masters: Jack Nicklaus claims his first
March, 21, 2011
03/21/11
9:27
AM ET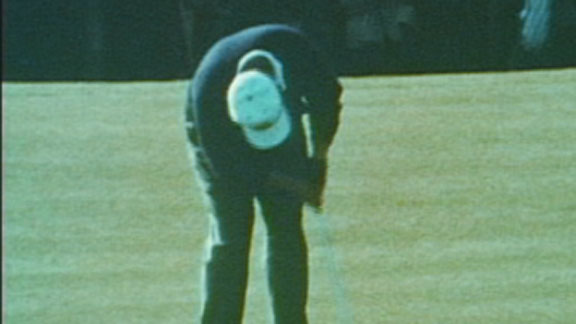 Masters Moments: 1963
Every journey needs a first step, that initial kick-start that propels one onward through the intersection of Fate and Destiny.
Believe it or not, Jack Nicklaus wasn't born with six Masters titles. There was a time when he owned exactly zero, his brute strength and dogged consistency yet to culminate in the game's ultimate achievement.
That's not to say those half-dozen victories weren't his birthright, though.
At age 23, with a U.S. Open triumph already to his credit, Nicklaus entered the first major championship of 1963 with cautious optimism. In his first appearance as a professional a year earlier, the fittingly nicknamed Golden Bear finished in a share of 15th place -- not bad for this young phenom on the rise, but hardly the result for which he had hoped.
This time would be different.
It's long been said that a player can't win a major on Thursday, but he can certainly lose one. That fact was always apparent at Augusta National. In 26 editions of the Masters prior to 1963, only three times had an eventual champion posted an opening-round score over par: Sam Snead in 1954 and '49, and Horton Smith in 1936.
Such numbers didn't bode well for Nicklaus, but there was reason for hope: On a difficult day among the tall pines, only nine players in the 84-man field shot even-par or better.
When he returned one day later, Jack fired a flawless, bogey-free 6-under 66, the best score of the day by 3 strokes and perhaps the best round of his burgeoning career.
Though he didn't break par over the weekend, posting rounds of 74-72, Nicklaus held on at the end, sliding in a slippery birdie bid on the 16th hole in the final round, then closing with two pars for a 1-stroke victory over Tony Lema.
It was only the beginning of a very long journey toward Masters history for Jack Nicklaus.
For an interactive timeline of classic moments in Masters history, check out Masters.com.
Jason Sobel covers golf for ESPN.com. He can be reached at Jason.Sobel@espn.com.