1961 Masters: A bunker decides a title
March, 26, 2011
03/26/11
8:24
AM ET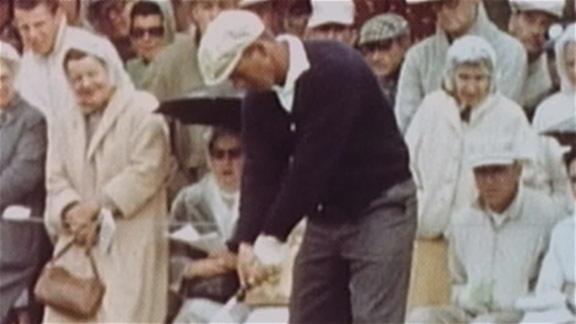 Masters Moment: 1961
In the 10-year span from 1958-67, Arnold Palmer won four Masters titles and never once finished outside the top 10.
It is a record of achievement never equaled at Augusta National, but the King isn't without regrets from that time. Most notably in 1961, when thinking his second shot was safely on the final green and he could two-putt for victory, Palmer decided to receive a congratulatory handshake from the gallery.
Years later, in a story told and retold many times, he explained, "I guess the one moment from all of the Masters that I wish I could relive would be when I went to the ropes and shook hands with a friend as I played the last hole of the 1961 Masters with a one-stroke lead. That was a big mistake because the job wasn't done yet. I lost my concentration and wound up making 6 on the hole and losing the tournament by a stroke to Gary Player."
Instead of seeing his ball on the green, Palmer famously found it resting in a greenside bunker. From there, he could only manage double-bogey to lose by a stroke to Player, another great rival of the era.
It wasn't as if the Black Knight was an unworthy champion, either. After opening with rounds of 69-68-69, he polished off a final-day 74 by doing what Palmer couldn't. Player got up and down from the bunker on 18 to claim his first of three titles.
And yet, 50 years later this tournament is still remembered as much for being one Arnold Palmer let slip from his hands as a Masters that Gary Player won.
For an interactive timeline of classic moments in Masters history, check out Masters.com.
Jason Sobel covers golf for ESPN.com. He can be reached at Jason.Sobel@espn.com.