2001 Masters: Tiger Slam takes hold
March, 31, 2011
03/31/11
6:33
AM ET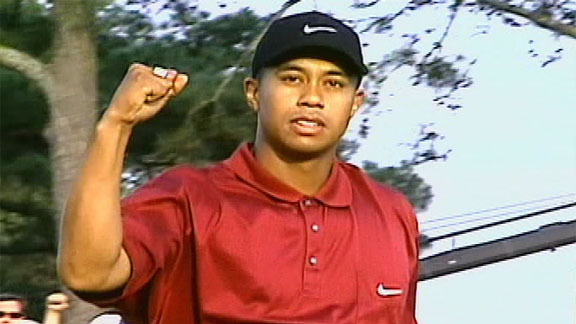 Masters Moments: 2001
There aren't many tournament results that are so monumental, so groundbreaking that they propel a new phrase into the common golf lexicon. The 2001 edition of the Masters was an exception to this rule.
With a 15-stroke victory at the U.S. Open, an eight-stroke victory at the British Open and a playoff victory over Bob May at the previous year's major championships, Tiger Woods entered 2001 with an opportunity to own the game's four most important pieces of hardware at the same time. Of course, it wouldn't quite be the Grand Slam -- which in true nature entails winning all four in a single season -- but it would certainly be a noteworthy achievement. And so was born a term to detail exactly what was taking place.
Tiger Slam.
What the phrase lacked in originality, it more than made up for in excitement potential. Never before under the current major championship structure had one player owned all four titles at the same time, but Woods was on the precipice of history.
As always, he entered the Masters as the prohibitive favorite, already having claimed victories at the Bay Hill Invitational and Players Championship. And once the tournament began, Woods didn't disappoint.
An opening-round 70 gave way to ensuing scores of 66-68 in the middle rounds, which in turn led to a final-round pairing with rival Phil Mickelson.
Leading by one entering Sunday, Woods opened with a bogey, but carded six birdies en route to another 4-under 68, enough to give him a two-shot win and help the newly named Tiger Slam come to fruition.
"It is special. It really is," Woods said afterward. "To win four of them in succession, it's just hard to believe, really, because there's so many things that go into winning a major championship. For that matter, any tournament, but more so majors, because you've got to have your game peak at the right time, and on top of that, you've got to have some luck. You've got to get some good breaks, and you've just got to have everything kind of go right. And to have it happen four straight times, that's awfully nice. Some of the golfing gods are looking down on me the right way."
For an interactive timeline of classic moments in Masters history, check out Masters.com.
Jason Sobel covers golf for ESPN.com. He can be reached at Jason.Sobel@espn.com.