Stretch at Mayakoba gave Quinn more shots
March, 2, 2010
03/02/10
7:32
PM ET
A few weeks ago, I finished my final round at Mayakoba with three straight birdies, and that really helped me enormously with the reshuffle [for gaining entry into more PGA Tour events]. Our category [of Nationwide Tour and PGA Tour Q-school graduates] reshuffles after Phoenix and Mayakoba was basically my last event before the reshuffle. And making a nice check that week really bumped me way up the list to give me more opportunities just to play a few more tournaments.
Meet Fran Quinn
• Fran Quinn, 44, earned his 2010 PGA Tour card by capturing the 25th and final spot on the Nationwide Tour money list.
• The Northwestern University grad last played a full season on the PGA Tour in 1992.
• In his career, Quinn has played in 50 PGA Tour events and made the cut 14 times. On the Nationwide Tour, he has 326 career starts and 176 made cuts.
• Quinn owns four career Nationwide Tour victories: the 1999 Nike Dakota Dunes Open, 2000 Buy.com Florida Classic, 2009 Albertsons Boise Open Pres'd by Kraft and the 2010 Panama Claro Championship. He has also won twice elsewhere around the globe in 2000 at the Asian PGA Tour Championship and the Thailand Open.
• Coming into the 2010 season, Quinn ranked 10th in career earnings on the Nationwide Tour.
• He lives with his wife, Lori, and children Owen, 11, Katie, 9, and Sean, 7, in Holden, Mass.
That strong finish at the end of the day was critical. As a player, you try to look at each event as a 72-hole tournament. As it turned out, I knew those three birdies were important. After sinking a nice 15-footer on the last hole, and once I found out I made over $30,000, I knew that would be a big jump.
So after playing so well at Mayakoba, I knew that finish was probably going to get me into four of the next five tournaments out on the PGA Tour. So to keep the momentum going, since I wasn't in the field at the Waste Management Open, I said, you know what, I don't need to be sitting on the couch for seven days. I need to keep playing, get a little rhythm going. So I went down to Panama to play in the Nationwide Tour event.
The first two rounds in Panama, I played really well. I spoke to one of the rules officials and I told him I was really happy with how I played, but there's some more out there. So on Saturday, I went out and birdied seven of the first 10 holes and then play was stopped by a 25-minute rain delay. It slowed me down and I lost a little bit of momentum, but I did make all pars on the way in and birdied 18, so it was a nice way to finish. The [course record] 62 was one of the best rounds I ever played. [Quinn also set the tournament record at 15-under for his fourth career Nationwide Tour victory.]
My win down in Panama, I'd like to dedicate to my dad. He's been struggling a little bit after hip surgery and has had a few complications, but he's on the mend. I know that win brought a smile to his face. He was definitely in my thoughts when I was down there all week. That's something I know made his recovery a little quicker.
[+] Enlarge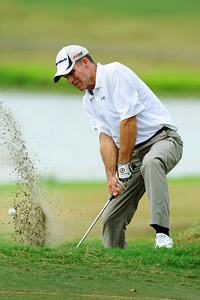 Stan Badz/Getty ImagesFran Quinn captured his fourth career Nationwide Tour victory last week in Panama and set a course record and tournament record in the process.
And in terms of my overall play, winning anywhere is important and that breeds more confidence. And I know I'll be able to carry that momentum on to this week at the Honda Classic. It's just a great boost of confidence.
This week at the Honda Classic will be great, especially because my family is coming down and I haven't seen them for three weeks. So we're looking forward to that. We rented one of the cottages here at PGA National and we're going to have a little pre-birthday party. [Quinn turns 45 on March 11.]
It's always hard to be away from the family. I try to get home most every week on Sunday night and head back out on Tuesday. When the weather's a little tough at home [in suburban Boston] it makes travel a little more difficult. Being apart is a little hard for the kids and for me. And it's definitely hard for my wife. But they're great about it. They follow me. They support me and they're my biggest fans. I know they're excited about coming down here this week and having fun.
As for what this week will bring, I'm going out there knowing that I'm playing solid. I want to play to the best of my ability. If I do that, everything else will take care of itself. I'm enjoying playing and I know I'm playing decent. Having said all that, PGA National is a tough golf course. It's tough for everybody, but we'll see what the course brings.
The scoring this week is all dependent on the weather. The scores are never low here. My length will help me since the course is playing long. And my short game is in pretty good shape. You're going to miss some greens around here and you're going to need to get the ball up and down. Hopefully I'll be able to scramble when I need to. If I can do those two things, I'll be in good shape.