Category archive:

Zach Johnson
September, 7, 2010
09/07/10
1:37
PM ET
Go ahead. Criticize his wild-card picks. Tell United States captain Corey Pavin that Tiger Woods isn't a team player or Rickie Fowler isn't experienced enough or Stewart Cink and Zach Johnson are too vanilla.
He doesn't care -- or so he says.
"I'm not very concerned about it personally," Pavin said during Tuesday's news conference. "My job is to put together the team that I feel is the best team and to represent the United States in the Ryder Cup. What other people's opinions are, I cannot control and I'm not concerned about it. I am just trying to get the best guys together to go over there and win."
The truth is, with the announcement that Woods, Fowler, Cink and Johnson are his choices, the skipper made smart, safe picks which likely ensure that he will neither receive credit for winning with this quartet, nor shoulder the blame for losing with them.
History has shown this isn't always the case. There have been Ryder Cup captains who lived and died by their picks. They were defined by these selections, their entire tenure judged upon whether their guys led the team to glory.
In 1999, Europe captain Mark James infamously chose head-scratcher Andrew Coltart, only to bench him until Sunday, when the Scotsman contributed to a historic loss. Seven years later, Ian Woosnam went with Lee Westwood and Darren Clarke -- the latter just a month after his wife's death from cancer -- and they combined to claim seven points in the landslide victory.
Pavin won't be similarly remembered.
Of course, this is in stark contrast to his European counterpart Colin Montgomerie, who was roundly lambasted for his three captain's picks last week.
In choosing Edoardo Molinari, Luke Donald and Padraig Harrington, the captain omitted world No. 9 Paul Casey and two-time 2010 champion Justin Rose. If his side wins because of these players, Monty will be received as the toast of the continent; if they flounder en route to defeat, he will bear the brunt of the criticism.
Pavin, though, failed to put his stamp on the Ryder Cup with these selections. Not that it's a bad thing, mind you. One of the captain's main duties is to provide his team with the best roster of players needed to win the biennial competition, and it's difficult to argue that America's man in charge hasn't done exactly that.
Three of his four picks were no-brainers, easily duplicated by any mass polling of Internet speculators. The fourth went to an adroit 21-year-old rookie who already owns five top-10s this season, though none since the Memorial in early June.
Even those who preferred another player understand that it's not as if the selection of Fowler is completely out of left field. Consider this: At 33rd in the world, he is actually ranked two spots higher than Cink, a major champion who has played on four previous editions of the team.
If the youngster -- who was competing in the amateur-only Walker Cup just a year ago -- fails to succeed in Wales next month, it's tough to believe many Monday morning quarterbacks will be pining for one of the other candidates.
Anthony Kim could have been an option, but he has yet to play well after returning from thumb surgery. Lucas Glover was on the short list, but other than last year's U.S. Open victory, he's shown a knack for melting under pressure.
Nick Watney? Sean O'Hair? J.B. Holmes? Bo Van Pelt? All good players. That's right -- good, not great. Even recent Deutsche Bank Championship winner Charley Hoffman can't be too upset about being overlooked, considering he was 57th on the points list when it ended three weeks ago.
When previous U.S. captain Paul Azinger retooled the Ryder Cup qualification process prior to the last edition of the event, expanding from two wild-card selections to four, he immediately made this part of the role not only twice as difficult, but twice as important, too.
More than ever before, the onus is on the skipper to ensure that one-third of his roster blends with the already-qualified participants. With his selections of Woods, Fowler, Cink and Johnson, the current captain did everything in his power to certify that the players will determine the eventual result as opposed to himself -- quite the opposite of Montgomerie's current predicament.
And if you disagree? Well, that's OK, too. After all, Corey Pavin isn't worried about the criticism.
Jason Sobel is a golf writer for ESPN.com. He can be reached at Jason.Sobel@espn.com.
September, 3, 2010
09/03/10
3:56
PM ET
NORTON, Mass. -- Ryan Palmer walked off the course following his opening round of the Deutsche Bank Championship with a smile across his face, but good-naturedly shaking his head, too.
[+] Enlarge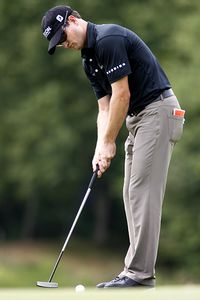 AP Photo/Stew MilneZach Johnson certainly bolstered his chances of earning a captain's pick for the U.S. Ryder Cup team with his opening-round 63 on Friday at TPC Boston.
It's a good thing he doesn't have a self-esteem problem. After all, Palmer posted a sublime score of 7-under 64, leaving him in an eight-way tie for third place … and it was still the worst total in his threesome on Friday.
That's because playing partners Zach Johnson and Jason Day both fired rounds of 63 to jointly lead with 18 holes completed at TPC Boston.
"I made a couple of birdies in a row and I felt like I was sprinting trying to keep up," Palmer said. "It was cool, it was fun."
If you're scoring at home, here are the eye-popping numbers:
• The group combined to shoot 23-under-par.
• They totaled 26 birdies against just three bogeys.
• At least two of them birdied the same hole on eight separate occasions.
• Their best-ball score would have been 14-under 57.
"I've never been a part of this kind of round," said Palmer, who has posted four sub-70 scores in his past five rounds. "I've been in 'em where a couple of guys shot well and somebody struggled, but as far as all three of us shooting 23-under-par, I've never been a part of that. It seemed like every hole, someone birdied then someone else birdied, so we were all just kind of feeding off each other."
"I think I probably have, but it was not remotely on a golf course of this magnitude," Johnson said. "Maybe I haven't. I mean, there could have been a mini tour week here or there, but nothing on the Nationwide or PGA Tour. ... That was pretty impressive all around, I think."
No, this wasn't some kind of best-ball or scramble or shamble format. They didn't have amateur partners playing off sandbagged handicaps. There were no windmills guarding the holes or offers of a free game for making a putt on the 19th hole.
That's not to say conditions weren't easier. In anticipation of heavy wind and rain from Hurricane Earl, greens were only single cut and a lift, clean and place policy was in effect.
And yet, things weren't as easy as Johnson, Day and Palmer made 'em appear. Tiger Woods (1 over), Dustin Johnson (2 over) and Sean O'Hair (3 over) were among the notable players who struggled in the first round -- a notion which must have appeared foreign to the leaders.
It might not have been a coincidence that the threesome played so well together, though. Each said he considers the other two to be good friends and they all seemed to be relaxed and rooting for each other throughout the round.
"It's nice to play with friends," Johnson said. "When we're all playing decent, it makes it that much better. Yeah, joking around, just a casual round of golf. It was nice."
"When you get to play with guys you know real well and you're friends with and you get on a run like that, you just feed off each other," Palmer said. "We're all in good moods, we're all talking, laughing, cutting up. And yet, we're all making birdies, as well."
All of which leads to a chicken-or-the-egg type of conundrum: Did the trio play well because they were having fun or did they have fun because they were playing well?
"I think it was a little bit of both," Day said. "I try and have as much fun as possible when I'm out there because it puts me in a good mood, and you can't play golf cranky. It's a little hard to do that. But the two guys that were with me today, they're a bunch of fun. I've known those guys for a few years now and they're just a good bunch of guys to just have fun out there. It was just a really good, fun day."
It was just a little more fun for Day and Johnson than Palmer. One stroke more, to be exact.
Of course, there's plenty of time to get that back. The three players will be grouped together once again in Saturday's second round. If the momentum continues, expect another guy with a low score to once again be shaking his head after walking off the final green.
Jason Sobel is a golf writer for ESPN.com. He can be reached at Jason.Sobel@espn.com.
August, 18, 2010
08/18/10
10:34
AM ET
Since this is a speculative piece about the impending U.S. Ryder Cup captain's picks, let's end the biggest part of the speculation right now: If Tiger Woods wants to be part of the team, then Tiger Woods will be part of the team.
For the first time since turning pro, Woods failed to qualify for this year's roster. (In fact, this was the first time he wasn't No. 1 on the points list.) Now the talk of the golf world has turned to whether captain Corey Pavin will choose him as one of his four wild-card selections Sept. 7.
[+] Enlarge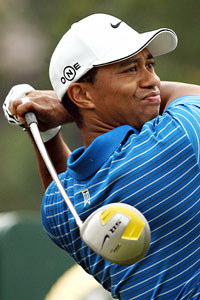 Mark Ralston/AFP/Getty ImagesTiger Woods hasn't played in the Ryder Cup since 2006 but has been on the U.S. squad five times in his career.
"He's high on my list," Pavin said Monday. "He's certainly a big consideration, no doubt."
As well he should be. Never before has a Ryder Cup skipper had the luxury of adding the world's No. 1-ranked player -- a guy with 14 major championship victories and five previous appearances -- to the team. Though many are quick to point out that Woods isn't playing his usual brand of consistent golf, he's still averaging a high number of birdies to offset his mistakes, which should fit the competition's match play format, especially in the fourball portion of the festivities.
The remainder of the decision-making routine isn't as simple. The way I see it, Pavin has a pool of about 13 candidates from which to choose his final three players. An assistant for Tom Lehman in 2006, expect this year's captain to follow his predecessor's lead, which means all decisions will err on the side of caution, dismissing any yearn for Monday morning quarterbacking from the masses.
With that in mind, let's try to get inside Pavin's head and break down what his process of elimination might entail.
If this was an episode of "The Bachelor" -- and don't you wish it was? -- the first players who wouldn't be offered roses include Ben Crane, Ryan Moore, Bo Van Pelt, Ryan Palmer and Ricky Barnes. Each is a solid prospect -- solid enough that he finished in the top 22 on the final points list -- but none quite inspires fear in the hearts of the Europeans. Add to that the fact that only Crane and Palmer have won this season (both back in January) and it's easy to see why, despite possessing certain skills that could translate to success in this event, this fivesome likely won't make it past the first cut.
The second elimination round will be a much more difficult procedure. Pavin could do worse than having any of these five players on his roster -- and each could still work his way onto the team over the next three weeks -- but with Cup rookies Bubba Watson, Jeff Overton, Dustin Johnson and Matt Kuchar already qualified, their inexperience could play a major factor.
So say goodbye to Rickie Fowler, who would likely win a fan voting, if such a thing existed; Nick Watney, who wasn't helped by that final-round 81 at Whistling Straights; Sean O'Hair, who has gotten into the mix with strong play over the past two months; J.B. Holmes, whose power isn't as essential with Watson and Johnson each already filling that role; and Lucas Glover, who fell out of the top-eight this past week for the first time since winning last year's U.S. Open.
That leaves three players to join Woods when the remainder of the roster is named: Zach Johnson, who is fresh off a T-3 at the PGA Championship; Stewart Cink, who knows a thing or two about playing well in the U.K.; and Anthony Kim, who was the last player to miss qualifying for the team, despite missing three months because of a thumb surgery.
Each provides much-needed experience, having played in the biennial competition in the past, though Kim's position might be the most tenuous; if he doesn't prove he's fully healed and another candidate plays well in upcoming events, he could easily be supplanted.
Prior to the last edition of the Ryder Cup, we would already know which selections had been named by this time of year. The most recent former captain, Paul Azinger, changed that process, though, allowing for three extra weeks in order to pick the hottest players.
Expect Pavin to take advantage of this rule, too. While four men have the inside track, the final outcome could be very different come Sept. 7.
Jason Sobel is a golf writer for ESPN.com. He can be reached at Jason.Sobel@espn.com.