PGA Tour prognostication for 2009
January, 5, 2009
01/05/09
10:13
AM ET
Is four months of fantasy football barely enough to whet your appetite? Does six months of rotisserie baseball leave you hankering for more? Here's a solution: Time to join a golf pool, which lasts for the entire gestation period of the average human baby. (That's nine months, fellas. I looked it up.)
[+] Enlarge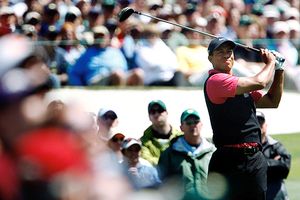 Jamie Squire/Getty ImagesIt's pretty clear that Tiger Woods focuses his energy on winning majors. So it only makes sense to use the world's No. 1 player during one of the richest tournaments of the year.
Though there can be many amendments to the pool, in the simplest and most popular version, competitors select one golfer per tournament (not the defending champ) and can't use any golfer more than once. Standings are determined by totaling money earned from those golfers selected. Using those parameters, let me help with some advice for your own golf pool selections. Just don't forget to tip your dealer at season's end.
Mercedes-Benz Championship: Vijay Singh
While most players will treat the season-opener like an extended vacation, Vijay's on a business trip, as evidenced by his eight top-10s in nine previous starts at Kapalua.
Other options:
Davis Love III
,
Trevor Immelman
,
Stewart Cink
Sony Open: Dustin Johnson
For the year's first full-field event, I'm always partial to a player who teed it up the previous week, too. Johnson, who finished T-10 as a rookie, has the length to overpower the short Waialae course.
Other options:
Parker McLachlin
,
Bubba Watson
,
Rory Sabbatini
Bob Hope Classic: Steve Marino
The five-round birdie-fest is best suited for a player who can make plenty of red numbers. No one makes more than Marino, who led the Tour in total birdies last year.
Other options:
Chad Campbell
,
Justin Leonard
,
Charley Hoffman
FBR Open: Phil Mickelson
Lefty owns five top-10s in the past five editions of this event. Why save him for a major or WGC event and give up the sure thing here?
Other options:
Mark Calcavecchia
,
Billy Mayfair
,
Aaron Baddeley
Buick Invitational: Pat Perez
There's a theory -- one proven true time and again -- that states it's more difficult for players to win their hometown events on familiar courses due to the pressure of competing in front of family and friends. Call me a sucker for sentimentality or a pragmatist, but I like a guy who has played a track more than 1,000 times.
Other options:
Phil Mickelson,
Kevin Streelman
, Stewart Cink
AT&T Pebble Beach National Pro-Am: Kevin Sutherland
Anyone can make some moolah off the Tigers and Phils of the world. It takes an informed competitor to know when and where to pick Sutherland, who ranks among the Tour's most underrated players.
Other options:
Davis Love III,
Mike Weir
,
Hunter Mahan
Northern Trust Open: Robert Allenby
Someone please explain to me how a player as talented as Allenby can play hokey-pokey with the winner's circle so often without putting his whole self in since 2001, because I can't figure it out. That said, he's good for a top finish in L.A.
Other options:
Charles Howell III
, Rory Sabbatini,
Scott Verplank
WGC-Accenture Match Play Championship: Ian Poulter
The first trick is to make sure your pick will still be eligible as one of the world's top-64 come late-February, so grab a guy who's 30th or better just to be safe. The WGCs also offer a chance to use some of the better European players, for whom figuring out a schedule has become an increasingly difficult task.
Other options:
Henrik Stenson
,
Paul Casey
,
Steve Stricker
Mayakoba Golf Classic: Jarrod Lyle
Sure, you can take a retread who didn't qualify for the WGC event during the same week, but wouldn't you rather take a shot on an up-and-coming talent? Maybe it means nothing, but Lyle won in Mexico last year on the Nationwide Tour.
Other options:
Ricky Barnes
,
Chris Stroud
,
Peter Tomasulo
Honda Classic: Geoff Ogilvy
There are always a few situations in which a player is a must-pick, but there is no perfect situation. Such is the case with Ogilvy, who can win anywhere, anytime.
Other options:
Luke Donald
,
Camilo Villegas
,
Charlie Wi
[+] Enlarge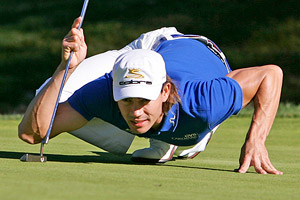 AP Photo/Danny MoloshokExpect up-and-coming star Camilo Villegas to notch at least one win in 2009. A good possibility for that next victory might be at Doral in March.
WGC-CA Championship: Camilo Villegas
The Colombia native doesn't have a hometown event on the schedule, so this is the closest he'll come. Pretty good track record at Doral, as evidenced by his runner-up finish a few years ago.
Other options:
Angel Cabrera
, Paul Casey,
Nick O'Hern
Puerto Rico Open: Casey Wittenberg
See: Mayakoba Golf Classic. In another opportunity to take a youngster, I like former amateur phenom Wittenberg, who is also my pick to win Rookie of the Year in a strong freshman class.
Other options:
Bo Van Pelt
,
Aron Price
,
Colt Knost
Transitions Championship: Ryuji Imada
The erstwhile PODS Championship is played at Innisbrook Resort, which has quickly become a favorite of the Tour membership. Imada has lived in Tampa since age 15 and is a better pick during the season's early months.
Other options:
Ernie Els
,
K.J. Choi
,
John Huston
Arnold Palmer Invitational: Justin Rose
If Rose doesn't win a Tour event soon, he's likely to steal the
Tim Clark
Memorial Award from its namesake as the best player without a career PGA Tour victory. Might as well take him in his adopted hometown of Orlando.
Other options:
Vijay Singh, Ian Poulter,
Daniel Chopra
Shell Houston Open: Stuart Appleby
He may have come out on the wrong end of some Masters chances in the past, but Appleby has found no worries, mate, at the preceding event.
Other options:
K.J. Choi,
Roland Thatcher
,
Nick Thompson
Masters Tournament: Tiger Woods
Yup, you read that right. Let the other folks in your pool worry about Woods' recovery from injury and save him for the back end of the season. You should beat 'em to the punch by earning well into the seven figures when TW claims his fifth green jacket in dramatic fashion.
Other options:
Padraig Harrington
, Aaron Baddeley, Paul Casey
Verizon Heritage: Tim Clark
Someday, Clark is going to win on the PGA Tour; he's too talented to keep falling short. And when it happens, the floodgates may open. Harbour Town, where precision iron play will be so important, is a great course for his game.
Other options:
Zach Johnson
,
Lucas Glover
, Davis Love III
Zurich Classic of New Orleans: Nick Watney
The 2007 champ owns one of the prettiest swings on Tour. Expect him to make a big leap this season; I'm not sure where else to select him, so why not a place where he's already found success.
Other options:
Woody Austin
,
David Toms
,
Joe Ogilvie
Wachovia Championship: Stewart Cink
In what's become a must-play for the top players on Tour, don't be scared to choose a big-timer at Quail Hollow. Cink has finished eighth or better in each of the past two years; don't be surprised to see him in contention on the back nine once again.
Other options:
Jim Furyk
,
Ken Duke
,
Sergio Garcia
Players Championship: Aaron Baddeley
Mirror, mirror on the wall, who's the fairest of them all? Perhaps its TPC Sawgrass, which has yielded champs from long-bombing Phil Mickelson to pea-shooting
Fred Funk
. My advice: Go with the best player who doesn't fit anywhere else and keep your fingers crossed.
Other options:
Padraig Harrington,
Adam Scott
,
Sean O'Hair
Valero Texas Open: Justin Leonard
Go with the best Texan available. Since Hogan, Nelson and Demaret won't be in the field, three-time champ Leonard is a pretty solid alternative.
Other options:
Chad Campbell,
Harrison Frazar
,
Bart Bryant
HP Byron Nelson Championship: Trevor Immelman
After winning the Masters last year, much of Immelman's campaign was a series of lowlights. Expect a more balanced, consistent season; he's definitely worth taking somewhere.
Other options:
Rod Pampling
, Vijay Singh, Rory Sabbatini
Crowne Plaza Invitational at Colonial: Rod Pampling
Truth is, the Nelson may be a better option for the recent Aussie Masters winner, but I like Pamps on any track that values accuracy and putting over length.
Other options:
David Toms,
Anthony Kim
,
Jerry Kelly
Memorial Tournament: K.J. Choi
Make no mistake, tourney host Jack Nicklaus has a special place in the heart of most players on Tour, but Choi, who learned the game by watching videos of the Golden Bear, feels like he owes the man. Another win at Muirfield Village should do the trick.
Other options:
Stuart Appleby,
Ben Curtis
,
Carl Pettersson
Stanford St. Jude Championship: David Toms
Though he calls Colonial his favorite course on Tour, Toms has won a boatload of cash at TPC Southwind over the years. He may no longer be a week-in, week-out consistent top-10 player, but catch him at the right time and he'll still pay off dividends.
Other options:
Brandt Snedeker
, Woody Austin, Casey Wittenberg
U.S. Open: Jim Furyk
Patience is the most important virtue at the Open -- especially on a treacherous track like Bethpage -- and no one fits the bill like Furyk, who owns a victory and two runner-up results since 2003.
Other options:
Chad Campbell, Aaron Baddeley,
Robert Karlsson
Travelers Championship: Bubba Watson
Last year, the TPC River Highlands facility created a brand new practice range in part because the old one couldn't contain the booming tee shots of dudes like Bubba. Perhaps he'll repay the course by bashing his way to a title this year.
Other options:
Jerry Kelly,
Jay Williamson
,
J.J. Henry
AT&T National: Charles Howell III
If Tiger Woods can't win his own Fourth of July tournament (he's 0-for-1 with a DNP in two editions so far), presenting the trophy to old buddy Chucky Threesticks may be the next best thing.
Other options:
Steve Marino,
Fred Couples
, K.J. Choi
John Deere Classic: Zach Johnson
Now that tourney organizers have promised a free flight across the pond to those qualified for the following week's British Open, the field isn't terrible, with some second- and third-tier players showing up. Johnson may be the best of the bunch.
Other options:
Jonathan Byrd
,
Tim Herron
,
Heath Slocum
British Open: Sergio Garcia
Like Chicago Cubs fans have been saying for years, it's gonna happen. I've often contended that Sergio will win a major before he turns 30 and this week at Turnberry represents his penultimate opportunity.
Other options:
Jim Furyk, Geoff Ogilvy, Paul Casey
U.S. Bank Championship: J.P. Hayes
The key here is to select a player who won't be overseas in Scotland during the same week. As you may remember, Hayes failed to earn his playing privileges when he disqualified himself for hitting two shots with a non-conforming ball at Q-school. It would be perfect karma if the Wisconsin native won his home state event while playing on a sponsor's exemption.
Other options:
Heath Slocum, Tim Herron, Nick Thompson
RBC Canadian Open: Mike Weir
At some point, the little lefty is going to win his country's national championship. Do you really want to miss out on that?
Other options:
Vijay Singh,
John Mallinger
,
Tom Pernice
Buick Open: John Rollins
Talk about a dichotomy. Sometimes Tiger Woods wins this thing, other times it's a no-name like
Brian Bateman
. Rollins falls somewhere in between those two as far as overall status and has a history of strong results at Warwick Hills.
Other options:
Fredrik Jacobson
,
Rocco Mediate
, Bubba Watson
WGC-Bridgestone Invitational: Kenny Perry
I've said in the past that if Tiger Woods is most focused on major championships, then that's where you should focus on using him. That said, if you took him at Firestone, it wouldn't be the worst move since he probably has his own safe deposit box in the clubhouse basement. Perry is a solid Plan B.
Other options:
Tiger Woods, Stuart Appleby,
Lee Westwood
Reno-Tahoe Open: Vaughn Taylor
Once upon a time, Taylor used back-to-back Reno victories to help vault him onto the U.S. Ryder Cup team. Now back to the point where he will return to this event, expect those good vibes to come back, too.
Other options:
Ryan Moore
, Joe Ogilvie,
John Merrick
PGA Championship: Hunter Mahan
Don't harp too much on results from the 2002 edition at Hazeltine. (In other words, don't waste your pick on a potential
Rich Beem
repeat.) I think Mahan is ready to break through for a big one, so he's worth a shot.
Other options:
Tiger Woods,
Boo Weekley
, Sergio Garcia
Wyndham Championship: Brandt Snedeker
During a fast and furious final stretch, the Tour's elite will collectively choose to skip the site of
Sam Snead
's eight wins. Even so, I'd be willing to bet that Snedeker, who earned his first career victory here in 2007, will still make the trip to Greensboro.
Other options:
Davis Love III, Rocco Mediate,
Will MacKenzie
The Barclays: Padraig Harrington
With a move to the linksy Liberty National this year, you can throw recent history out the window. Instead, go with a guy who has a record of playing well on links-style courses.
Other options:
Ian Poulter,
Mathew Goggin
, Justin Leonard
Deutsche Bank Championship: Adam Scott
I'm much less bullish on Scott than I was a few years ago. (I once wrote that he would be the world's No. 2 player behind Tiger Woods for much of the next decade. Oops.) He's still a world-class talent, though, and TPC Boston has a history of yielding almost only elite champions.
Other options:
Tiger Woods,
Arron Oberholser
, Phil Mickelson
BMW Championship: Boo Weekley
Yet another event that wouldn't be a bad spot to select Tiger Woods, especially since the tourney is back at Cog Hill this year, but instead we'll take Boo, who is more than just a hilarious quote.
Other options:
Stephen Ames
, Scott Verplank, Steve Stricker
Tour Championship: Anthony Kim
Sticky situation here. You want to pick a player who will qualify for the 30-man playoff-ending event, but if your man fails to make the field then you've wasted him -- and guaranteed yourself a goose egg when you may need it most. Kim is not only a safe pick in that he'll most certainly get to East Lake, he's also shown a proficiency for playing this venue.
Other options:
Steve Stricker, Tiger Woods, Stewart Cink Quick postscript: There are only 41 events on the PGA Tour schedule (playoffs included) prior to the Fall Finish and more than 41 players worthy of being selected for the pool. In the picks above, there were plenty of guys I would have liked to have chosen, but couldn't work into the mix; you could create a veritable all-star team from those players, including Ernie Els, Ben Curtis, Carl Pettersson, Steve Stricker, Rory Sabbatini, Daniel Chopra, Sean O'Hair, Nick O'Hern, Ian Poulter, Lucas Glover,
Dudley Hart
and
J.B. Holmes
. All of which leads to my last piece of advice for the day: Go with horses for courses rather than trying to squeeze the 41 best players into your lineup. It's sure to pay off in the long run.
Jason Sobel is a golf writer for ESPN.com. He can be reached at Jason.Sobel@espn3.com.