Get ready for more from Lyle-Monty dustup
July, 14, 2009
07/14/09
6:44
AM ET
TURNBERRY, Scotland -- If you only noticed the font size of headlines on the back pages of Tuesday's editions of the British tabloids without reading the words, you might have assumed World War III was under way.
[+] Enlarge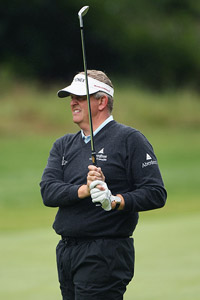 Warren Little/Getty ImagesColin Montgomerie and Sandy Lyle talked Tuesday afternoon. Lyle offered a "very strange apology," according to Monty.
Turns out, it was little more than a rehash of old news.
To summarize: In 2005 at the Indonesia Open, Colin Montgomerie was accused of breaking the rules, improperly replacing his ball after a lengthy weather delay. Although he was found innocent of any wrongdoing by tournament officials, many of his peers still found fault with the alleged violation.
On Monday, Sandy Lyle was asked whether walking off Royal Birkdale after just 10 holes thanks to an injury that swelled up because of cold conditions during the opening round of last year's Open Championship was the reason he didn't receive the captaincy position for the next European Ryder Cup team. The line of questioning caused Lyle to invoke the indiscretions of Monty, who was named to the role six months ago.
"That is far worse than someone pulling out because of sore knuckles," Lyle said. "You have Monty dropping the ball badly -- that's what you would call a form of cheating."
All of a sudden, a 4-year-old incident that occurred in Asia once again was brought to the forefront, leaving all discourse about the upcoming Open in its wake. It's little more than sour grapes from a guy whose chances of skippering the Ryder Cup team are all but over.
Which leaves me with two words to describe the latest unfurling of this hullabaloo: Big. Deal.
Except 'round these parts, anything even halfway veiled as controversy is very much a big deal -- especially when either the Ryder Cup or Monty is involved. Headlines ranged from "YOU'RE A CHEAT MONTY" to "WAR ON THE SHORE," each one further inducing the rift to a new level of hyperbole.
So it should come as no surprise that when Lyle was summoned to the interview room Tuesday afternoon, it was before a packed house of journalists who were seeking to further advance the row between two of Scotland's most heralded golfers.
And he didn't disappoint, either.
"I want to be clear that I regret bringing up the 2005 incident in Jakarta. Colin Montgomerie and I are not at war. Colin is a great champion and a good friend," Lyle said. "In my frustration over continually being asked about the incident at last year's Open Championship, I regretfully brought up another old incident, one that happened over four years ago and has long since been resolved. I was trying to make the point by comparison that neither of these incidents had anything to do with the selection of the current Ryder Cup captain. I deeply regret making this comparison and apologize to Colin for involving him in my own issue. … I sincerely hope that nothing more will be made of this issue."
Certainly nothing inflammatory there, but rather than stopping with his prepared remarks, Lyle took some questions from the throng of reporters and, well, fanned the flames once again.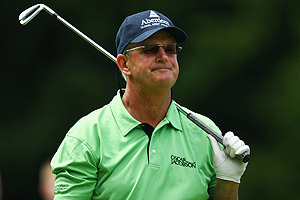 Richard Heathcote/Getty ImagesSandy Lyle apologized for his comments in which he used the word "cheater" when discussing countryman Colin Montgomerie.
"I think that literally the big lines of calling Colin a cheat, I think that is totally out of context," Lyle said before contradicting himself seconds later. "I'm only going from what other people have said, and it was a pretty poor drop. And it was one of his mistakes. I didn't make him do that mistake. It was his mistake. And it will probably live with him for the rest of his life; it'll be cropping up. I can't do anything against that."
Get the large-font headlines ready once again. This story is hardly over.
Upon the conclusion of his news conference, Lyle set up shop outside the Turnberry clubhouse hoping to find Monty and set the record straight. He was trailed by so many reporters and photographers, you would have half-expected the Claret Jug itself to be walking out the front doors.
When he finally was reached for comment, Montgomerie digested the latest take from Lyle and said in his own inimitable way, "It was a very strange apology."
Strange? Sure, but that could describe everything about this story. Then again, we should expect nothing less at the Open Championship, where controversies are treated like World War III, especially when they involve the local guys.
Jason Sobel is a golf writer for ESPN.com. He can be reached at Jason.Sobel@espn3.com.