Barron's violation a solitary issue
November, 2, 2009
11/02/09
5:47
PM ET
If we needed proof that performance-enhancing drugs and professional golf don't mix, it now exists.
The PGA Tour announced on Monday that Doug Barron has been suspended for one year after violating its antidoping policy. He's the first player to receive such punishment since the system was implemented in July 2008. This news came on the heels of a season during which the longtime veteran earned exactly zero dollars in four Nationwide Tour starts and one on the PGA Tour while playing on a minor medical extension. And he wasn't much better last year, either, making the cut in just five of 17 starts on the developmental circuit, earning $33,446 to finish 127th on the money list.
Barron Violates Drug Policy
Doug Barron, a journeyman pro who played on the Nationwide Tour in 2009, became the first player on the PGA Tour to test positive for a performance-enhancing drug.
Bob Harig
A contrarian may point out that his poor recent record is, well, the exact reason a pro would turn to PEDs, but it's still up for debate whether such drugs would enhance a golfer's performance. Yes, it's beneficial to be able to bang the ball a country mile and gouge it out of some deep rough, yet muscles alone are hardly the foremost priority for players seeking to compete at the highest levels.
It certainly doesn't appear that was Barron's game, either. In those four Nationwide starts this season, he averaged 277 yards off the tee, which was actually more than five yards fewer than his number of a year ago.
Although a verdict has been made to determine his fate, the jury still may be out on what exactly happened for him to get caught.
"I would like to apologize for any negative perception of the tour or its players resulting from my suspension," Barron, 40, said in a statement released by the PGA Tour. "I want my fellow tour members and the fans to know that I did not intend to gain an unfair competitive advantage or enhance my performance while on tour."
[+] Enlarge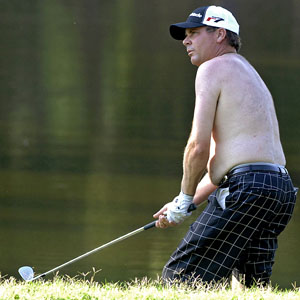 Al Messerschmidt/Getty ImagesDoug Barron, who might be best known on the PGA Tour for this shirtless incident at the 2006 Chrysler Championship, has amassed $3,239,697 in on-course earnings during a combined 338 career starts on the PGA Tour and Nationwide Tour.
It's fair to say that whatever prompted Barron's suspension may not have been the old-fashioned notion of steroids that led to so many Major League Baseball and NFL suspensions in recent years. Included on the PGA Tour's list of "performance-enhancing drugs" were such medications as Vicks VapoRub and, well, other things.
"My wife is a pharmacist, so she's read through it," Rich Beem said before last year's AT&T National, the first tournament at which players were tested. "She was actually laughing at a lot of the stuff. There's stuff in there that pregnant women take and not anybody else, and so she's like, 'What are they doing?' But obviously they've got to cover their bases."
All of which should lead to one specific question regarding Barron's suspension: What did he take, and what were his motives? The Memphis native played on a minor medical extension this season, part of an injury-plagued career that has included three shoulder surgeries; many PEDs are known to speed the healing process.
As of now, that news has yet to be uncovered, but it does lead to a more general query about his fellow professionals: If a guy who failed to earn one paycheck this year is taking something, isn't it fathomable that everyone above him is doing it, too?
Well, yes ... and no. Performance enhancers are hardly an issue, if you ask any player -- well, save for Gary Player, who made news at the British Open a few years ago by saying he knows some players have used in the past -- although it's a safe bet that if everyone were doing it, they'd all keep quiet about it.
That said, let's hold off on the witch hunt for the time being. In a twisted way, it's actually a good thing that Barron got caught, as it proves the PGA Tour's ongoing efforts toward wiping out any potential PED use weren't fruitless nor a waste of time and money. It also discredits the theory that Tim Finchem and the folks at the Ponte Vedra Beach, Fla., headquarters would cover up any positive tests to keep suspicions to a minimum.
You know what they say: Once is a coincidence, twice is a pattern. Until there is further proof that other PGA Tour members have been guilty of attempting to subvert the system, consider this a singular issue for one individual rather than a trend throughout the sport.
For Barron, this is the second time in the past half decade that he has made headlines. Consider it ironic that the first came during the opening round of the 2006 Chrysler Championship, during which he went shirtless to hit a shot from a water hazard. At the time, there were certainly no visual suggestions that the 5-foot-9, 170-pounder was taking any kind of performance-enhancing drugs.
Three years later, his results don't show implication of this, either. And yet, Barron will go down in history as the first PGA Tour golfer to be suspended for violating this policy.
Jason Sobel is a golf writer for ESPN.com. He can be reached at Jason.Sobel@espn3.com.