It's an old line handed down by generations of golf writers, generally used any time a friend, family member or total stranger remarks on all of the legitimate opportunities available to play luxurious, high-end courses while covering the professional circuit.
Share Your Top Courses Of 2009
ESPN.com golf writer Jason Sobel ranked the five top courses he played in 2009; now it's your turn. We'll publish the best answers we get from you, our readers.
Submit your favorites
And it's one that I don't mind repurposing for the sake of this piece.
"The more I cover the game, the less I actually get to play."
That's not a complaint -- and certainly this job has enabled me to tee it up in some places that I never would have otherwise dreamed possible -- it's just a fact of this life. An addendum to this fact: Of the 14 events that I covered this year, only once did I have the chance to play some golf, meaning I'm either working too much or too slowly. Toss in a few vacations that included zero rounds and, well, let's just say that when it comes to playing as much as possible, I missed the cut.
Then again, the 2009 lineup of my favorite courses I played still includes a few gems and plenty of history lessons -- namely, the initial hosts for the U.S. Open, Open Championship and Ryder Cup. Allow me to offer up my top five, and start thinking of yours, too. There will be a homework assignment at the end.
Newport CC: I'm already on record as saying that Augusta National and Pebble Beach are Nos. 1 and 1A on my personal scorecard -- interchangeable depending on my mood -- but the site of the first U.S. Open in 1895 steadfastly remains in third place. Two late-season trips to the venerable Rhode Island venue were the highlights of my golfing year, especially the Saturday afternoon in late October when our foursome consisted of the only four players on the course, all others ostensibly electing to sit out the consistent 40 mph winds and light rain.
If such conditions don't sound like fun, then you've never played a 180-yard 3-wood into the blower, only to turn around on the next hole and hit sand wedge from the same distance.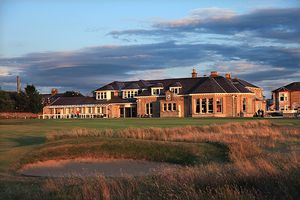 David Cannon/Getty Images
Prestwick Golf Club.
Prestwick GC: A little more than 12 hours after 59-year-old Tom Watson tragically lost the Open in a playoff, I was part of the opening morning two-ball on the very grounds where Willie Park won the first edition of that tournament back in 1860. Ironically enough, my caddie had looped for five-time champion Watson during a leisurely round at Prestwick years earlier, and from what I could gather through his thick Scottish brogue, he thought quite highly of Old Tom as both a golfer and a person.
The highlight of the round: As we walked up the fairway on one of the back nine's short par-4 holes, the caddie told me that Watson had hit his approach to within 2 feet of the cup that day years ago. I then proceeded to knock mine to precisely 23½ inches away. At least, that's my story and I'm sticking to it.
East Lake GC: A late-summer afternoon, walking the course, using a caddie, playing in a twosome, finishing in just over three hours. If this isn't the way golf was meant to be played, then I don't want to be right. East Lake has always been one of my favorite -- and, in my opinion, one of the most underrated -- courses on the annual PGA Tour schedule, but I have a new affinity for Bobby Jones' training ground after playing it for the first time.
And here's a little inside info: One month before the FedEx Cup-ending Tour Championship, the course may have actually been tougher than it was for the event. Sure, the greens were quicker for Phil and the gang, but as usual the rough was being grown to an extended length before receiving the proper treatment for tourney week. If you ever want to see a track at its stingiest, go play it prior to a pro contest, not afterward.
Dundonald Links GC: When my colleagues and I spied the terrifyingly shaped pot bunker behind the par-3 11th hole -- it couldn't have been more than 6-8 feet wide, but seemed just as deep -- we laughed. When my tee shot fell short of the green and a skulled chip found that very hazard, they were still laughing.
And when several attempts to extricate my ball from said bunker failed -- and by several, I mean, like, lots of 'em -- they were nearly doubled over. The good news? By the time I finally pitched out, I was so frazzled that the ensuing three-putt wasn't even disappointing. Neither was the entire round on this links land; in fact, it's only a credit to all the other top-flight courses in Scotland that this place isn't perceived as a must-play.
Worcester CC/Essex CC: I'm grouping these two old-school Massachusetts tracks together, because they aren't all that dissimilar in design or layout. Worcester hosted the first Ryder Cup in 1927, and the Donald Ross track remains the only course to host that event and both the U.S. Open and U.S. Women's Open.
As you might imagine, the place is oozing with history; if you can't feel it among the 18 holes, check out the clubhouse artifacts for a more literal presentation. Essex isn't just another Ross design; he actually worked as an instructor there and lived in a house on the course that still stands today. The site of next year's Curtis Cup, it will also forever be known as the home to my team's victory in a scramble tournament to raise money for a local college this past summer. OK, maybe not.
If my personal ranking was akin to a college football poll, then consider Northeast stalwarts CC of Fairfield, Bethpage Blue, TPC Boston, TPC River Highlands and Tower Ridge CC (my home course) among those in the "also receiving votes" category.
Now it's your turn.
Submit a list of your five favorite courses played in 2009 with a brief explanation as to why you chose each one. I'll be posting many of your responses in an upcoming blog entry, so include your name and hometown, as well. Click here to submit your list now.
Until then, hit 'em straight ...
Jason Sobel is a golf writer for ESPN.com. He can be reached at Jason.Sobel@espn3.com.