After first win, Wie headed in right direction
November, 15, 2009
11/15/09
7:51
AM ET
There are NFL and NBA superstars who have gone to trial for heinous crimes, only to find their images largely untarnished afterward. Some of professional baseball's greatest sluggers were discovered to have used performance-enhancing drugs, but could still fill a city block with an impromptu autograph signing. A world-record-setting Olympic swimmer was photographed with drug paraphernalia, which simply made him the punch line of late-night monologues for a few days.
Wake-Up Call
The knock on Michelle Wie usually went something like, "Wake me up when she wins." Well, the 20-year-old claimed her first pro victory Sunday at the Lorena Ochoa Invitational.
Recap
If anything, these examples prove that sports fans are ultimately and unfailingly forgiving when it comes to the transgressions of our most elite athletes. And it begs the question: Following her first victory as a professional, will public sentiment for Michelle Wie remain venomous or will she be welcomed into the good graces of fans with open arms?
Despite the indiscretions of the aforementioned athletes -- not to mention countless others -- it can be argued that none has been more vilified during the past decade than Wie, whose sole impropriety has been a failure to win at the highest level of her sport.
Wie first burst onto the scene as a precocious 13-year-old, finishing in a share of ninth place at the year's first women's major, but it was her inclusion at the 2004 Sony Open that vaulted her into the role of global phenomenon. Playing against the world's best male golfers, she posted rounds of 68-72 at her hometown event, failing to make the cut by a single stroke.
In a society that thrives on underdog stories, in a generation that values diversity and culture, the youngster should have been considered the game's most exciting prospect in years. And she was ... for a while.
A funny thing happened to her, though, on the road to superstardom, and perhaps just as importantly, likability. Wie turned professional at age 16. She was handed millions of dollars from sponsors Nike and Sony. She was awarded sponsors' exemptions to events on men's tours. She was hailed by the media as the female version of Tiger Woods. She was given everything she asked for. And much, much more.
[+] Enlarge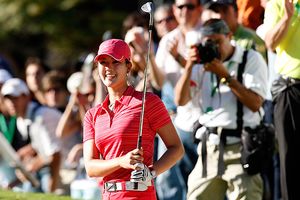 Kevin C. Cox/Getty ImagesMichelle Wie's victory Sunday held off some of the LPGA Tour's brightest young stars to claim her first professional victory.
Through injuries and swing changes, close calls and major whiffs, she seemed to regress on the course, eclipsed by other young peers who were winning important tournaments. That's when the public backlash against her really began, when pure malice for a teenaged girl became commonplace, when the world started hating Michelle Wie.
Her victory at the Lorena Ochoa Invitational, where she fired a final-round 69 on Sunday to win by 2 strokes, should go a long way toward silencing the dissenters, but old habits die hard. Those who have claimed for years that she's been handed everything on a silver platter and hasn't had to work for such fortunes may simply turn a blind eye toward this latest accomplishment.
There's no doubt that Wie's contrarians will turn their fervor regarding her winless career into rage over the fact that she's only won once. Or doesn't have a major championship. Or won't win the Player of the Year title.
You see, for a majority of sports fans, the build-up for Wie was so fierce, so persuasive, that nothing she does will ever be good enough.
That's hardly the way to treat such a talented, young athlete, especially one who appears to finally be hitting her stride after so much strife in her professional career. It doesn't conform to the standards we hold for other competitors, either. For most, continually losing will reap negative criticism, but wins make the world a happy place once again.
For Wie, though, one win won't be enough to silence the critics. She needs to conquer her opponents, over and over again. She needs to claim multiple titles in a row. She needs to be dominant, the best player on the LPGA, bar none.
In short, she needs to live up to all those expectations.
Of course, that's only if Wie wants the general public to finally drop its collectively dismissive attitude toward her as a person. The fact is, though, she may not care. And she shouldn't care. Directly after her victory in Guadalajara, Mexico, she sounded equal parts ecstatic and relieved, with a dose of determination thrown in, as well.
"I think that hopefully life will be a lot better, but I still have a lot of work to do," she said. "I still have a lot to improve. It just feels so great right now."
Wie never deserved her role as the world's most scorned professional athlete, but it happened anyway. Now that she's finally found the winner's circle, it's time to strip her of such shackles, allowing her to once again be that talented phenom we first witnessed so many years ago.
We've let so many others off the hook for greater solecism in the public forum. It's time to extend an olive branch to Michelle Wie, too.
Hey, you never know: With a little encouragement, she just may live up to those original expectations. This initial victory was certainly a step in the right direction.
Jason Sobel is a golf writer for ESPN.com. He can be reached at Jason.Sobel@espn3.com.