For Wie, balance plays important role in life
November, 16, 2009
11/16/09
11:13
AM ET
There is a photograph from Michelle Wie's revelry after she won the Lorena Ochoa Invitational on Sunday that differs from those of most other just-crowned tournament champions. In this shot, she isn't merely holding the trophy aloft or planting a posed kiss on its shiny exterior. Instead, Wie is embracing the award in a joyous bear hug, squeezing it with all her might while an exuberant smile remains plastered across her face.
[+] Enlarge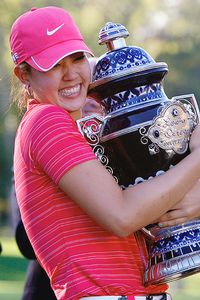 Kevin C. Cox/Getty ImagesMichelle Wie clutches her trophy after winning the Lorena Ochoa Invitational. The 20-year-old said the trophy likely will end up at her parents' house.
If a picture says a thousand words, this one speaks volumes about what claiming the hardware meant to her.
Said Wie, when told of her expression while clutching the trophy: "I love it. It's my little baby."
One day after the victory, though, the snapshot wasn't doing all the talking. Wie sat down on the ESPN.com Hot Seat to discuss her new life as a champion and why a certain celebration shouldn't be cause for concern.
Q: You referred to this victory as a monkey off your back. Do you feel more excited or relieved -- or is it a combination of both?
A: I'm just so happy. I'm also really relieved, but I'm just so proud of myself, and now I'm motivated to practice harder and play better and win more.
Q: Was there ever a point where you thought this may not happen, that all of the hard work and effort would never lead to a spot in the winner's circle?
A: Yeah, you know, it was very frustrating. There's a limit on your body when you're facing injuries. No matter how hard you try, it's just tough when you're facing times like that. But I think through those times, I learned a lot about myself, I learned a lot about my body.
I think that it's true -- whatever doesn't kill you makes you stronger. I'm a lot tougher person because of it now, and I can say I've been through it and I've overcome it. I'm really proud of myself for overcoming the tough times in my life. I'm just so happy right now, so excited about the future. I'm just really inspired.
Vindicated?
For years, the naysayers had a field day with Michelle Wie's career path, endorsement deals and general lack of anything earned. Might that change after her first victory?
Jason Sobel
•
Wie gets first LPGA tourney victory
•
Sobel/Smith: Analzying Wie's win

Q: In regard to those tough times, I don't think most people realize how much of an impact the wrist injury had on your game.
A: Even I didn't even know how much of an impact it was going to have! I never really hurt myself before. It wasn't caused by golf; it was a freak accident. [Wie injured her wrist during a fall while running in 2007.] I thought I was going to be fine after they took off the cast, but it really influenced me a lot.
Honestly, I don't even remember a lot of the stuff from that time. It was tough to come back, but I fought through it and had a great support system -- my family, friends, [instructor] David [Leadbetter], my sponsors -- everyone around me kept things positive, even when I wasn't. Once I got past that, once I got to re-evaluate my life and what I wanted to accomplish, I realized that the most important thing for me is to be happy. I play well when I'm happy, and, well, I'm happy when I'm happy [laughs]. I've kind of been reinvented.
Q: You mentioned having your support system there at your lowest point. What was that low point?
A: Oh, I don't know. There were a couple [laughs]. It was just when things weren't going my way. I can't really tell you an exact or specific date, but there was a definite time when there was a dark moment and there were those demons inside. But I'm fighting through it.
We all go through lows and highs in our day. I'm just hopeful that I get to experience the highs. Obviously, if the highs are going to be that high, the lows are going to be as low, too. So that just makes me feel that much better. It makes this victory so much more awesome and fantastic.
Q: How much pressure did you feel to win?
A: Honestly, I felt a lot of pressure, but it was more internal. I was just like, "Come on, I know I can do it." I really just wanted to win already. I kept telling myself I was good enough. But this week, I just went out there like I have all year, just trying to have fun, knowing that I'm trying my hardest and giving it 110 percent.
Q: Is there any correlation between turning 20 years old and winning for the first time? [Wie turned 20 on Oct. 11.]
A: Maybe turning 20 was a good thing. It definitely made it feel like I was getting older [laughs]. You know, it's just such an awkward age.
Q: After clinching the win, you had beer poured on you by the other players on the 18th green.
A: Yeah, they did.
Q: You're not 21 yet. Are you going to get in trouble with the LPGA?
A: No, what happens in Mexico stays in Mexico. It was just really cool. You see it on TV; whenever somebody wins, players pour beer all over them. It was one of those things where I always wanted that to happen.
Q: I assume winning a tournament was pretty high on your list of priorities. So, what's next? If you were putting pen to paper and jotting down future goals, what would be on that list?
A: I think No. 1 is to be happy, to be content with my life. And No. 2 is more of a personal goal, where I just want to know that I tried my hardest and gave 110 percent in everything that I do.
Previous Hot Seat Guests
Who else has appeared on ESPN.com's Hot Seat to discuss golf? Everyone from Tiger Woods to Jack Nicklaus.
Click here for the full list.
Obviously, I want to win a lot more tournaments, win majors and player of the year and all that stuff. But, you know, I realize that there are a lot of external factors in those areas. There are a lot of things that I can't control, but one thing I control is how hard I try and how much I put into it. I put a lot more of my soul into the sport now.
Q: You keep talking about being happy. What makes you happiest? Is it winning golf tournaments? Your family life? Being with friends? All of the above?
A: I think it's a combination of everything. It's a balance. My friends definitely make me happy; my family definitely makes me happy; winning golf tournaments definitely makes me happy. It's just a little reward that I get, knowing that I put in the long hours, just the gratitude and the relief, everything that I feel.
When the hard work pays off, it just feels so great. And then, having another life, going to Stanford makes me so happy. I can't even put it into words. I love going to school. I love having a normal life, going to football games, going to basketball games, going out to eat with my friends. I love the balance that I have in my life. I've got a good mix of everything.
Q: Speaking of Stanford, is that huge trophy going to be taking up space on some desk in your dorm room?
A: I don't care; I'll move everything around for that thing. No, it will probably be at my parents' house. But I'll definitely have the flag hanging in my room.
Jason Sobel is a golf writer for ESPN.com. He can be reached at Jason.Sobel@espn3.com.