Kuchar back in Masters spotlight again
April, 7, 2010
04/07/10
6:24
PM ET
AUGUSTA, Ga. -- Twelve years ago,
Matt Kuchar
was the reigning U.S. Amateur champion, and with that title came an opening-round pairing at Augusta National with a certain Masters winner.
"When I got to the tee box," Kuchar said recently, "it was like, 'Gosh, I'm paired with Tiger Woods!'"
[+] Enlarge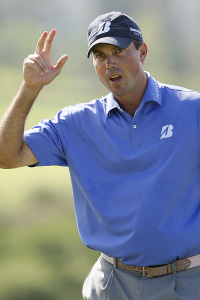 AP Photo/Eric RisbergMatt Kuchar isn't too concerned about how the Tiger Woods frenzy may affect his game this week.
On Thursday and Friday of this year's edition of the tournament, Kuchar will again tee it up with Woods (and K.J. Choi), but the circumstances will be much different.
Making his long-awaited return after a highly publicized personal scandal, Woods is set to embark on a round that rates among the most anticipated in golf history. Kuchar sat down on the ESPN.com Hot Seat to discuss the front-row seat he will have for 36 holes.
Q: You look pretty nervous about teeing it up with Tiger.
A: [Laughs.] I wouldn't say nervous. I'm actually feeling really calm at the moment. I feel like my game is in good form. I'm excited. You'd always like to play great and stay under the radar, but in this case you're not going to be able to do it. If you really want to be great, you're going to be thrown in the lion's den. You're going to have to play with the best -- and that includes Tiger Woods. You're going to have to play with Tiger Woods and get used to playing with Tiger Woods, because he is the best. So I think it's a great opportunity.
Q: Can this grouping impact your game at all?
A: It could. I think all of us probably play our best when we're at home playing with buddies, when we're relaxed, not feeling a lot of pressure. There's going to be a lot going on the next couple of days, but I've played in front of a lot of people before; I've played with a lot of stuff going on before and done well. That's what I'm saying about getting used to being in the lion's den. If you want to win major championships, you're going to have a lot of commotion going on in final groups on Sundays at majors. This is going to be Thursday/Friday of a major, but there is certainly going to be a lot going on.
Q: You've obviously known Tiger for a while. What is your relationship like with him and do you think it will change going forward?
A: I don't know Tiger that well. I've played two rounds of golf with him and that's probably the extent of time I've been around Tiger. The two rounds have been much more enjoyable than I had anticipated. I thought when I saw my tee time with Tiger Woods my first couple of times that he would probably be really focused, really intense, probably won't talk very much. But he was actually easy to play with and nice to play with. I played one round in the U.S. Open right in front of his group, and that was pretty difficult. That was at Pinehurst [in 2005]. You know, there's a lot of jockeying for position for the group in front of Tiger, so I think those guys may have it tougher than we have it with Tiger.
Q: What will you say to him on the first tee?
A: "Nice to have you back." I mean, that's about it. I don't know what else to say. I've thought about it, but I don't know. His personal life is none of my business, although I must say it was a fascinating story. I read all the gossip magazines that I could find on it. It was captivating; it was fascinating; it was amazing. It's a difficult situation, because it's such an awkward thing. My wife [Sybi] initially was amazed that nobody really spoke out against him and said what a terrible thing it was. You have to agree with her. It was an absolutely terrible thing that he's done. At the same time, it's really none of my business, none of anybody's business but his family's.
Q: Did you get a chance to watch his news conference on Monday?
A: I only saw a clip, but it seems to me that his PR folks did a terrible job. There are just so many other examples of people who had bad situations and came out and faced the music and got it over and done with. It seems like this has dragged on and it's been the wrong way to handle it, but maybe they had a plan and they're executing it. Maybe a year from now, people will say it was a good plan. Coming back at the Masters, I think everybody can understand that here inside the ropes, it's pretty much player, caddie and that's it.
Q: Everyone is making predictions on where Tiger will finish. I know you're focused on your own game, but where do you think he finishes this week?
A: I think he makes the cut but doesn't really contend. Upper half of the made-cut field, but not really in contention.
Q: And where will Matt Kuchar finish?
A: [Laughs.] That one I never predict. I never put a score on what I should shoot; I never put a prediction on where I'm going to finish. My game is in good form. I'm looking forward to playing some good golf. But it's a funny game -- you just never know.
Jason Sobel is a golf writer for ESPN.com. He can be reached at Jason.Sobel@espn3.com.