Rice trades in touchdowns for Titleists
April, 15, 2010
04/15/10
5:44
PM ET
He has been
Jerry Rice
the football player and Jerry Rice the dancer, but at this week's Fresh Express Classic at TPC Stonebrae on the Nationwide Tour, he will become Jerry Rice the golfer.
[+] Enlarge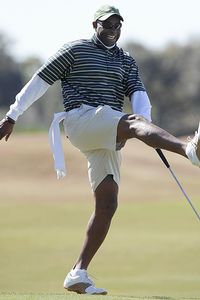 AP Photo/Mark J. TerrillFuture Pro Football Hall of Famer Jerry Rice is making his pro golf debut this week in the Nationwide Tour's Fresh Express Classic.
Truth be told, Rice has been a golfer for more than two decades now. Never before has the spotlight shined so brightly on his on-course skills, though, as he teed it up in his first PGA Tour-sanctioned event on Thursday.
Prior to taking on the pros in the world's best developmental circuit, Rice sat down on the ESPN.com Hot Seat to discuss his own game, that of Phil Mickelson and whether he'd trade those Super Bowl rings for a certain green jacket.
Q: Why compete in a professional golf tournament? Is it to prove something to yourself, to others or simply because you were asked?
A: First of all, yes, I was asked. There's speculation out there that I'm going pro. I know how difficult this game is; I have a passion for it. I started playing golf back in 1987. And it's sort of ironic, because what happened was my trainer brought a couple of golf clubs and balls down to the track, where we did the majority of our running and all that. In between, I tried to hit the golf ball and I couldn't hit this stationary white ball. So that became a challenge for me, and after that I became addicted to it. I would jump up around 4:30, 5:00, go to the driving range early in the morning, hit golf balls, work on my game, then go to work and be at work at 8:30 for meetings at the 49ers' facility. Work all day, then come back after and pound more golf balls. So it became a passion, just something that I really love doing.
Q: Are you a better golfer because of your football career, or did that hinder your progress on the course?
A: I am so busy doing so many things. This is a game that you have to work on every day; it has to be your priority. I've got other endorsements going on, appearances that I have to make. Even if I'm doing something with "Dancing With the Stars" or Kellogg's, that takes away from my game. But I love it, man. I love the challenge of it; I like working on it. And because I played football, I think from a mental aspect, I have been in the ultimate game. I know what that feels like, having 60,000 people watching you. So that's not going to be a problem. I think the thing for me is, I've just got to be able to channel the ebb and flow, because there are going to be highs and there are going to be lows. I want to come out relaxed, play golf, try to make pars and start building momentum. If that should happen, try to hit it close to the flag and make some birdies.
Q: You talked about the mental aspect and performing in front of fans, but is there anything physically you've learned on the gridiron that has helped your golf game?
A: Just being able to function under pressure, not letting people see you sweat. Knowing that inside there is a battle going on and being able to channel that and still perform at your best. I remember Super Bowl XXIII, on that final drive, you had fans sitting on the edge of their seats with about 3:10 left in the game. You only get a chance to practice that two-minute drill once during the week, and that's on Thursday after practice when you're tired. But you have to be able to function, even though you're tired. So mentally, I think I'm strong enough to be able to fight through adversity, just be patient and let the game come to me.
Q: Give me the scouting report on Jerry Rice the golfer.
A: When I first started playing golf, I was swinging as hard as possible. Now I know you don't have to swing so hard. It's almost as if when you swing easy, you hit the ball further. I would always go to the range and open up by trying to hit my driver and start pounding away. Now it's totally different. My short irons first, then I come to my mid-irons, then my woods. I spend the majority of my time on my short game right now, chipping and putting. And my favorite iron in the bag right now is the 5-iron. I pretty much hit a straight ball, but I can also fade it if I have to. I'm still learning the game. If the ball is above the feet, you know it's going to go to the left; if it's below your feet, it's going to go to the right. I have learned so much about the game on the course -- even how you line up on the tee to give yourself a better chance of hitting fairways, being able to look at the course and know the shot, visualize the shot that you want to hit. So I feel like my game has come a long, long way.
Q: You're going into the Pro Football Hall of Fame this year. If you could go back in time, would you trade it for a life as a Hall of Fame professional golfer?
A: [Laughs.] No way, man. I think it was destiny for me to play football. That was something I really loved doing. And I enjoyed training camp, minicamp; whenever I stepped on that football field, I didn't have any regrets. I always wanted to be out there entertaining. It's the same thing in golf. When you go out there, you want to show your best performance, you want people to come and watch, and you want to inspire people. I think a lot of people are so excited about what I'm doing right now. Even when I did "Dancing With the Stars," it was crazy, because people were like, "Oh my god, yes, he's a great football player, but I don't think he's going to be able to dance." I fought through that and I did pretty well, and hopefully I inspired people by doing "Dancing With the Stars" and also by playing golf right now.
Q: OK, how about this: Would you trade all of your Super Bowl rings for one green jacket?
A: [Laughs.] You know what? It was so funny, because I saw Phil [Mickelson] when he hit that shot through the trees [on the 13th hole in the final round of the Masters], and as fans, we put ourselves in that position. I picked Phil to win the Masters; I just felt like it was time for him. I knew that Tiger [Woods] would come back and play well, but he had a little rust. Still, to be able to place fourth like that, that's just unbelievable. It just goes to show how good Tiger Woods is. But we put ourselves in that position; I think about it all the time. What would it be like to have Phil put one of those jackets on me? It's the ultimate. And I will make the comparison to winning the Super Bowl and being chosen to go into the Pro Football Hall of Fame with all of the elite players, players who started the game, who made the game what it is today. So that would just be unbelievable to put that jacket on. But I could not trade my Super Bowls. I just can't do it, because they were the experience of a lifetime for me.
Q: How about just one of 'em? You've got a few to spare.
A: I don't know, but I love that green jacket. They'd have to taper it, though. I like my clothes to have a good fit, you know?
Q: You finished second on "Dancing With the Stars." Are you a better golfer than a dancer?
A: I think I'm a better golfer. Dancing, I was really like a fish out of water, man. To do what you have to do, you have to work hard -- that's the most important thing. What you apply to football, you have to apply that to dancing, because you've got to be committed. But, yeah, I think I'm a better golfer, and now I have the opportunity to get out there and prove that.
Q: By my logic, if you're a better golfer than dancer and you finished second in the dancing competition, that means you should always finish first in golf tournaments, right?
A: No, no, no. I'm starting to learn more about golf. I don't play 36 holes too often. I don't get a chance to play every day, but when I get out there, I try to work hard and try to prepare myself. But golf is about muscle memory and things like that. The most important thing for me is to always go out there and play at my best. It's the type of game where you can't blame anyone else. If you don't play well, that's on you. You can't say, "Hey, look, my teammates didn't step up to the plate today." It's all you, and you have to deal with it.
Jason Sobel is a golf writer for ESPN.com. He can be reached at Jason.Sobel@espn3.com.