Perry still owns major aspirations
June, 1, 2010
06/01/10
6:01
AM ET
CROMWELL, Conn. -- Byron Nelson quit playing competitive golf at the age of 34. Bobby Jones was even younger, giving up the grind at 28.
Those stories aren't the norm, however. In golf -- more so than in other elite athletic pursuits -- players tend to succeed later in their careers.
Exhibit A: Kenny Perry.
After joining the PGA Tour in 1987, Perry didn't win his first title until four years later, taking the Memorial at the ripe old age of 31. Nearly two full decades later, he's still going strong. In fact, KP is coming off his two best seasons on the money list, finishing in fifth place each of the past two years, with a combined five victories.
[+] Enlarge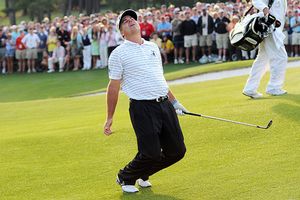 Don Emmert/AFP/Getty ImagesKenny Perry admits that he's thought about the impact of losing a two-shot lead with two holes to play at the 2009 Masters. But the Kentucky native continues to look forward in his playing career.
During the recent media day for one of those wins -- last year's Travelers Championship -- Perry sat down on the ESPN.com Hot Seat to discuss turning 50, the effect his family has had on his game, and the ups and downs he's experienced in recent seasons.
Q: In the past few years, you've undergone the highest of highs -- winning the Ryder Cup in your home state -- and the lowest of lows -- losing the Masters after owning a two-shot lead with two to play. Has it been an emotional roller coaster, or have you been able to roll with everything pretty smoothly?
A: It hasn't been a roller coaster; it's definitely been all highs. I mean, even the Masters was a high for me. That was a magical week. I just got the lead too early. If I would have got it on the 72nd hole, that would have been perfect, but here I am at 48, 49 years old, winning five times in the past two years, had that great run at the Ryder Cup, great run at the Masters. It's just phenomenal to sit back and think about all the success I've had this late in my career. It's been pretty remarkable.
Q: I've heard you say before that success breeds success. Is that what's happened for you?
A: Very much so. Once I got on that run of winning, it really made me think I could win 'em all. It really did. And it showed -- I mean, if I wasn't in contention, I was still top-10ing. I'd made 30-something cuts in a row; I finally missed a cut this year at Bay Hill. It's just phenomenal how many weeks I kept playing and never had the weekend off. I just kept playing week after week after week and kept playing magical golf. I really can't put my finger on what was keeping me so successful. I just got in that zone, you know? I just believed that I had a chance to win tournaments, and that's what kept me motivated and kept me focused.
Q: Do you ever allow yourself to ask, "What if?" in regard to last year's Masters?
A: Oh, you're only human to think about that. To think about wearing the green jacket, being on that winner's list, going to the champions' dinner. What was I going to serve? Would it be fried chicken? I don't know. But yeah, I think about that.
I still think about the PGA [Championship] that I blew in '96; I could have had two majors on my résumé. And that definitely, with the win total I've got, would have put me in the Hall of Fame, which is something that's in the back of my mind. I would somehow dearly love to make the Hall of Fame. I'll never forget when my son [Justin] introduced me into the Kentucky Hall of Fame. He said one day he hopes to introduce me into the PGA Hall of Fame. And that quote has been with me since that day. It's been with me a long time.
So that's probably my last goal. Don't know if I'll ever achieve it. I said I'd like to win 20 times; I just kind of threw that out there to see all the media guys roll their eyes, but I'm going to have to do something very special. I'm going to have to win one or two majors somehow if I'm actually going to be able to get even a thought of being on that ballot for the Hall of Fame.
Q: Do you think that's sort of the criteria? There's been a lot of talk lately since Fred Couples has 15 wins and one major; Jim Furyk has the same numbers. Do you have to get a little bit past that?
A: Yeah, Corey Pavin, too. I don't know. I don't know what they're looking for. I think you look at the players now, and you don't have that many with multiple major wins like they did when [Jack] Nicklaus and all them were playing. I don't know if they're just going to look at your win totals, the person in general, Ryder Cups, Presidents Cups. I don't know what the committee is going to be looking for.
Q: One last thing on the Masters: You wound up getting paired with Angel Cabrera in the final round at Augusta this year. Was that a cruel irony served up by the golf gods?
A: Yeah, I think it was. That was a weird day; it really was. I was reminiscing about the past that whole round. I never could really focus -- played poorly, shot 74. But I've been playing poorly all year, so I don't know if that was part of it. Didn't help any, let's put it that way.
You kind of walk back down memory lane, and think about all this stuff you should have done and didn't do. You kick yourself a little bit, but then you look at all the shots you pulled off under the gun and all the things you did right. I guess it's just getting so close and knowing you've got it. It's yours. And you blow it. That's kind of a hard pill to swallow.
Q: What are your goals right now?
A: Don't have any. That's what is killing me, I think, this year. I need to set me some good goals, but with family issues I've been fighting, my life has kind of changed over the last six months. But I do need to sit down. I set big goals in '08 and did well; I set big goals in '09 and did great. I need to kind of sit down and rethink my process here, so I can get ready for the summer. Summertime golf is my favorite golf. I love playing golf in the summer, and those are great tournaments for me. I need to refocus in and try to get back in that winner's circle.
Q: Based on that, what still motivates you?
A: I'm a competitive person. If me and you are playing checkers or cards or whatever, I want to beat you and I want to beat you bad. I'm going to shake your hand at the end of the day, when it's all said and done, but to me it's just genetics, what's bred into me. It's what my dad taught me. I'm a fiery competitor, and I want to win at anything I do. I don't know why and I can't explain why; it's just what I am and who I am.
Q: Speaking of motivation, you've seen Fred Couples, Tom Watson, Greg Norman each contend at majors over the age of 50 in recent years. Does that breed confidence for you going forward?
A: Oh, it motivates me if those guys can do it. You know, I looked at Hale Irwin and Fred Funk -- those guys were being successful on the PGA Tour at age 50, and that kind of motivated me to think that I could still be successful when I turn 50. So yeah, when you see stuff like that happen, it definitely gives you confidence.
Q: You turn 50 in August. I know you've watched Freddie turn the Champions Tour into his personal ATM. Are you watching these events -- 54 holes, no cuts -- and just salivating, saying, "I can't wait to get out there"?
A: Well, that would be nice. You'd be able to plan your traveling schedule a little easier; you wouldn't have to worry about exiting out on Friday night. You know, I'm definitely going to get out there and play some this year. I'm exempt on the regular tour for another four more years, so you'll see me bouncing back and forth.
I'll play the regular tour; I'll play the Champions Tour some. Fred Funk told me you need to be committed to one or the other. That year he tried to play on both? He did horribly on both, he said. Once he finally said, "Oh, the heck with the PGA; I'm going to play the Champions," he started playing really well on the Champions Tour. So I don't know if I can be any different.
Nick Price told me, "Don't come out here until you want to just come have some fun." You know, every time I hear something, the first word out of their mouth is fun. "We have fun out here; it's nothing like the PGA Tour." It's very relaxed, very casual, a lot of good times. So that part of it I'm looking forward to. I'm tired of dealing with stress and pressure. I've got enough gray hairs on my head.
Q: Is playing the PGA Tour not fun?
A: At times. It's just like anything else; it's a grind. I mean, you live in a hotel room for three weeks straight, you're doing laundry, you're figuring out which hotel to travel to, you're on a plane twice a week. I hurt my shoulder carrying that golf bag through airports. It just gets old. It gets tiring. For a young kid, a rookie or something, they would love it. They're in heaven. But heck, I'm getting ready to be a 25-year vet out here, so it's just another day at the office for me.
Q: You mentioned family. Your mother passed away in October. What kind of perspective has that given you on both golf and life in general?
A: Well, it made me realize how important family is. I hired my son to start working for me. I wanted him to be closer to me, because he's just out of college. I wanted to help get his life sorted for his future. And I haven't been as focused on golf.
My wife's mom is doing very poorly; she's got 24-hour care as well. She's in her 80s. My dad's 86. It just made me realize how vulnerable we are. I'm not going to live forever. And you know what? I'm going to enjoy these last few years on the PGA Tour, and yet, I'm going to make it right with my family, as well.
Is it scaling back my golf? If I have to do that, I'll do that. If not, if they're all doing OK, then we're going to push hard on the golf and hopefully be successful there.
Jason Sobel is a golf writer for ESPN.com. He can be reached at Jason.Sobel@espn.com.