Dustin Johnson hoping for different ending
August, 28, 2010
08/28/10
7:45
PM ET
[+] Enlarge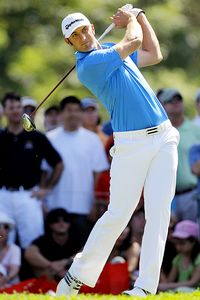 John Munson/The Star-Ledger/US PresswireJust two weeks ago, Dustin Johnson missed out on a playoff at the PGA Championship. Now, he goes into the final round at the Barclays playing in the last group trailing 54-hole leader Martin Laird by just 3 shots.
PARAMUS, N.J. -- In what has become golf's version of Wile E. Coyote waiting for the Acme anvil to drop, Dustin Johnson will once again play in the final pairing of a big-time tournament on Sunday.
Whether he's an accident waiting to happen or the unfortunate victim of circumstance, the golf gods haven't been kind to Johnson lately.
Two months ago, he carried a 3-shot lead into the last day at the U.S. Open, only to lose it early en route to a disheartening 81. Two weeks ago, he infamously grounded his club in what he didn't realize was a bunker and was penalized two strokes, eliminating him from a PGA Championship playoff.
The poor guy has authored more tragedies than Homer. (The Greek writer, not the Simpson. OK, both.) And yet, going into the final round of the Barclays, Johnson has an opportunity to dispel the notion that he's both unlucky and unworthy on Sundays.
He put himself in this position with another formidable Saturday that featured a bogey-free 7-under 64 at Ridgewood Country Club. It equaled his best score of the season and placed him in the final pairing of the last round, where he will begin 3 shots behind leader Martin Laird.
"I definitely put myself into the hunt for going into tomorrow," he said after posting an eagle and five birdies. "If I can play like I did today, there's not too much out of reach."
Expect him to receive plenty of support from the vocal galleries. Much like Detroit Tigers pitcher Armando Galarraga, who lost a perfect game this year on a blown call with two outs in the ninth inning, Johnson immediately became a fan favorite after the bedlam in the bunker at Whistling Straits.
As you'll recall, Johnson blocked his tee shot way right, into a patch of sand where spectators were standing. Not realizing it was a hazard, he grounded his club prior to hacking out. Though minutes later he missed a 7-foot putt that would have apparently sealed the title, his spot in the playoff was relinquished when rules officials explained his error.
While bystanders chanted, "Let him play! Let him play!" the lanky 25-year-old became both bewildered and beguiled, as he wrapped his mind around what had taken place.
It might have taken other players years to overcome such a loss, but in his very next start Johnson is now on the verge getting at least some measure of retribution, even if it doesn't carry the weight of a major championship.
Asked if it was difficult to put the incident behind him, Johnson said, "Not hard at all. I mean, because there's nothing really to put behind me. I mean, I played good golf. Unfortunate situation. It's not very hard to let go."
Perhaps the most ironic part of his newfound label as a final-round flunky is the fact that Johnson has actually cemented his place as one of the few young superstars who knows how to close out a tournament. He has won in each of the last three seasons, his maiden victory coming at the 2008 Turning Stone Resort Championship, followed by a pair of triumphs at the AT&T Pebble Beach National Pro-Am, though the first of those was shortened to a 54-hole event due to weather.
Don't be surprised if Johnson puts those recent Sunday struggles in the rearview mirror this time around. For the game's latest Wile E. Coyote story, pulling off a Road Runner-like run to victory would serve as sweet satisfaction.
Jason Sobel is a golf writer for ESPN.com. He can be reached at Jason.Sobel@espn.com.