Matt Kuchar deserves look at tour's POY
August, 29, 2010
08/29/10
8:48
PM ET
PARAMUS, N.J. -- With only three meaningful tournaments remaining in the PGA Tour season, allow me to make the following proclamation: Matt Kuchar is now the leading candidate to win Player of the Year.
[+] Enlarge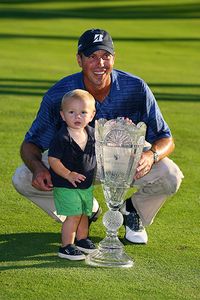 Hunter Martin/Getty ImagesDo you know who leads the PGA Tour's All-Around stat? How about the money list? Yes, that would be Matt Kuchar after his playoff victory over Martin Laird at the Barclays on Sunday.
I know what you're thinking. That guy? The one with the smile? Yes, him. Long known for his amateur exploits -- including finishes of T-21 at the Masters and T-14 at the U.S. Open back in 1998 -- little Matt is all grown up and has emerged as a world-class player.
Don't call it a kneejerk reaction to his Sunday victory at the Barclays, either.
For those who haven't averted their gaze from the Tigers and Phils of the world, it's time to pay Kuchar some long-overdue attention. He's been the most consistent player on the U.S. circuit this season -- and it's not even close.
Let's break down the numbers: Kuchar leads the PGA Tour with 10 top-10 results. He's finished 17th or better at an event during every month of the season. He's tops on the money list. And in scoring average. All-around ranking, too.
As if all of that isn't enough, he posted top-30 results at every major, with a cumulative average at the four tournaments better than anyone but the aforementioned Woods and Mickelson.
"They've been talking about Player of the Year," said his caddie, Lance Bennett. "I think they need to take a look at him. He's got to at least be in the conversation."
Ask Kuchar about the possibility and he sounds like a college football coach who deflects his ballot to a Sports Information Director.
"I normally pass that aside," he said. "I try not to think about that. I let my wife or somebody else handle that for me."
Pressed for an answer, he explained, "You'd have to show me a list."
Ask and you shall receive.
In a strange year that has seen more parity -- not to mention parody -- than any other campaign in the Tiger Era, there has been no clear-cut favorite. Three of the four major champions aren't members of the PGA Tour, leaving a list of candidates with household names but incomplete résumés.
There's Ernie Els, who won at Doral and Bay Hill early in the season, but owns just a single top-20 result since May.
There's Phil Mickelson, who prevailed in historic fashion at the Masters, but has half as many top-10s as Kuchar.
There's Dustin Johnson, who might get some sympathy votes from his peers, but keeps rolling snake eyes on Sundays.
There's Jim Furyk, who won second-tier events in Tampa and Hilton Head, but received more notoriety for oversleeping this past week than anything on the course.
There's Hunter Mahan, who has doubled his previous career total with two wins so far, but has otherwise been largely invisible.
There's Steve Stricker, who also owns a pair of titles to go along with no missed cuts, but never finished better than 18th at a major.
So there you have it. In a season when a handful of players have enjoyed "nice" results, Kuchar has outperformed the competition on many levels -- and that was before his third career win on Sunday.
"I would have shut down the year had I not won and been very pleased with my year," he said. "To win, it's an incredible year."
He won in dramatic fashion, too. Reaching a playoff when Martin Laird three-putted the final green of regulation, Kuchar made the most of it. Playing the 18th at Ridgewood Country Club as the first extra hole, he hit a 7-iron out of the left rough that bounced short of the green, then ran up the right side, curled left and eventually stopped 30 inches from the hole.
Even so, flanked by the large crystal trophy after clinching the win, Kuchar wouldn't budge on the POY suggestions.
"I still try to be humble," he maintained. "That's a topic that I'd like to be as humble as I could be over."
Which leads to perhaps the biggest reason he is the leading candidate: Since the award is voted on by the players themselves -- and, uh, apparently their wives, too -- his good-natured attitude and omnipresent smile will make him a popular pick among his peers when they are filling out their postseason ballots.
Toss in the fact that they have seen his career-long ups and downs -- from the great amateur run to his early struggles as a pro to a six-year winless streak -- and Kuchar is the sentimental favorite with just a few tournaments left.
Not that he cares, though. After the victory, he was beaming not because of the accolades that might come with it, but for the triumph itself.
"There's nothing like the feeling of winning a PGA Tour golf tournament," he explained. "You feel like you are the best player in the world for this week. I mean, it's just an amazing feeling to think there's 125 of the best players in the world started this week and I came out first. It's an amazing feeling and one I'm awfully proud of."
Jason Sobel is a golf writer for ESPN.com. He can be reached at Jason.Sobel@espn.com.