Michelle Wie still having fun on the course
August, 31, 2010
08/31/10
9:59
AM ET
[+] Enlarge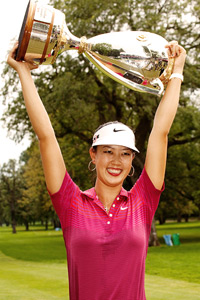 Darren Carroll/Getty ImagesMichelle Wie has another reason to be happy following her victory at the CN Canadian Women's Open this past weekend.
The phone rings and when I answer it, the voice on the other end responds in singsong melody.
"Helloooo!!!" chirps Michelle Wie, turning the greeting into a three-syllable word. "How are youuuuu???"
My first reaction is that for a young woman just two months shy of her 21st birthday who has so often appeared forlorn and frustrated on the golf course, this emotion suits her better, her vivacity radiating through the connection.
My first question may sound rhetorical based on such cheerfulness, but I try it anyway: Are you happy?
Wie was less than 24 hours removed from winning her second career professional title, taking down the field at the CN Canadian Women's Open -- an obvious source of glee. And yet, that already seemed a thing of the past when she proffered her answer.
"I am!" she exclaimed just minutes after the return trip had touched down. "I mean, considering that I had to sit next to the bathroom for my entire flight. We were literally the last row of the plane. We got the baller's seat."
For those who have followed not only the career path of Wie, but her ascendancy as a thoughtful, creative young person, it shouldn't come as a surprise that her contentment isn't necessarily a direct correlation to her on-course results.
Wie is more inclined to chat about her upcoming senior year workload at Stanford -- which will be followed, she says with a laugh, by her "super-senior year" -- that includes a healthy dose of communications classes. She maintains that like all of her friends at the school, she can't wait to get back in a few weeks, though it's difficult to imagine any of them being as excited over the pursuit of higher learning.
That's because it is at college where Wie may feel most accepted, where having five years of professional golfing experience already under her belt carries little weight with her peers.
In fact, when I question Wie about what makes her happiest these days, she first claims, "My ideal day would be laying out at the beach with a nice cool breeze and the water" before then throwing in a little about golf, too, saying, "This week has been just so awesome, because I haven't been playing as well as I wanted to, so when something pays off and finally works out, it just feels so great and makes everything worth it."
Don't get the wrong idea. Just because Wie has other interests and hobbies and, well, an entirely separate life, that doesn't mean she cares little about golf. There is a balance in her pursuit that many other pros -- many other people -- wish they owned, as well.
I mention that it never looked this way in the past, that during her attempts to play against the world's best players on the PGA Tour starting at age 14, it felt like she always would have chosen the beach and the breeze and the water over competition. She refutes, though, any notion that she wasn't enthusiastic at the time.
"I was really happy then," she says. "I was a lot more shy back then. I was really quiet. I was an awkward freshman in high school. Just really awkward, didn't know what to do with myself, taller than everyone else. But no, I had a lot of fun."
Having a lot of fun is still at the heart of what drives her passion, both personally and professionally. Yes, maybe she was enjoying herself in those days, but it can't be denied that Wie now understands how to better express this emotion.
"I prioritize my happiness," she says. "I realize that you've got to go out there and all I can do is try my hardest. There are going to be bad days, but if most of your days are good, then you're doing good."