No. 1 ranking in sight for Phil Mickelson
September, 5, 2010
09/05/10
6:43
PM ET
NORTON, Mass. -- For better or worse, Phil Mickelson possesses a terrific memory.
[+] Enlarge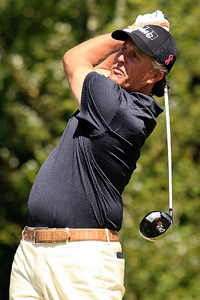 Michael Cohen/Getty ImagesAlthough many in golf circles feel Phil Mickelson is the No. 1 player in the world right now, Tiger Woods still holds the title. That could change Monday with a Lefty victory at the Deutsche Bank Championship.
Sometimes it works against him. (Winged Foot, anyone?) Other times, he can use it to his advantage.
Consider his actions at TPC Boston's par-4 15th hole on Sunday to be a little of both. With his ball nestled in the fairway, 134 yards from the hole, Mickelson was reminded of a similar shot during last year's edition of the Deutsche Bank Championship.
"I flew it up against the pin," he recalled. "It came all the way back down."
"Jokingly," said Jim "Bones" Mackay, Mickelson's longtime caddie, "he said to me as he took the pitching wedge, 'I'll try to miss the flag this time.'"
No such luck. Once again, his shot caromed off the flagstick and bounded away from the green, leaving him with a delicate chip back to the hole.
"So we're standing there," Mackay later recounted, "and he goes, 'You know what? I'm going to chip this in.'
"I kind of turned to him and said, 'Screw it, I'm going to make this,'" Mickelson said with a smile. "'Stuff happens. I'm going to knock this one in.' And I'll be darned if that ball didn't go in. So that was a fun little moment."
The entire week so far might be more fun than Mickelson has enjoyed in a while. He posted a 4-under 67 on Sunday -- his third straight sub-70 score, the first time since February that he's accomplished the feat -- to remain in the hunt for his first victory since the Masters and his first top-10 since the U.S. Open. He trails 54-hole leader Jason Day by five shots with 18 holes to play.
There's a competition within the competition lurking, as well. For his 11th straight tournament appearance, Mickelson has an opportunity to take over the world's No. 1 ranking for the first time in his career, surpassing Tiger Woods, who has held the title for more than a half-decade.
Here's the latest edition of, "What does Phil need to do next?": Currently in a share of sixth entering the final round, Mickelson will officially become the top player with a win; a second-place finish if Woods is outside the top-three; a third-place finish with Woods outside the top-nine; or a fourth-place finish with Woods outside the top-24 and Steve Stricker not winning.
"It would be cool for anybody," Mickelson admitted of the possibility. "That's what we're all ultimately striving for. But before that can happen, I've got to get my game back -- and it feels like it's starting to come back."
"He's much more of a small-picture kind of guy," Mackay intimated. "He wants to go to each tournament, play well and be there at the end. I'll be honest with you, I've never heard him mention [the No. 1 ranking] once."
Then again, that ranking might be in title only. Ask some of Mickelson's peers and they'll contend that he's already reached that level.
"Well, I think he probably is the No. 1 player in the world right now," said Mickelson's third-round playing partner, Steve Marino. "I know what the rankings say, but we all know Tiger isn't playing his best right now. He hasn't played well all year. He's gone through a bunch of stuff and obviously it's pretty much impossible to play good golf when he's had to deal with what he's had to deal with. He'll be back, but Phil is the No. 1 player in the world right now. He's the best player I've played with."
"Phil is obviously a Hall of Famer, he's going to be talked about in the top-20 or so of all-time, it would be really cool if he got to No. 1," said Geoff Ogilvy, currently tied with Mickelson for sixth place in the tournament. "Phil would probably say he hasn't played well enough to earn it this year, but if he gets to a patch in his career where he is No. 1, it will be right.
"Whether anyone believes he is the best in the world at that time, it doesn't really matter. He deserves to be No. 1 at some point."
That point might finally come on Monday. For a guy with such a strong capacity for memorization, Mickelson may recall a little symmetry. It was Labor Day of 2004 when Vijay Singh first defeated Woods to claim the No. 1 ranking for himself.
No other player besides those two has held the title since then. Mickelson might be hoping the 11th time is the charm, but if it comes without a victory, don't expect him to celebrate the feat.
Jason Sobel is a golf writer for ESPN.com. He can be reached at Jason.Sobel@espn.com.