Ernie Els' HOF induction comes too soon
September, 22, 2010
09/22/10
12:08
PM ET
ATLANTA -- Ernie Els will be inducted into the World Golf Hall of Fame in May, it was announced Wednesday.
What a deserving guy. Els owns three major championships as part of his 62 career worldwide professional wins and has been a stalwart among the game's upper echelon of players for close to two decades.
[+] Enlarge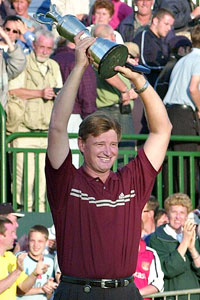 AP PhotoErnie Els won the third of his three major championship titles in 2002 at the British Open.
A modern-day Gary Player, he is the quintessential global golfer, traversing the world while serving as an ambassador for the sport. Els is beloved by fans and fellow players alike, his nickname Big Easy transcending his effortless maneuver through the ball.
He hasn't shown any signs of slowing down, either. Still one month shy of his 41st birthday, a third victory of the season at this week's Tour Championship could also bring him PGA Tour Player of the Year honors and possibly even the FedEx Cup title.
Although it might seem odd that a Hall of Fame inductee can still reach such lofty heights in his career, it's hardly unique. Just two years ago, HOFer Vijay Singh concluded a three-win campaign by prevailing in the playoffs and earning the $10 million first-place prize.
All of which leads to my annual rant on the selection process.
Honoring active players is just plain silly. Ridiculous, even. It cheapens the value of such an induction and doesn't give us a chance to reflect on the entirety of a player's career.
This is like slapping a big, fat "The End" halfway through an unfinished novel. It's like placing a price tag on a work of art with much of the paint still on the palette. It's like starting dessert while a gourmet meal is still on the table.
Many other sports require that a player must be retired for at least five years before becoming eligible for the Hall of Fame. That's a sensible rule. It gives voters time to fully assess the careers of potential inductees and digest whether they are deserving of such an honor.
That might not translate in golf, where players never really retire from competition -- Tom Watson, anyone? -- but that doesn't mean the only requirement for eligibility should be reaching your 40th birthday.
Such a concept would have worked years ago, when the likes of Bobby Jones and Byron Nelson ended their careers at a young age. Now, though, the Big Four-Oh is simply a gateway into the back nine of a player's progression.
"You know, maturity is very important in the game," three-time major winner Padraig Harrington told me earlier this year. "So probably your prime age is 40, as long as you're physically still there."
It just doesn't seem right that what might be a golfer's prime age and the minimum age for eligibility are one and the same. Els is a Hall of Fame golfer, through and through. He should be inducted and honored, but not yet. Not while he's still active -- and not while he's still achieving greatness.
Jason Sobel is a golf writer for ESPN.com. He can be reached at Jason.Sobel@espn.com.