Out-of-this-world Ryder Cup picks
September, 29, 2010
09/29/10
11:55
AM ET
NEWPORT, Wales -- Here's the scene: The year is 2040. The Ryder Cup is being contested at Crater Creek Country Club, a dastardly 12,000-yard venue on a luscious resort in a very exclusive part of the moon. (Once that whole lack of gravity thing was fixed, this place was a lock to win the bid.)
[+] Enlarge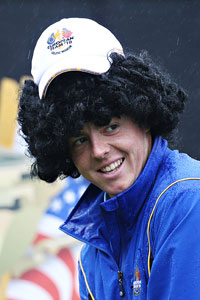 Ross Kinnaird/Getty ImagesAt 21, Rory McIlroy as Ryder Cup captain might seem like a long way off. That just leaves him more time to figure out his foursomes pairings for the first day of the 2040 matches held on the moon.
Team captains Rickie Fowler and Rory McIlroy -- for three decades foils on either side of the draw -- are saying all the right things. "We're just going to take things one match at a time." ... "The team that putts best will win." ... "No, those massive oxygen tanks on players' backs shouldn't affect their swings very much."
I know what you're thinking. If the Ryder Cup is taking place on the moon ... with oxygen tanks ... and Fowler and McIlroy are captains ... then who preceded them for the previous 30 years?
Obviously that's the most pressing question in this scenario, so I'm glad you asked.
Allow me to catch you up on those 30 years of Ryder Cup captaincies with this Cliffs Notes breakdown of each one. (Results not included.)
2012: Jose Maria Olazabal (EUR) and Davis Love III (USA)
This one was shrouded in controversy, as DL3 offered to throw the competition in exchange for one of Ollie's elusive green jackets. A last-minute deal was almost reached before the Euro captain balked at also giving up his annual spot in the Masters field.
2014: David Toms (USA) and Paul McGinley (EUR)
Things got ugly for the U.S. on Friday, as it was revealed that the big-time LSU supporter would be abandoning the red, white and blue in favor of outfitting his squad in purple-and-gold throughout the week. Hanging in the team room to catch the football game on Saturday afternoon didn't go over too well for Toms, either.
2016: Darren Clarke (EUR) and Steve Stricker (USA)
Finally! Reporters had actually stopped bringing notebooks to the Ryder Cup, knowing the usual captain's quotes were more bland than the blank sheet of paper they were written on. This edition, though, marked the return of the great quote, as Clarke became the first captain in years to crack a joke in the interview room, receiving a standing ovation from the media throng.
2018: Jim Furyk (USA) and Thomas Bjorn (EUR)
Talk about team camaraderie. Forget the matching clothes, players this year all showed support for each captain by shaving their heads into the "chrome-dome" style preferred by the skippers. All subsequent team photos have been burned.
2020: Padraig Harrington (EUR) and Phil Mickelson (USA)
It used to be that each captain would hold a 30-minute press conference each day during Ryder Cup week, but Paddy and Lefty changed the game. With one guy who never stops talking and another who enjoys hearing his own voice, these turned into three-hour press conferences every day for a month beforehand, reminding us all that "hype" is a four-letter word.
2022: Justin Leonard (USA) and Lee Westwood (EUR)
As a motivational tool, Leonard played his 1999 winning putt exactly 1,999 times on the team room television before the competition started. As a result, players and wives trampled all over the green every time anyone made a putt during the week. Ugly stuff.
2024: Ian Poulter (EUR) and Stewart Cink (USA)
With betting parlors buzzing for a full 24 months with offers of how Poulter's team would be dressed for the opening matches, the flashy Brit sent them out in ... white shirts and khaki trousers. Calling it a sneak attack, the tables were turned when Cink outfitted his guys in turquoise sweaters with pink plaid knickers.
2026: Tiger Woods (USA) and Luke Donald (EUR)
In the first matches since turning pro that didn't feature him as a competitor, the 50-year-old Woods evoked memories of some all-time greats -- like Ted Williams managing the Washington Senators, Magic Johnson heading up the Los Angeles Lakers and Wayne Gretzky coaching the Phoenix Coyotes. You can only imagine how that turned out.
2028: Paul Casey (EUR) and Zach Johnson (USA)
Still peeved about the Great Snub of 2010, Casey chose to name himself to the team as a captain's pick, eschewing hard-charging Colin Montgomerie Jr., who was ranked among the world's top 10 at the time.
2030: Lucas Glover (USA) and Graeme McDowell (EUR)
From Glover's southern twang to McDowell's Irish lilt accented by hints of his college days in Alabama, this week set a Ryder Cup record for most times observers uttered, "Huh?" during a given week. Early reports that each had wagered his own U.S. Open trophy on the result proved to be false.
2032: Justin Rose (EUR) and Hunter Mahan (USA)
Two easygoing guys who had employed the same swing coach (Sean Foley) for years, Rose and Mahan broke down the tradition of the event. Instead of separating U.S. and European players, they simply picked teams from the best neighborhoods in Orlando.
2034: Ryan Moore (USA) and Sergio Garcia (EUR)
There was a time -- many years ago -- when Sergio actually played in the Ryder Cup. Five times, in fact. Ever since 2010, though, he had served in the position of assistant captain for the European side, finally taking over the lead role for this one. Turns out, he was groomed well, as his butt-patting skills were excellent after so much time around the actual players.
2036: Edoardo Molinari/Francesco Molinari (EUR) and Dustin Johnson (USA)
For the first time ever, one team employed dual captains, as the Italian brothers served in this role together. Neither was a proper foil for DJ, however, as he set up the American venue super-long and with zero bunkers -- the latter applied from his fear of sand that developed during the 2010 PGA Championship.
2038: Anthony Kim (USA) and Martin Kaymer (EUR)
Sure, the players have always enjoyed themselves a bit behind closed doors, but Kim finally went public with the partying. Employing his "beer golf" strategy, team members were encouraged to drink two brews for every bogey, one for every par and buy a round for the gallery for every birdie. Hey, at least he was able to help set attendance records.
2040: Rory McIlroy (EUR) and Rickie Fowler (USA)
All of those matchups lead us right back to this. Two former phenoms leading their teams in the first Ryder Cup on the moon. It all sounds great until a new tiebreaker is revealed: In case of a draw at the conclusion of Sunday's play, the victory goes to the skipper with cooler hair. And no, I'm not going to spoil it for you.
Jason Sobel is a golf writer for ESPN.com. He can be reached at Jason.Sobel@espn.com.