Lee Westwood's reign have lasting effect?
November, 7, 2010
11/07/10
4:32
AM ET
The story sounds like one straight out of The Onion, the visual evidence emanating from some twisted fun with Photoshop. Before the opening round of this week's HSBC Champions tournament, Lee Westwood, Tiger Woods, Martin Kaymer and Phil Mickelson participated in a tai chi exhibition, wielding vicious swords and sardonic smiles throughout the performance.
With the world's No. 1 ranking up for grabs to each member of this fearsome foursome at the Shanghai-based event, consider these pre-tourney proceedings a metaphor for, well ... something. An acrimonious battle for supreme honors? Each player competing while keeping his guard up? The blade-thin differential separating the game's elite quartet?
Whatever the case, by the time Sunday's final round was complete, the newest top-ranked player remained in his proverbial throne while the contenders lay at his feet like slayed beasts. Although Westwood's attempt to begin his reign 1-for-1 as the No. 1 was thwarted by Ryder Cup teammate Francesco Molinari, his second-place finish proved that he won't be so quick to let it slip from his grasp.
It was a successful start to an era -- if we can call it that -- for a player who was roundly criticized for ascending to loftiest position in the game. OK, so maybe he wasn't blamed for it directly, but there were plenty of not-so-subtle insinuations that the current world ranking format was clearly at fault for allowing a player of such little renown to reach this position.
[+] Enlarge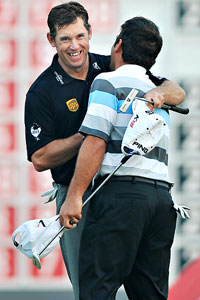 Philippe Lopez/AFP/Getty ImagesLee Westwood might not have won the HSBC Champions event in China, but he did finish well ahead of any of the potential challengers to his No. 1 world ranking on Sunday.
To wit: Westwood became just the fourth player in the 25-year history of the ranking to reach No. 1 without first claiming a major championship title. (Each of the previous three -- Ian Woosnam, Fred Couples and David Duval -- won a major within two years of getting there.)
A full-time member of the European Tour, Westwood owns just one victory in 2010, and that came on U.S. soil, as he won the St. Jude Classic in Memphis, Tenn., before the U.S. Open back in June. He's also been dealing with a recent injury, as a calf problem has limited him to just two stroke-play events since early August.
Add in that his fellow swordsmen were breathing down his neck -- each was within .46 average points of the top spot -- and it's clear to see why some predicted Westwood's stay atop the list would mirror that of Tom Lehman, who was No. 1 for exactly one week in 1997.
Instead, the 37-year-old Englishman posted scores of 66-70-67-67 to best 75 players in the eventual 77-man field by at least 9 strokes, trailing only Molinari at the end. For a guy who has so often come so close without lighting up that victory cigar -- he owns top-three finishes in each of the four majors during the past three seasons -- this should come as yet another bitter pill to swallow, although it should be washed down by the sweet taste of prosperity.
Without a doubt, the race for the No. 1 ranking is a marathon and not a sprint, but Westwood's initial performance in this position suggests he may not be so quick to cede honors to his competition. Likewise, the other three players who could have surpassed him at the HSBC didn't appear to be in any rush to make such a bold statement.
In his first tournament following more than a half-decade atop the ranking, Woods played admirably, but bookend rounds of 4-under 68 sandwiched a pair in which he failed to break par, resulting in a T-6 finish. With three wins -- including the PGA Championship -- since August, Kaymer deserves a free pass for his T-30 result; if the system employed only a one-year rolling calendar rather than two, he would be far and away the No. 1 player. And then there's Mickelson, whose opportunities to claim the position this year now number in the midteens, but the defending champion couldn't even muster a finish in the top half of the field.
Each of these men, of course, still has a chance to overtake Westwood either before year's end or early in the 2011 campaign. The result could be a global game of musical chairs, in which any of the four -- not to mention fellow elite players Steve Stricker, Jim Furyk, Paul Casey, Luke Donald, Rory McIlroy and more -- might leapfrog his way to No. 1 status on any given week, giving the current climate of the professional ranks an enthralling subplot that hasn't existed in years.
For now, though, all accolades and celebration should be heaped upon Westwood, who emerged from his first week atop the world ranking by putting greater distance between himself and the competition. That he failed to triumph at the HSBC should only serve as a symbol for his career: He might not always be good enough to win, but he is indeed good enough to be the best.
Sure, it sounds like a bizarre conundrum, but in a week that began with the world's best players brandishing swords in one another's company, bizarre might very well now be the norm anyway.
Jason Sobel is a golf writer for ESPN.com. He can be reached at Jason.Sobel@espn.com.