Should Euro players forgo PGA Tour cards?
November, 9, 2010
11/09/10
3:35
PM ET
With the current season winding down and the next campaign still two months away, there was some pretty major off-course news in the golf world over the past few days. Three of the world's best players -- Lee Westwood, Rory McIlroy and Martin Kaymer -- have each reportedly decided against pursuing a PGA Tour membership for next year.
[+] Enlarge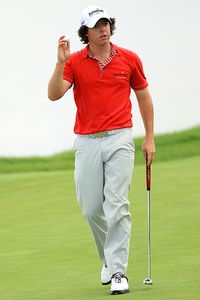 Allan Henry/US PresswireRory McIlroy, 21, has reportedly decided against pursuing a PGA Tour membership for next year.
What does that mean? Well, right off the bat these collective decisions should send up some serious red flags in the Ponte Vedra Beach, Fla., headquarters. Even though they are hardly stalwarts of the U.S. circuit -- Westwood has held membership in the past but not this season, McIlroy was a rookie in 2010 and Kaymer has never owned any status -- they are proving what many in the industry have been whispering for a long time.
The PGA Tour needs the players a lot more than the players need the PGA Tour.
Before going any further, let's clear up one common misconception: Just because these players won't be PGA Tour members doesn't mean we'll never see 'em on this side of the pond. Each has already qualified for the four majors next season, and barring some dramatic, unforeseen plummet in ranking, they will qualify for the three stateside World Golf Championship events and the Players Championship. As former members who have relinquished status, Westwood and McIlroy will be allowed to make a total of 10 appearances; Kaymer, who might still be mulling his options, may play up to a dozen times since he is a career-long non-member.
Sounds like a win-win proposition, doesn't it? Well, it is. Really, other than limitations on the number of tournament starts, the only negative to being non-members is that those players won't be eligible to compete in the season-ending FedEx Cup playoffs -- an ultralucrative money-grab instituted in part to lure these world-class players back to the U.S. during the season's final months.
This is nothing new for foreign-born pros. Seve Ballesteros renounced his membership on the U.S. tour midcareer; Colin Montgomerie never joined. So why are PGA Tour executives likely experiencing a queasy feeling right now? Because these three players could set an example by which all superstars could live.
It recalls the dog-chasing-its-tail discussion about the Tour increasing the minimum of 15 tournament appearances each year. (The European Tour recently raised its requirement for a second straight year, now enforcing that members must compete in at least 13 events.) While such a scenario might be beneficial to the game, it could risk losing big-name players who would rather forgo membership than be tied down to more stringent requirements. If you don't think Tiger Woods, Phil Mickelson or Ernie Els would jump ship, well, perhaps you just haven't been listening.
"The guys that mean a lot to the tour, you don't want to start trapping them," Els said earlier this year. "That's not going to work. That's going to backfire, and you're probably going to lose players. It will run its course."
Throw in the new rule about each member being required to compete in one of five "designated tournaments," those that are lacking in perennial star power, and clearly PGA Tour commissioner Tim Finchem is finding his next shot wedged between a rock and a hard place. He is attempting to make the product more entertaining for fans but at the same time knows many of the potential implementations that could improve the circuit will have an adverse effect by pushing away the superstars.
Oh, and just in case you haven't been paying attention during the past 15 years of the Tiger Woods era, understand this: Golf is more reliant on its elite players to produce television ratings and drive sponsorship revenue than any other professional sport.
In Westwood, McIlroy and Kaymer, the PGA Tour will be without three of the world's top nine players, according to the Official World Golf Ranking. Far from an anomaly, this is an emerging theme, with more top-ranked players hailing from all corners of the globe than ever before. Although each of these three won a PGA Tour-sanctioned event this season, perhaps the biggest indictment of the current system comes from McIlroy, who just finished a rookie campaign that included a victory at the Quail Hollow (now Wells Fargo) Championship and promptly celebrated by trading in his PGA Tour card for a get-out-of-jail-free card.
"I found myself in America last year, especially in the FedEx Cup playoff series, just not wanting to be there," the 21-year-old told reporters at last week's HSBC Champions event. "I started switching on the Golf Channel and watching the Omega European Masters in Switzerland and thinking to myself I would rather be there."
Unlike those of previous generations, today's elite pro golfers live in a world with options. With private jets at the ready, travel is easier than ever before, allowing players to all be modern-day versions of Gary Player, in essence cherry-picking their own schedules rather than simply competing in whatever is offered during a given week.
Make no mistake: For those who aren't part of the upper echelon, America remains the land of opportunity in golf, with bigger purses and greater prestige tied to the PGA Tour events. It's the better players, though -- those the Tour needs in order to succeed on a weekly basis -- who will earn money wherever they compete and carry prestige with them to any tournament.
The notion that these golfers no longer need the PGA Tour as much as the PGA Tour needs them isn't a new one, but its major theme and subsequent result are beginning to play out right before our eyes. The game is becoming more global with each passing week, meaning less and less do the top players feel the need to take up PGA Tour membership.
Such an idea should have Finchem and his fellow executives nervous about the PGA Tour's future. It remains to be seen what kind of foresight and creativity can be employed to keep more top players competing in the U.S. more often. One thing is certain: This is a critical juncture for the PGA Tour, and without a proper plan in place, its power could be severely weakened by those players who wish to ply their craft elsewhere around the world.
Jason Sobel is a golf writer for ESPN.com. He can be reached at Jason.Sobel@espn.com.