July, 18, 2010
07/18/10
1:16
PM ET
KINGSBARNS, Scotland -- A tiny man wearing all black stood over his approach shot at the final hole of Kingsbarns Golf Links, a 15-minute drive from the Old Course. He swung and the ball flew high into the air, came down, landed and almost bounced into the hole.
Gary Player grabbed his putter and marched toward the green.
[+] Enlarge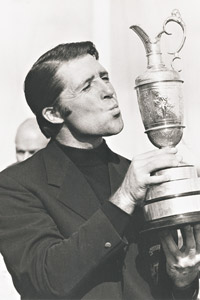 AP PhotoGary Player knows a thing or two about winning the Open Championship. He did it three times and owns 9 major victories overall.
On Sunday, while countryman Louis Oosthuizen was winning the Open Championship, Player played a round of golf with clients. He's 74, the winner of nine majors. Today, he hit every fairway. He didn't make a bogey. On the last hole, he outdrove the younger men and ended up closest to the hole. As Oosthuizen glided around the front nine, Player walked off the green.
The first words out of his mouth were about Louis.
"I'm hoping my man can win today," he says. "Can you imagine leading by 4? I had my turn and I tell you, it's tough. It can turn so quickly."
Player took a seat on the hill overlooking the 18th green and the North Sea. He pulled his legs up and looked around, surrounded by his incredible life: a view of the ocean, dogs playing in the surf down below, a Bentley waiting in the clubhouse drive. All because he won golf tournaments. A long time ago, he too was a young South African boy with nothing but a dream.
"I landed here in 1955," he says. "I get off the train. By myself. Ernie Els and Tiger have G-Vs in here. I had a suitcase this big. Two pairs of pants. I had a necktie which was my belt by day and tie at night. I go to a hotel and I can't get a room. Forty or 50 pounds. I had 200 pounds in my pocket. That was my world earnings. My total assets. I went and slept on the beach the first night. It was just like tonight. I put my waterproofs on and my sweater and I slept on the beach."
Gary Player remembers what it's like to live in poverty. What it's like to be Louis Oosthuizen -- who, South African billionaire and golf lover Johann Rupert says, grew up "dirt, dirt, dirt, dirt poor."
Player remembers how one Sunday afternoon can change everything.
"It's the biggest day of his life," he says. "Biggest day he'll ever have."
The two men talked Sunday morning. Player was on the third hole at Kingsbarns and Louis was waiting to tee off. Player wanted to make sure the young man knew the crowds would probably be cheering for Paul Casey, an Englishman.
"I said, 'In 1961, when I won the Masters, I'm playing with Arnold Palmer,'" Player says. "'He was America's hero. There are 50,000 people there and there's one person pulling for me. My wife. What I did was, because I had a tough upbringing as a kid, a lot of suffering as a kid, this is not gonna worry me. They can cheer all they like. I'm gonna beat him. You've got to understand, it's not that they don't like you. They're just cheering for their man. The more they cheer for him, the better you've got to play. You just got to have patience. Get in there, hang in there and say a little prayer before you play.'"
Oosthuizen kept saying "Dankie, Oom," over and over, in his native Afrikaans. Dankie means thank you. Oom doesn't translate exactly. The phrase is one of deep respect. When they were finished, Player hung up.
"I had a tear in my eye," he says. "I had a tear in my eye, just talking to him. I thought, 'Gee, I hope this boy wins.'"
Player was relaxed, lounging in the grass overlooking the green. Not in any hurry at all. The next group came off the green and got their St. Andrews moment.
"How you doing, guys?" Player calls.
"Great," they say, unable to stop staring, or wipe the stupid grins off their faces.
He sat on the hill, telling stories, about to take the clients to dinner. Player grew up with nothing and now his portfolio is massive: a winery, a ranch, several businesses, on and on and on.
"This golf game never ceases to amaze me," he says. "It never ceases to amaze me. When I played this course today, when I stood on the first tee, I was grateful to be here. Because when you've been poor -- man, I was poor -- when you're poor and you get the things in life you end up getting, you appreciate it."
His first time to St. Andrews, he slept on a beach with every penny he had to his name in his pocket. Nine Sunday afternoons changed all that.
He's asked where he's staying this week.
Gary Player laughs.
"This time," he says, "we have a house with 14 bedrooms."
July, 18, 2010
07/18/10
11:40
AM ET
[+] Enlarge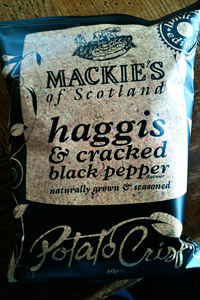 ESPNThese haggis chips tasted nothing like haggis.
KINGSBARNS, Scotland -- Sunday afternoon, I went out to Kingsbarns, the golf course in the country outside St. Andrews. There, I made two discoveries.
1. Do you know what professional golfers do on their day off? Turns out they play golf. A lot of them do it at Kingsbarns. Mike Weir played a round on Sunday. So did Ryan Moore. Fluff Cowan even put down Jim Furyk's bag and played. And those are just the guys I saw at the clubhouse.
2. There is a such a thing as haggis and cracked pepper-flavored potato chips. They sell them in the bar at Kingsbarns. So, obviously, given my fixation with out-of-context haggis, I bought them and carried them back to the media center.
They don't taste like haggis, which I guess isn't bad. They taste sort of like the gumbo-flavored Zapp's potato chips: good but nothing like the thing they are advertised as. Anyway, we began the week with weird foodstuffs and near the end of the week, it felt time to go back to the well.
July, 18, 2010
07/18/10
9:36
AM ET
ST. ANDREWS, Scotland -- Around 200 million people worldwide watched on television as the final pairing teed off on Sunday. This is what happened in the moments before the two men walked into the frame: Louis Oosthuizen, the leader, checks his iPhone, hands it to caddie Zack Rasego, asks for it back, checks it again and, finally, lets it go. The next time he turns it on, it will be full of text messages and voice mails, words of congratulations or regret. A friend in the crowd makes eye contact with Rasego, and they hug.
"You've come a long way, hey?" the friend says.
Paul Casey, 4 shots back, hits a few final putts, then leans up against the green fence around the putting green, talking to someone. Someone calls out, "All the best, Paul."
Then it's time. The tee is clear. The kid with the score sign walks past. Blue arm-banded marshals follow him. The caddies pick up the clubs.
Game on.
July, 18, 2010
07/18/10
9:25
AM ET
ST. ANDREWS, Scotland -- On Monday, a story I wrote about the town, Ghosts of St. Andrews, ran on ESPN.com. This weekend, three vignettes from that piece were turned into television features for the Open coverage produced by Kim Knox.
Here they are.
July, 18, 2010
07/18/10
9:22
AM ET
ST. ANDREWS, Scotland -- Yesterday, I stood outside a Royal & Ancient dinner and listened to the sounds of bagpipes. They were with the military, and for a moment, everything stopped. I've had many unforgettable moments in this town -- lunch in the R&A, sunrise over the North Sea, the perfect fudge doughnut in the rain -- but the ones I treasure the most are the serendipitous and seemingly random appearances of a man in a kilt with a set of pipes. I let the notes wash over me.
I love bagpipes.
I've been listening to them on iTunes this week while I write. I'm listening to them right now. When I pass a man with bagpipes out on the streets of St. Andrews, I stop and take it in. One day, I called my wife and put the piper on speakerphone.
I'll miss that sound when I leave here in 15 hours.
July, 18, 2010
07/18/10
8:54
AM ET
[+] Enlarge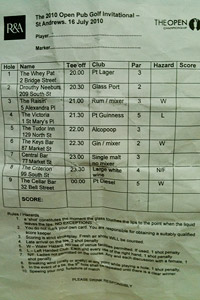 ESPNThe rules of pub golf.
ST. ANDREWS, Scotland -- It was born here, aye, so many foggy years ago, a great and beautiful game sprouting from the land, like The Beanstalk to a 75 percent bent grass heaven, the sport of shepherds and kings, a panorama of exploding reds and cascading yellows and violently brilliant greens, played and watched by patrons who embody the gentlemanly values of a time long past, one that lives like a sinewy song sung by generations, an endeavor named … pub golf.
You can't make this up.
We were standing in a local dive called The Keys the other night, and this Scottish guy handed me a slip of paper. A secret document. I looked at it, and it seemed official at first. Something from the R&A. I looked closer in the dark light of the bar.
No freaking way.
It was the scorecard to an incredibly elaborate drinking game, the rules of which are detailed on the scorecard we've helpfully included here. I'd like to share this sport with you. I'm the Abner Doubleday of pub golf (… or I'm the other guy. I forget. I'm whichever one didn't invent baseball but got credit for it.)
If you're ever in St. Andrews, print this out and try your own hand at playing the game in the town where it was born.
July, 18, 2010
07/18/10
5:35
AM ET
ST. ANDREWS, Scotland -- It's Sunday morning on the coast of Scotland. Major Championship Sunday, a day with an energy all its own. People get up early and march on the ancient streets toward the Old Course from every direction. Families, groups of colleagues, of friends. They carry clothes for heat and cold, for wind and rain.
The Lexus hybrid courtesy cars circle into the Royal & Ancient clubhouse, golfers coming and going. There's Tom Lehman. There's Mark Calcavecchia, whose fleeting dream of winning died a dozen hours ago. The later the hour, the closer the arriving golfers stand to the lead, the greater the pressure.
The air sounds like seagulls. It smells faintly of breakfast. The skies are tall and gray, the wind blowing just a bit. It's barely chilly. My editor and I walk toward the cemetery in the ruins of the cathedral, built nearly a thousand years ago to house the bones of St. Andrew and destroyed during the Reformation. Over in the corner are the graves of Old and Young Tom Morris. White birds flap and shriek, nesting in the arches of the graveyard gates. There's a 2010 ball marker resting on Young Tom's grave.
We stand between two gray ruins. Crumbled façades. It's only when standing in the middle of them that you realize how immense the building must have been. It makes me feel insignificant. If this enormous cathedral can be destroyed, why would we think the R&A will be here in 200 years? That any of this will be? I think about how time is so big and we are so small, but I also think about Paul Casey struggling to sleep last night.
This might not matter in two centuries, but this morning, as a town awakes and an energy takes over the streets, it feels like the most important thing in the world.
July, 17, 2010
07/17/10
12:40
PM ET
ST. ANDREWS, Scotland -- Stuart Gatherum puts on water for the coffee. A little black ball of fur scurries around the kitchen and he smiles.
"Hi, dog," he says.
Outside, their family horse farm is in full swing, a kid shoveling dung, another worker trying to fix a forklift to haul hay. Animals circle their stalls, sticking their heads out for food. Riders in equestrian gear mill about. The Open Championship is on in the kitchen. He nods toward the television.
"You wouldn't think you were a couple of miles away from the golf out here," he says.
His mom, Elizabeth, comes into the room. She points up at a framed picture on the wall of a young woman, leaning into the nape of a horse, jumping a gate.
"That's his late sister," she says.
Theresa died in a car wreck 23 years ago and the family never really got over it. Mom still flinches when a car slams on its brakes out on the road. Raymond Gatherum moved out here not long afterward, finding peace and comfort in the animals he always loved. They've grown since then, a true family business. Stuart's brother, Alister, is a champion jumper who competes all over America.
This farm is their life, and it doesn't slow down because the circus is a few miles away. In some ways, it's surprising to find out St. Andrews is about so much more than golf. And then, when you spend time here, it's equally surprising to learn that the opposite is also true: The game is intertwined with everyone's lives in an organic and pervasive way. Residents can play all the courses for about $250 a year. All the kids play. Stuart says everyone he grew up with is a good golfer. He plays the Old Course several times a week and always breaks 80.
"My dad's out playing golf this morning with Sergio Garcia's dad," he says.
Stuart, who is 43, walks down into the den, standing at the sliding doors, the ocean and the farm in front of him. He opens the door and walks into the cool morning air, past the shed where his dad keeps many spare sets of golf clubs. He crosses his arms and takes it all in. He can see the land left exposed by the receding tide, the waters of the estuary and the sea, the rolling hills and his stables. It's peaceful out here, quiet, and if there weren't a row of private jets parked at the RAF base across the way, you'd never know that the biggest event in golf was happening three miles down the road.
---
He motions me to his black truck. He wants to show me around the farms and woods surrounding the town. Places unaffected by the Open. We head up between the fields, taking turns, finally rumbling down a tiny, dirt road. He's got some horses out here on this land. A woman stays out here, named Rona. She's in her 70s and handles all this land by herself. Feeds the animals. Cuts the grass. When the water freezes, she lugs it out to them by herself in a bucket. Tough as hell. She lives in the small house she grew up in; the big manor house is next door and it's empty. There is mesh wire visible through all the windows: she keeps chickens in there. "She trains dogs," he says. "She's got chickens on the tennis courts. An old eccentric."
We get back in the car and he drives to the Duke's Course -- a new, country club-style development on what used to be a wealthy family's estate. The place is full of golfers. He drives over to the former castle, with a turret and two big gables, that's being turned into a resort. The Younger family, beer moguls, lived there, and after that, it was a maternity hospital. The truck idles and he looks at the big, red monster being brought back to life.
"I was born in there," he says.
July, 17, 2010
07/17/10
11:31
AM ET
ST. ANDREWS, Scotland -- Hope Street is a short, crescent-shaped lane. Town houses crowd the sidewalk. One end of the road comes out right at the Raisin Pub, and the other over toward the Old Course. It's where the richest and most connected students live.
"It's a bit like Chelsea," says Digby Don.
Don lives here, two doors down from the flat Prince William shared with friends. A Hope Street address is a status symbol in a school that is known for status symbols. Lots of wealthy kids go here; overheard snippets of conversation are littered with references to ski trips, yachts and Christian Louboutins. Girls like boys who live on Hope Street, enough so that when they found the flat, Don and his friend joked they should get cards made to hand out at the female dorms. (He immediately tells me he was kidding ... he has a girlfriend, which I felt obliged to mention, so as not to cause him domestic problems.)
He's from a little town southwest of London and is the press officer of the exclusive, all-male Kate Kennedy Club -- think Scotland's version of Skull & Bones -- that has only 31 members (the University of St Andrews has nearly 7,000 undergraduates). I arranged to meet him to discuss the society, which has lost its university recognition because it won't admit women. Part of me wondered -- hoped? -- if he'd be a little snot with a house in London and one in Aspen, a Learjet sitting out at the airport. Sadly, for the sake of easy jokes, he's a sharp, funny guy who wants to teach English literature. I don't know enough about the club or its members to say whether they're good dudes or complete toolboxes -- though exclusive all-male clubs usually produce the latter -- but he's somebody with whom I'd have a beer.
He asks how fraternities in America pick members, then tells me how they do it at Kate Kennedy: a series of interviews (the first is about club history, and the second, in front of the entire club, is more esoteric: i.e., pretend you're Field Marshal Haig and address your troops). The club raises an enormous amount of money for various charities and throws great parties -- from big balls to small dinners. I ask if coeds fancy invitations to the various soirees.
He smiles.
"They do," he says.
Don bounds down the stairs to their door. The apartment is filled with friends in town for the Open; they're even sleeping in the kitchen, which has a gigantic Union Jack hanging on a wall. They're talking about the bets they've placed, the free golf gear they've scored. One of them stands at the stove cooking food.
I walk down the long narrow hall with rooms on either side, back toward Hope Street. Don says he'll text to let me know if his mates win their bets.
---
Postscript: I pass No. 13 Hope Street. This is where Prince William lived when he was a college student here. A man stands on the stoop and I ask if the windows are still bulletproof.
"They've still got the big doors and everything," he says.
"You should throw golf balls against the windows for fun," I say.
He laughs.
"People do," he says.
July, 17, 2010
07/17/10
9:50
AM ET
ST. ANDREWS, Scotland -- I got an interesting window into how the world feels about Tiger Woods after his scandal.
This has been the question; golf folks insist people still like him, because the crowds at the tournaments cheer like they always have. So, last night, my friend Joe and I sipped pints in a Market Street bar. The place was packed, people crowded around, spilling onto the sidewalk. The Open was on all the televisions. On the screen, Tiger missed a short putt.
The place exploded. A roaring cheer. It was loud, like a Boston bar might react to Derek Jeter striking out and then falling down. There was fury in it. In the home of golf, where the best and smartest fans are said to live, they were cheering a missed putt like a World Cup crowd.
I'm not sure what, if anything, that means. But I know that Arnold Palmer never had a mistake cheered by a St. Andrews pub. Jack Nicklaus, either.