July, 17, 2010
07/17/10
9:34
AM ET
ST. ANDREWS, Scotland -- Scotch whisky scares me.
When I hear people talk about it, I feel the same way I feel when I hear people discuss car engines, or when our local handyman, Randy, comes to my house to fix something: dumb and emasculated.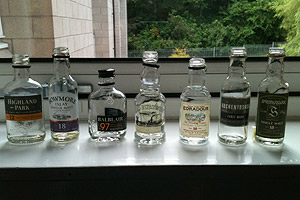 Wright Thompson/ESPN.comThese bottles served an educational purpose during an experiment Saturday night in St. Andrews.
Me: What's wrong with the air conditioner?
Randy: It's turned off.
Some guys start waxing about this prime Highland they had -- and can you believe the single-malt Speyside the bar got in? -- and I slink away. It's a gap in my essential man knowledge. I don't know peat about Scotch.
Since I'm here, and it's a work trip, I figured the time had come.
I went to Scotch school.
Maybe you already know this stuff, though I bet most of you are like me and just try to fake it.
Consider this The Idiot's Guide to Whisky.
ACT I: The Preparation
First, I found an expert. Peter Wood is the manager at Luvian's Bottle Shop on Market St. in downtown St. Andrews. This is the place to buy whisky. They've got everything. I asked him to pick out an airplane bottle from each whisky-producing region in Scotland, something he liked, and then give me descriptions of each and an order they should go in.
Here's his list:
1. Auchentoshan Three Wood (Lowland, light and gentle style)
2. Springbank 15 (Campbeltown, another lighter style with a little sweetness)
3. Old Pulteney 12 (Highland Coastal -- a salty, lemony, creamy whisky, very fresh)
4. Edradour 10 (Highland Inland -- rich, sweet, spicy and fruity)
5. Balblair 1997 (Speyside -- similar to the Edradour, but more dry spicy flavors)
6. Highland Park 12 (Island Whisky -- a bit of sea air freshness with some chunky chocolate flavors)
7. Bowmore 18 Year (Islay -- spicy, peaty, smoky whisky)
ACT II: Whisky River
I roped my friend, Barry, into drinking with me. He works at the Washington Post, which means he actually has to work this week. You know, cover stuff. Do crazy things like (a) talk to actual golfers and (b) write about golf and (c) make deadline. So, I sat at a local pub and waited on him to file. I haven't read his story this morning, but it better have been gold, like Dan Jenkins and W.C. Heinz traded off paragraphs. Because it was past 11 when we finally got ready to go. I snatched two whisky glasses from the pub and we headed out into the night, the seven bottles in my computer bag.
The pubs were emptying. We found some ancient ruins and sat down on the cold stones. A spotlight swung back and forth across the sky, slow and steady, and combined with the old buildings and the accents of the people stumbling past on the street, it felt like time rolled back to the early 1940s. I took out the bottles.
1. Lowland. We both agreed that it wasn't our favorite. Says Barry: "Not a big, winter's-night-sit-by-the-fire-while-it-pours-off-the-North Sea Scotch."
2. Cambeltown. To us, lots of aftertaste. Hits the back of your throat and stays there. We both agreed: our least favorite.
3. Highland Coastal. After the first sip, Barry says, "Oh, my, God." Later, he says: "Smooth. Barry White smooth." I agree. Far and away my favorite. I'd drink that again.
4. Highland Inland. I thought it was a mixture of the first two and the Highland Coastal. We tasted the spicy from Peter's description but not the fruity. I liked it a lot.
5. Speyside. We liked this one, too. It stays on your tongue, but doesn't have the aftertaste we didn't like from the Cambeltown.
6. Island. It seemed like a winter Scotch. It was much bigger. Not something I'd want all the time, but it didn't make us wince.
7. Islay. A big brother to the Island. Incredibly peaty. If it were a Cabernet, it would probably be described as chewy. And, to be honest, the notes from this one aren't that legible. At this point, everything tasted good. We were sitting on ancient ruins, drinking whisky, near a thorn tree planted by Mary Queen of Scots. The spotlight made its arc across the sky. A breeze blew. It was past midnight and the whisky burned, in a good way. In high school, I sat out in the country -- Barry sat on a beach -- and drank cheap beer. Now, we're getting paid to be at a golf tournament in Scotland, drinking whisky on ancient ruins.
ACT III: The Results
The next morning, I called Peter back and explained what we liked and why.
I asked him what he made of our choices.
"It means you're not keen on the bigger, smokier styles," he said. "You're just not keen on weird-flavored whiskies. It's a good way of knowing what you like."
He didn't say we were whisky illiterates because Peter is a very classy, kind man. He said that he's a big fan of the Pulteney, too, and is pleased we enjoyed it. Though when he said it was a "nice, gentle whisky," I did feel like he was calling our manhood into question. He said we should look for something that says Highland on it when we're ordering in the future.
I hung up, happy to at least know what the words meant. I took a picture of the dead soldiers and smiled at the thought of the expense report.
Hi, this is Kevin Maguire. I'm the golf editor and I just edited this story. I'd like to offer a few thoughts: It's extraordinarily ridiculous that Wright got paid to do this. It boggles the mind. I hope Wright's bosses back in Bristol don't decide to cancel any of his future travel arrangements because of this single blog post.