Birthplace of the game
July, 18, 2010
07/18/10
8:54
AM ET
[+] Enlarge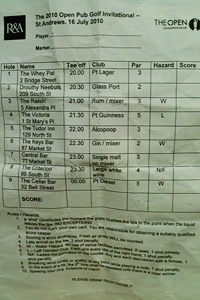 ESPNThe rules of pub golf.
ST. ANDREWS, Scotland -- It was born here, aye, so many foggy years ago, a great and beautiful game sprouting from the land, like The Beanstalk to a 75 percent bent grass heaven, the sport of shepherds and kings, a panorama of exploding reds and cascading yellows and violently brilliant greens, played and watched by patrons who embody the gentlemanly values of a time long past, one that lives like a sinewy song sung by generations, an endeavor named … pub golf.
You can't make this up.
We were standing in a local dive called The Keys the other night, and this Scottish guy handed me a slip of paper. A secret document. I looked at it, and it seemed official at first. Something from the R&A. I looked closer in the dark light of the bar.
No freaking way.
It was the scorecard to an incredibly elaborate drinking game, the rules of which are detailed on the scorecard we've helpfully included here. I'd like to share this sport with you. I'm the Abner Doubleday of pub golf (… or I'm the other guy. I forget. I'm whichever one didn't invent baseball but got credit for it.)
If you're ever in St. Andrews, print this out and try your own hand at playing the game in the town where it was born.