The end is near
July, 18, 2010
07/18/10
11:40
AM ET
[+] Enlarge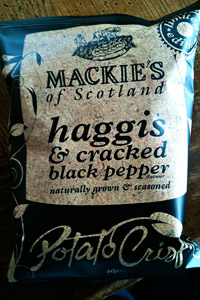 ESPNThese haggis chips tasted nothing like haggis.
KINGSBARNS, Scotland -- Sunday afternoon, I went out to Kingsbarns, the golf course in the country outside St. Andrews. There, I made two discoveries.
1. Do you know what professional golfers do on their day off? Turns out they play golf. A lot of them do it at Kingsbarns. Mike Weir played a round on Sunday. So did Ryan Moore. Fluff Cowan even put down Jim Furyk's bag and played. And those are just the guys I saw at the clubhouse.
2. There is a such a thing as haggis and cracked pepper-flavored potato chips. They sell them in the bar at Kingsbarns. So, obviously, given my fixation with out-of-context haggis, I bought them and carried them back to the media center.
They don't taste like haggis, which I guess isn't bad. They taste sort of like the gumbo-flavored Zapp's potato chips: good but nothing like the thing they are advertised as. Anyway, we began the week with weird foodstuffs and near the end of the week, it felt time to go back to the well.