LEADERS AT U.S. Open
MONEY LEADERS:
1. Matt Kuchar
$6,203,119
2. Paul Casey
$3,982,401
3. Adam Scott
$3,381,541
4. Tiger Woods
$3,158,915
5. Charles Howell III
$2,945,305
Complete Leaders
DRIVING DISTANCE:
1. Phil Mickelson
306.81
2. J.B. Holmes
305.68
3. Sergio Garcia
303.11
4. Charles Howell III
302.72
5. D.J. Trahan
300.11
Complete Leaders
PUTTING AVG:
1. Rory Sabbatini
1.741
2. Matt Kuchar
1.746
3. Ben Crane
1.755
4. Davis Love III
1.755
5. Phil Mickelson
1.756
Complete Leaders
STAT OF THE WEEK

7-over

Hale Irwin's U.S. Open-winning score in 1974, known as the Massacre at Winged Foot.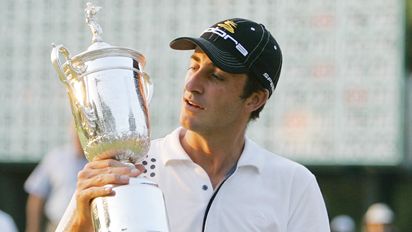 AP Photo/Michael Conroy
O, Yes!
Geoff Ogilvy's name is on the trophy, but the 2006 U.S. Open will forever be remembered for Phil Mickelson's blunder.
Story
COURSE: Winged Foot Golf Club
LOCATION: Mamaroneck, NY
2005 CHAMP: Michael Campbell - 83, 280 (0)
START DATE: Jun 15, 2006
PAR: 35-35--70
YARDS: 7,264
PURSE: $6,250,000
BOB HARIG'S 5 THINGS TO BANK ON
1. Tiger Woods will be the biggest story of the U.S. Open, regardless of how he fares. The 10-time major winner has not played since the Masters, a span of nine weeks, during which time his father, Earl, passed away. Predictions on his form are all over the map, making his return all the more interesting.


---
2. A close second to the Woods story will be Winged Foot. The course that last hosted the Open in 1984 is said to be a bear by those who have visited.


---
3. Another big topic of discussion will be the rough. Not just the deep rough, but the graduated rough. For the first time, the USGA will have graduated rough, meaning the farther you hit the ball off the fairway, the worse it gets.


---
4. It is hard to imagine a defending champion more under the radar than Michael Campbell. The reason is likely due to his limited appearances on the PGA Tour.


---
5. Davis Love will garner attention, both good and bad. He won the last major played at Winged Foot, a stirring five-shot victory over Justin Leonard at the 1997 PGA Championship. But that happens to be his only major victory. In the nine years that followed, Love figured to have at least another one by now.

Got a question? Ask Bob Harig