--- September 2017 ---

--- August 2017 ---

--- July 2017 ---

--- June 2017 ---

--- May 2017 ---

--- April 2017 ---

--- March 2017 ---

--- February 2017 ---

--- January 2017 ---

--- December 2016 ---

--- November 2016 ---

--- October 2016 ---
TOUR Championship
September 21 - 24, 2017

NBC/TGC
East Lake GC - Atlanta, GA

TPC San Francisco Bay at Stonebrae

Defending Champion

Xander Schauffele
Sponsored Headlines
Now
Jason Sobel
ESPN Senior Writer
For the second straight year, Tiger Woods is serving as assistant captain for a U.S. team, this week working with captain Steve Stricker at the Presidents Cup. "He's very involved," Stricker said. "We're communicating through texts; I've talked to him on the phone quite a bit the last couple weeks. He's very into it. It will be the same this week. He's got control of four guys that he's watching over and is very involved with them and communicates with them. They love having him there. We all love having him. He's brought a lot of experience to the table as a player, and he's very into it. He's fun to be around and the guys appreciate him being here."
Kevin Maguire
Golf
In honor of Arnold Palmer, who passed away a year ago this week, the PGA Tour is honoring the legend with these pins given to players and marshals at Liberty National. Palmer captained the U.S. to a 1-point victory in the second Presidents Cup back in 1996.
Kevin Maguire
Golf
One of the views we'll see all week at the Presidents Cup will be the Manhattan skyline as a backdrop. On Tuesday, International team member Jason Day signs autographs walking from the 14th green to the 15th tee here at Liberty National.
Captains look forward to President's Cup
Team captains Steve Stricker and Nick Price look ahead to the 2017 Presidents Cup while at a lighting ceremony in celebration of the event at New York's Empire State Building.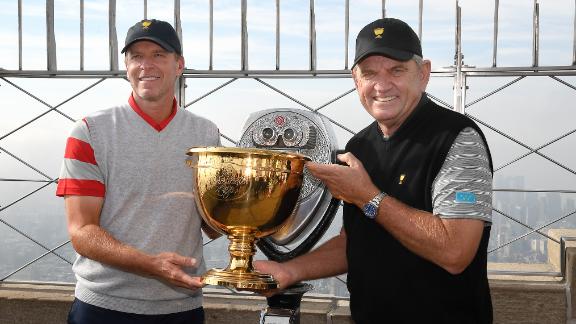 Jason Sobel
ESPN Senior Writer
United States captain Steve Stricker was asked about the potential for a silent player protest during the national anthem in advance of this week's Presidents Cup. He was succinct in his response. "We've had that discussion already," he said. "None of my players want to do that."
Jason Sobel
ESPN Senior Writer
With both teams on-site at the Presidents Cup, the two captains spoke Tuesday morning on a variety of topics, including host course Liberty National. "I think it's a great match play course," said International team captain Nick Price. "There's a lot of risk-reward. I think you're going to see a lot of matches changing hands quite a bit."
Bob Harig
ESPN Senior Writer
At one point during the final round of the Tour Championship, Justin Thomas and Jordan Spieth were tied for the lead in the FedEx Cup points -- which would have resulted in a sudden-death playoff. Thomas happened to catch that on a giant scoreboard."I think I laughed when I saw it,'' he said. "I thought honestly, this probably will happen and the golf world will completely blow up and lose its mind if Jordan and I were in a playoff for the FedEx Cup. I don't think anybody would have known what to do with themselves.''
Jason Sobel
ESPN Senior Writer
Prior to this PGA Tour season, Justin Thomas made a list of goals for himself. After winning five titles and claiming the FedEx Cup, he reached nearly all of them. On Sunday evening, he showed off the entire list.
ESPN Stats and Information
Justin Thomas: first player since Tiger Woods in 2009 to win FedExCup Playoffs without winning the TOUR Championship (Phil Mickelson won the 2009 TOUR Championship).
Bob Harig
ESPN Senior Writer
As the final round of the Tour Championship is underway, 11 of the 16 players who are competing in the Presidents Cup next week (11 U.S., 5 International) are outside of the Top 10 -- including the bottom 5 in a 30-player field.
Michael Collins
ESPN Senior Writer
This time caddie "Johnny Long Socks" didn't have to worry about Paul Casey getting to the course too early. As good aa a Tour Championship win would be, having a new baby at home is even better.
Michael Collins
ESPN Senior Writer
How will Paul Casey make sure he doesn't try too hard on Sunday to win the Tour Championship?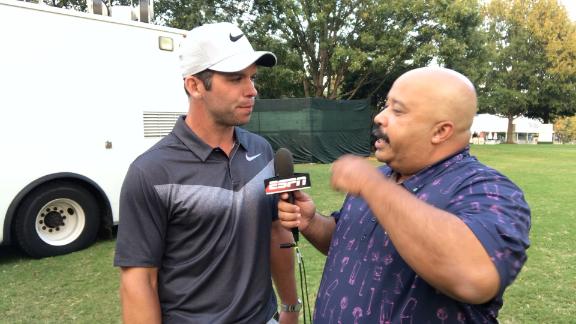 Michael Collins
ESPN Senior Writer
You wanted to be in the lead with a chance to win the Tour Championship Paul Casey... What's it like being there and how is it different than trying to come from behind?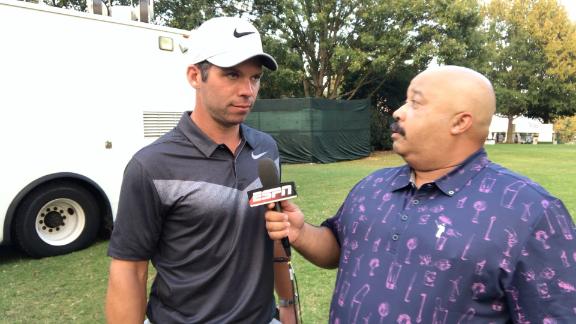 Bob Harig
ESPN Senior Writer
Jordan Spieth will need to watch the scoreboard and go low Sunday if he is to win his second FedEx title in three years. A 69 left him eight strokes back of leader Paul Casey and in a tie for 13th, meaning Spieth is essentially playing for the FedEx title only. He needs to at least get into the top 5 to have a realistic chance. And if he can move into the top 3 the outcome will be interesting and all based on what others do.
Michael Collins
ESPN Senior Writer
Why is a rookie Xander Schauffele playing so well this week in Atlanta? More importantly, how's he gonna sleep now that he's got a realistic shot at winning the title? And a little dig at Kevin Kisner!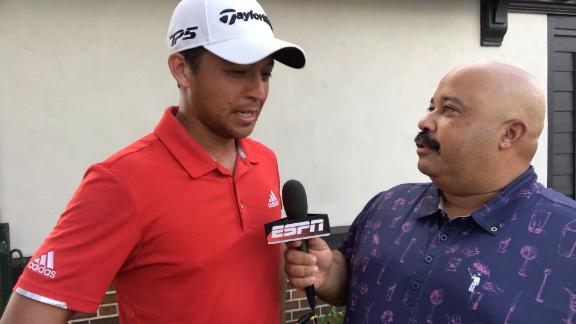 Michael Collins
ESPN Senior Writer
Xander Schauffele is probably going to win Rookie of the Year on the PGA Tour but he had no idea just how much cash he was playing for this week at the Tour Championship.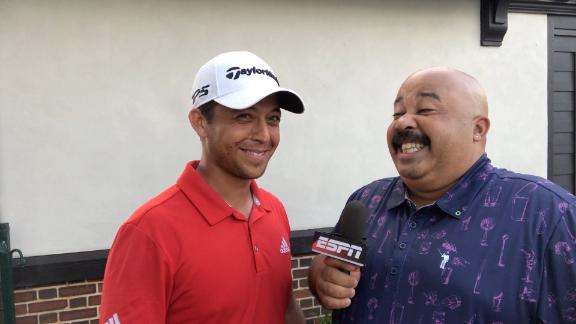 Jason Sobel
ESPN Senior Writer
I spoke with Kevin Kisner briefly after his third-round 64 at the Tour Championship -- briefly, because he was racing to nearby Charlie Yates golf course to catch a helicopter, where he'll take a 25-minute ride to Athens for the Georgia football game against Mississippi State. He said setting a quick pace around the course didn't necessarily help his score, but he was happy about a round that got him into serious contention for the tournament title. And he was just as happy about being on the Bulldogs' sideline for the game Saturday night.
Michael Collins
ESPN Senior Writer
There's a reason they call this place "Hot-Lanta" Every pro I spoke with about the key to playing the Tour Championship at East Lake Golf Club in Atlanta said rest and hydration were at the top.
Bob Harig
ESPN Senior Writer
Expect this to be noted more than a few times if Justin Thomas stays in contention. With a victory, he would become the first player to win six times on the PGA Tour -- including a major -- in a season since Tiger Woods in 2007. Woods also did it in 2006, 2000 and 1999. Vijay Singh accomplished the feat in 2004. They are the only players to do so in the last 20 years.
Michael Collins
ESPN Senior Writer
If you asked every caddie at the Tour Championship if they rather have a courtesy car or indoor plumbing, the vote wouldn't even be close.
Michael Collins
ESPN Senior Writer
Kevin Kisner put out on Twitter Friday that he needed a helicopter ride from the Tour Championship to Athens, GA so he could go to the Georgia vs. Mississippi State game. I asked him this morning if he had gotten that ride and he said, "Yeah, I did!" Then I asked if there was an extra seat so I could go too. He gave a sly grin and said, "There's an extra seat... but the helicopter has a weight restriction." Everybody's a comedian!
Bob Harig
ESPN Senior Writer
The five International members of the Presidents Cup team playing in the Tour Championship all began the third round outside the top 10 -- which may or may not mean anything next week at Liberty National. Jason Day, Adam Hadwin, Hideki Matsuyama, Marc Leishman and Jhonattan Vegas will represent the Internationals next week. Matsuyama, Leishman and Vegas were outside the top 20.
Bob Harig
ESPN Senior Writer
Jordan Spieth and Dustin Johnson are paired Saturday during the third round of the Tour Championship and the two players who combined have spent a majority of the year atop the FedEx Cup standings. But they need to make a move today to get back into contention for the top prize. Although they are just four strokes back of leaders Justin Thomas, Paul Casey and Webb Simpson, they are tied for 15th, with a slew of players in the mix. As projected right now, they would finish fourth and fifth, respectively, in the FedEx standings.
Mark Schlabach
ESPN Senior Writer
When you're three shots off the lead at the Tour Championship, but have equally pressing concerns on Saturday.
Michael Collins
ESPN Senior Writer
If Paul Casey get to the golf course too early Saturday, his caddie will tell him off... again! Trying to win the Tour Championship might be more about rest and how not to be bored off the course. I'm having way too much fun.