--- December 2012 ---

--- November 2012 ---

--- October 2012 ---

--- September 2012 ---

--- August 2012 ---

--- July 2012 ---

--- June 2012 ---

--- May 2012 ---

--- April 2012 ---

--- March 2012 ---

--- February 2012 ---

--- January 2012 ---
Joburg Open
West Course

East Course

2012 Champion

Branden Grace
Sponsored Headlines
Now
Bob Harig
ESPN Senior Writer

Phil Mickelson is trying to avoid a dubious distinction in his afternoon match at Hazeltine. With a loss in the morning session, Lefty now has 20 losses in his Ryder Cup career, tying Jim Furyk for the most in U.S. history. Another today or tomorrow would give him the U.S. "record.'' The most losses by any player is 21, held by Neil Coles and Christy O'Connor both of whom played for the Great Britain & Ireland side prior to continental Europe joining the Ryder Cup.
Bucci Mane
@Buccigross
Ryder Cup rarely decided by 11, 12 guys. twitter.com/ryanhurton/sta…
Ian O'Connor
@Ian_OConnor
Michael Jordan at the #RyderCup watching the golfer named after him, Jordan Spieth. pic.twitter.com/6I2eDFbAYB
Ian O'Connor
ESPN Senior Writer

Michael Jordan, biggest star at the Ryder Cup, watching the American golfer who was named after him, Jordan Spieth.
Michael Collins
ESPN Senior Writer

Glimpse of Ryder Captains future? Jim Furyk chatting with Ian Poulter behind the 3rd green.
Jason Sobel
@JasonSobelESPN
Brooks Koepka's golf ball lands in Thomas Pieters' father's backpack. Sounds like sabotage.
ESPN Golf
@ESPNGolf

Europe claims 2½ of the 4 points in the Saturday morning foursomes session at the Ryder Cup es.pn/2dioWRN
Michael Collins
ESPN Senior Writer

The last time I heard this much cheering/jeering for bad shots was in Scottsdale, AZ on the 16th hole of TPC Scottsdale for the Waste Management Open.
Taylor Twellman
@TaylorTwellman
Imagine if Sergio Garcia played like this in his individual play????? How many majors would he have?! #RyderCup
Michael Collins
ESPN Senior Writer

This first match of the afternoon features four of the longest hitters on two tours. Each captain is essentially throwing an uppercut and we're gonna see who gets knocked out!
Michael Collins
ESPN Senior Writer

Michael Jordan looks on as the first afternoon group is introduced. I asked the legend if he had his lucky cigars for the afternoon matches cause we were gonna need them, "Oh yeah baby." He said with a smile.
Kevin Maguire
Golf

Not a single lead change in any match for the Saturday morning foursomes here at the 41st Ryder Cup. If you took the lead, you never lost that lead. Through three sessions, Team USA still in front, 6 1/2 to 5 1/2.
Bob Harig
ESPN Senior Writer

The Saturday foursomes at the Ryder Cup are complete, and the U.S. now leads 6 ½ to 5 ½ with a fourball session ahead this afternoon. Here are the results McIlroy/Pieters def Mickelson/Folwer 4&2 Snedeker/Koepka def Stenson/Fitzpatrick 3&2 Rose/Wood def Z. Johnson/Walker 1-up Reed/Spieth tied Garcia/Cabrera Bello
ESPN UK
@ESPNUK

Lee Westwood's back in #RyderCup2016 action with Willett in the Saturday fourballs - and under pressure… twitter.com/i/web/status/7…
Michael Collins
ESPN Senior Writer

HOLY MOMENTUM SWING BATMAN!! At one point Spieth and Reed were up by 4. Now Garcia and Cabrera Bello have tied it up!!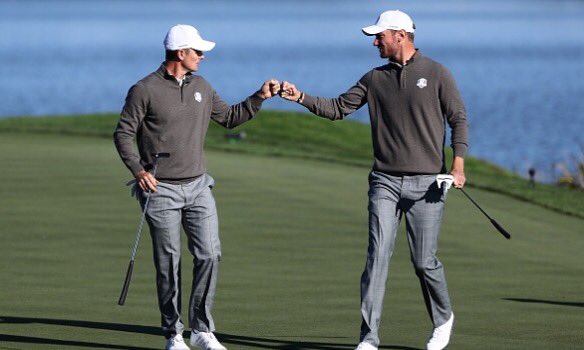 Bob Harig
@BobHarig
Reed/Spieth were 4 up thru 12, now tied. As good as they have been, this would be a huge negative for the U.S. to tie, let alone lose match
Bob Harig
@BobHarig
Spieth barely misses; Rafa makes. All square.. That is the Ryder Cup right there.
Jason Sobel
ESPN Senior Writer

Saturday afternoon Ryder Cup fourballs matches: Brooks Koepka/Dustin Johnson vs. Rory McIlroy/Thomas Pieters J.B Holmes/Ryan Moore vs. Danny Willett/Lee Westwood Phil Mickelson/Matt Kuchar vs. Martin Kaymer/Sergio Garcia Patrick Reed/Jordan Spieth vs. Justin Rose/Henrik Stenson
Michael Collins
ESPN Senior Writer

Golf's version of Ali vs. Frazier 3 is happening in the final match of the Saturday Four-Ball at the Ryder Cup. Jordan Spieth and Patrick Reed vs. Henrik Stenson and Justin Rose.
Bob Harig
@BobHarig
Reed, Spieth only Americans who will play all five matches; Europe will have Rory, Pieters, Stenson, Rose, Sergio go all 5
ESPN Golf
@ESPNGolf

Saturday afternoon four-ball matches @rydercup: Mickelson/Kuchar vs. Kaymer/Garcia; Reed/Spieth vs. Rose/Stenson
ESPN Golf
@ESPNGolf

Saturday afternoon four-ball matches @rydercup: Koepka/DJ vs. Rory/Pieters; Holmes/Moore vs. Willett/Westwood