--- November 2012 ---

--- October 2012 ---

--- September 2012 ---

--- August 2012 ---

--- July 2012 ---

--- June 2012 ---

--- May 2012 ---

--- April 2012 ---

--- March 2012 ---

--- February 2012 ---

--- January 2012 ---
Encompass Insurance Pro-Am of Tampa Bay
TPC of Tampa Bay

2012 Champion

Michael Allen
Sponsored Headlines
Now
US Open Tennis
@usopen
What a comeback! @FTiafoe rallies back from 1-4 and saves four set points to take the opening set over del Potro 7… twitter.com/i/web/status/9…
Rickie Fowler
@RickieFowler

Had some fun shooting this new @QuickenLoans @RocketMortgage spot! Check it out! twitter.com/QuickenLoans/s…
ESPN Fantasy Sports
@ESPNFantasy
How far did Goldy fall? Where did Ohtani go? Find out that and more from our first staff mock of the season: es.pn/2or3w8H
Bob Harig
@BobHarig
Alex Noren and Webb Simpson lead at the Honda Classic. #Tiger is 4 back in a tie for 21st. Friday tee time at 12:45… twitter.com/i/web/status/9…
stan verrett
@stanverrett

And you seem to think your opinion carries some weight. And you think Laura's does, too. But Lebron's doesn't. I wo… twitter.com/i/web/status/9…
stan verrett
@stanverrett

And you seem to think your opinion carries some weight. And you think Laura's does, too. But Lebron's doesn't. I wo… twitter.com/i/web/status/9…
ESPN UK
@ESPNUK

Arsenal didn't produce a single scoring chance in the opening 45 minutes. They avoided a monumental fiasco. Analys… twitter.com/i/web/status/9…
Michael Collins
ESPN Senior Writer
"Mac" Hughes shot +2 (37) on his first nine holes but on the way to the first tee he transformed into Mackenzie and birdied the next six out of seven! Here's how he did it!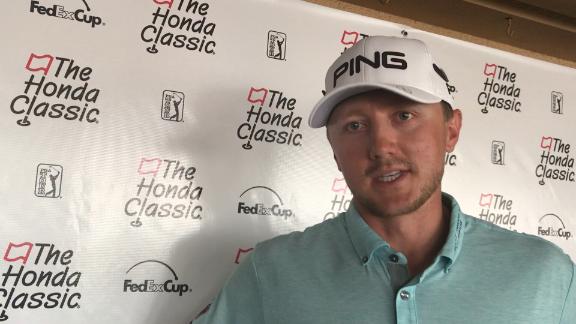 Michael Collins
ESPN Senior Writer
Webb Simpson ALMOST made it thru the first round bogey free and guess what, he wanted it... BAD! It's okay, he's still tied for the lead at -4.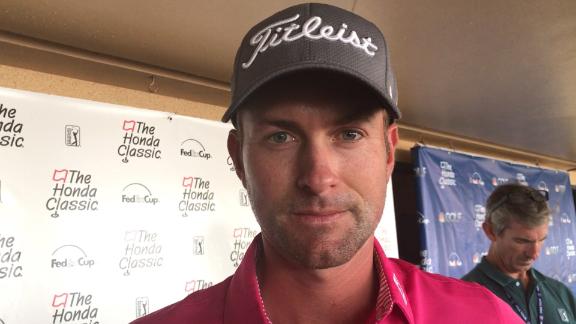 Bob Harig
@BobHarig
2 birdies, 2 bogeys for Rory through 9 holes at PGA National. Defending champ Rickie Fowler also even through 9
John Clayton
@ClaytonESPN

This week on "SCHOOLED w/The Professor", @ZebraTechnology's John Pollard joined me to talk about the advanced scien… twitter.com/i/web/status/9…
Bob Harig
ESPN Senior Writer
Many of the players in the Honda Classic field are wearing ribbons to honor the 17 people who were killed at nearby Stoneman Douglas High School on Feb. 14. "I live here,'' said Tiger Woods, who met a student from the school on Wednesday morning. "It's just a shame what people are doing now, and all the countless lives that we've lost for absolutely no reason at all.''
Stewart Cink
@stewartcink

Time be a runnin' out!!! twitter.com/reynoldsgolf/s…
Michael Collins
ESPN Senior Writer
This was how Tiger Woods responded when Bob Harig asked if this was his best ball striking round so far this year.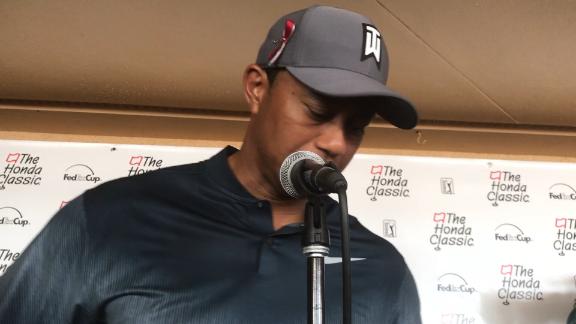 Bob Harig
ESPN Senior Writer
Tiger Woods' first-round 70 at the Honda Classic matches his best opening score in 4 appearances at PGA National. He hit 7 of 14 fairways and 10 of 18 greens with 27 putts. He made 3 birdies, one double and a bogey. When he finished -4 was the leading score.
Michael Collins
ESPN Senior Writer
The numbers may not say so, but Tiger Woods played some very solid golf Thursday at the Honda Classic. Where does Tiger think his game is thru this comeback process?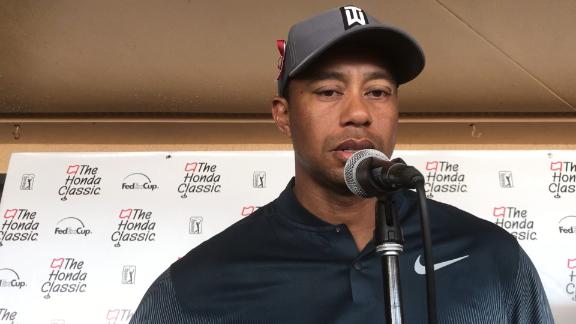 Bob Harig
@BobHarig
Tiger unable to get 15-footer for birdie to drop at 8, 1 hole to go. Even par. Leaders including JT, Daniel Berger at -3