--- September 2014 ---

--- August 2014 ---

--- July 2014 ---

--- June 2014 ---

--- May 2014 ---

--- April 2014 ---

--- March 2014 ---

--- February 2014 ---

--- January 2014 ---

--- December 2013 ---

--- November 2013 ---

--- October 2013 ---
U.S. Open Golf Championship
June 12 - 15, 2014

ESPN/NBC
Pinehurst No. 2 - Pinehurst, NC

Defending Champion

Martin Kaymer
Sponsored Headlines
Now
Michael Collins
ESPN Senior Writer
Lindsey Vonn made a hole-in-one the first time she ever played 18 holes?! Yep. And apparently she likes me better when I'm "tall" (standing on a step).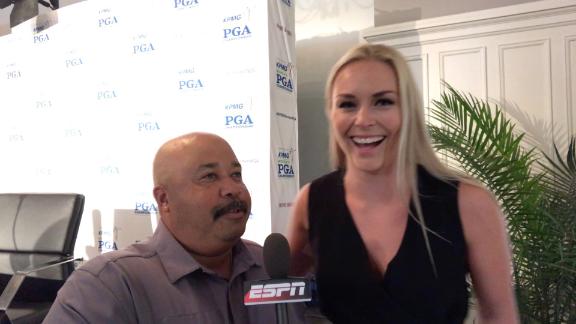 Michael Collins
ESPN Senior Writer
A new world #1 and what to watch for this week's KPMG Women's PGA Championship at Olympia Fields. Bill Fields and Michael Collins will be your guides for the 2nd major of the year.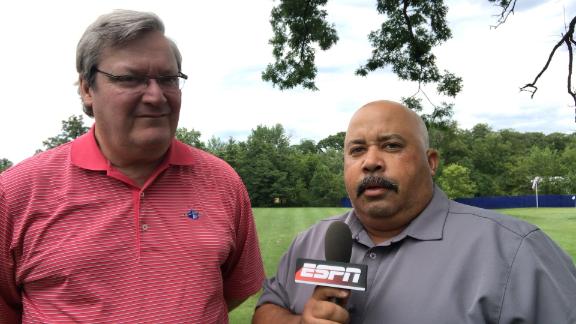 Jason Sobel
ESPN Senior Writer
Steph Curry will be competing again much sooner than expected. It was announced Wednesday that the Golden State Warriors point guard will compete in the Web.com Tour's Ellie Mae Classic at TPC Stonebrae, Aug. 3-6. "Golf has always been a passion of mine," he said in a statement. "It's a dream come true to get the chance to play inside the ropes amongst the pros in a PGA Tour-sanctioned tournament." Curry, who plays to a 0.6 handicap, will retain his current amateur status for the tournament.
ESPN Stats and Information
Jordan Spieth picked up his 10th career PGA TOUR win, joining Tiger Woods as the only players with as many as 10 before turning 24 years old.
Kevin Maguire
Golf
As Jordan Spieth takes questions after winning the Travelers Championship with a hole-out birdie in a sudden-death playoff, his caddie Michael Greller hangs out in the back of the news conference listening in to what his boss has to say.
Aishwarya Kumar
ESPN.com
Jordan Spieth becomes the 2017 Travelers Championship winner. He says he's going to take a few days off and then come back to work hard and try to win a Masters Tournament. "This is a special tournament and they pamper us here," he says.
Kevin Maguire
Golf
Third putter in three days at the Travelers Championship for Rory McIlroy, who doesn't sound exactly committed to keeping the latest flatstick in the bag for very long.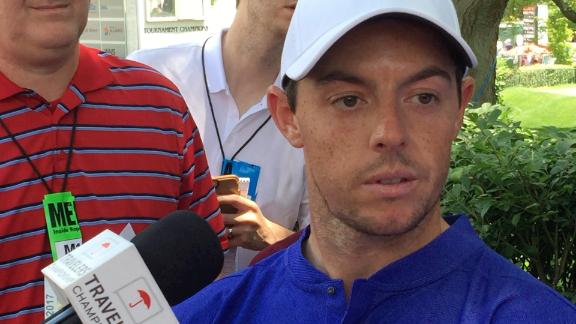 Kevin Maguire
Golf
Jordan Spieth, the 54-hole leader at the Travelers Championship, joked about his back-nine stumble on Saturday and why a water hazard is better than OB.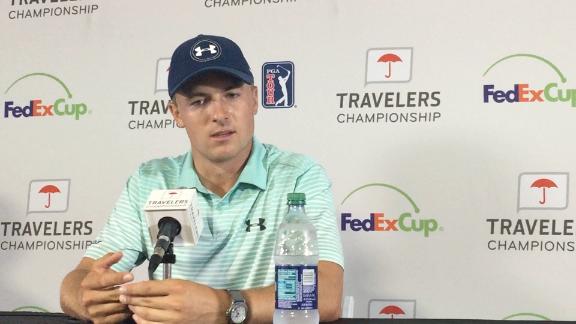 Kevin Maguire
Golf
First came to the Travelers Championship roughly 25 years ago and have covered it for nearly a decade. Have never seen crowds like this, especially following Jordan Spieth's group for the front nine of Round 3 on Saturday. If the PGA Tour was debating if their rule about having pros play different tournaments was a good one, this photo speaks volumes.
Kevin Maguire
Golf
World No. 3 Rory McIlroy nearly missed the cut Friday at the Travelers Championship and spoke about the challenges ahead ... before he knew if he'd be playing 36 more holes at TPC River Highlands. (He is.)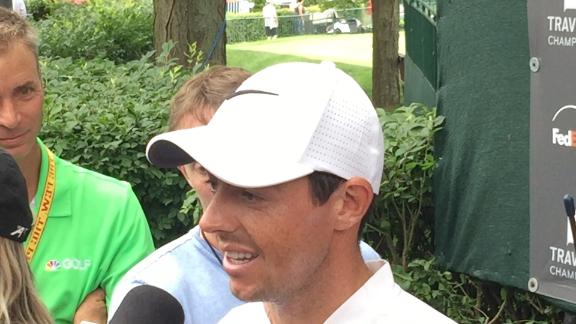 Jason Sobel
ESPN Senior Writer
Rory McIlroy was on the cut line Friday afternoon at the Travelers Championship, his ball resting in the fairway just 105 yards from the final hole. He took out a wedge, aimed at his target -- and hit it 63 yards into the right rough. "My right foot completely came out from under me," he later explained. "It was weird. As soon as I started down, I just felt it and I couldn't stop. ... Not a very nice shot to finish with." He bogeyed the hole, but in his first career start at this event, quickly received a reprieve. As he moved down on the leaderboard, the cut line moved with him. McIlroy will enter the weekend eight strokes behind leader Jordan Spieth, but did avoid missing a second consecutive PGA Tour cut for the first time in five years.
Kevin Maguire
Golf
India's Anirban Lahiri improved by 10 shots (73 to 63) from Round 1 to Round 2 at the Travelers Championship on Friday. His 63 is his lowest in his PGA Tour career. Lahiri is coming off a T-2 finish in his most recent start at Jack Nicklaus' Memorial Tournament earlier this month.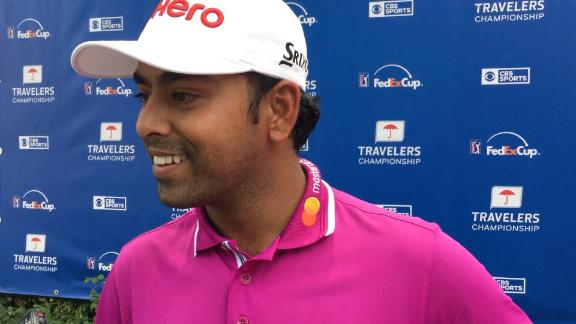 Kevin Maguire
Golf
Jordan Spieth's 69 on Friday didn't match his 63 from Round 1, but the two-time major winner still walked off the course with the lead at the Travelers Championship.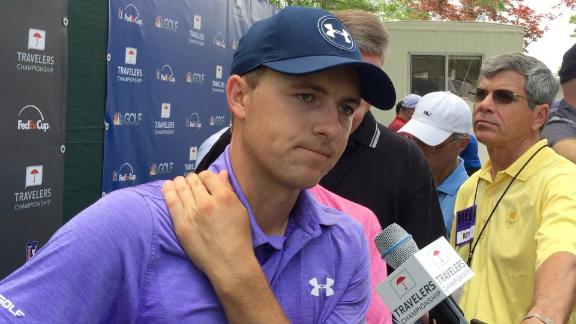 Kevin Maguire
Golf
Two-time major winner Jordan Spieth doesn't expect to shoot 63 all four rounds at the Travelers Championship, but it's a good start.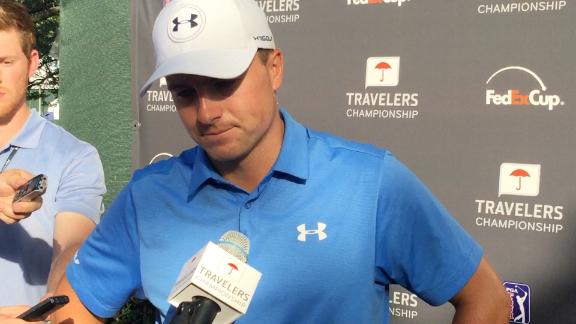 Kevin Maguire
Golf
Zach Zaback might be playing the ultimate in PGA Tour home games. The 23-year-old who has status on PGA Tour Latino America and went to UConn actually has a family home here at TPC River Highlands. Was he intimidated playing in a field win Rory McIlroy and Jason Day?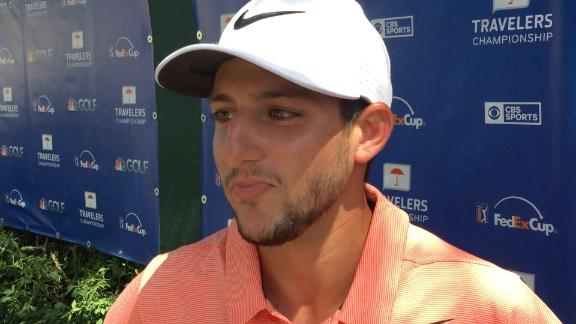 Kevin Maguire
Golf
Rory McIlroy, who struggled with 30 putts in his opening-round 67 on Thursday at the Travelers Championship, said he's debating what to do with the flatstick.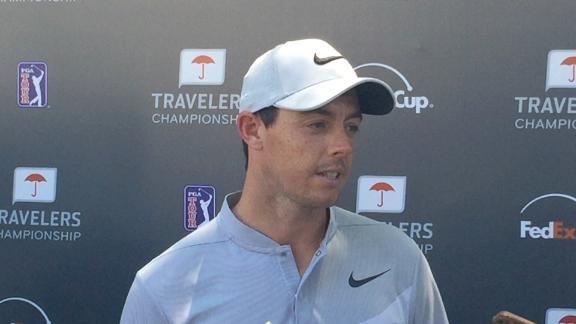 Michael Collins
ESPN Senior Writer
Who's idea was the Phil Mickelson and Jim "Bones" Mackay split? The answers will be in the actions they take next.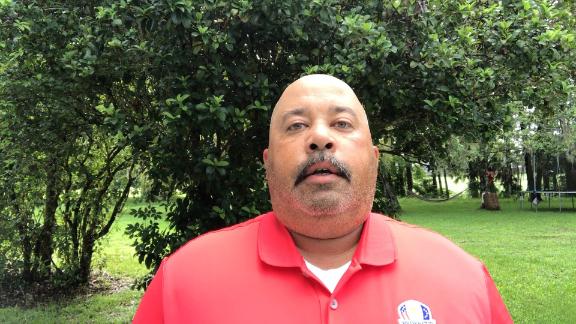 Kevin Maguire
Golf
After shooting a record-setting 63 in Round 3 at the U.S. Open, Justin Thomas didn't clinch his first major victory Sunday at Erin Hills. This week at the Travelers Championship, the 24-year-old four-time PGA Tour winner expressed his confidence about his major chances.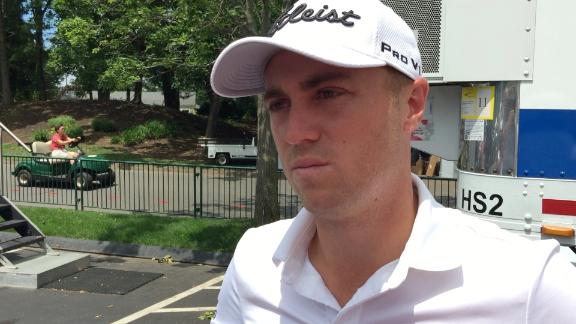 Kevin Maguire
Golf
Rory McIlroy is playing this week at the Travelers Championship and he's quite pleased with the new PGA Tour rule that aims to get more golfers competing in events that they haven't previously played.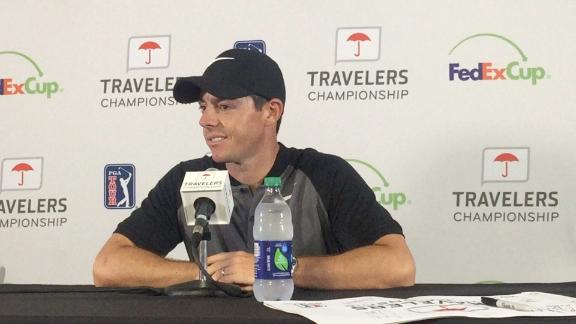 Michael Collins
ESPN Senior Writer
Veteran caddie John Wood issued this statement about the split of Phil Mickelson and Jim "Bones" Mackay.. "Along with being great friends to me and so any others on tour, Phil and Bones have set the standard for player/caddie relationships. They more than any other partnership showed what was possible in terms of working together for a common goal. They were a team in the truest sense of the word. Bones is a mentor to many, and looked up to almost singularly amongst the caddie ranks for his counsel and professionalism. Phil has done more behind the scenes that benefitted not only Bones, but all caddies. Things no one will ever know about and that he would never take any credit for. Theirs was a partnership we all aspire to. I know I'll miss those on course discussions more than anyone. Always poignant, interesting, educational, insightful and above all else entertaining. They showed better than any other team how decisions are arrived at under the microscope and under extreme pressure. I would just want to tell them both congratulations on an amazing 25 year run."
Kevin Maguire
Golf
He's only got two holes left, but England's Tommy Fleetwood has plenty to play for here at the U. S. Open. Fleetwood is currently alone in fourth place and the top four players and ties get into the Masters next year. He played his first Masters this past April, where he missed the cut.
Michael Collins
ESPN Senior Writer
Hideki Matsuyama shoots a final round 66 (-6) at the U.S. Open and now has the clubhouse lead at -12!
Kevin Maguire
Golf
In honor of the late Arnold Palmer, the USGA on Sunday handed out this replica pin from the 1960 U.S. Open that The King won at Cherry Hills.
Jason Sobel
ESPN Senior Writer
There's still a bunched leaderboard at the U.S. Open, but one thing is virtually certain: We'll have a first-time major champion for the seventh straight major today. The closest major winner to the current lead is Masters champion Sergio Garcia -- and he's eight shots back.
Kevin Maguire
Golf
Brian Harman, the 54-hole leader at the U.S. Open, played the first two holes of the final round about as bad as he could, missing both fairways and struggling just to post pars. After making a 360-degree birdie putt on No. 3, he's back tied for the lead at 13 under with Brooks Koepka.