--- September 2014 ---

--- August 2014 ---

--- July 2014 ---

--- June 2014 ---

--- May 2014 ---

--- April 2014 ---

--- March 2014 ---

--- February 2014 ---

--- January 2014 ---

--- December 2013 ---

--- November 2013 ---

--- October 2013 ---
Travelers Championship
June 19 - 22, 2014

CBS/TGC
TPC River Highlands - Cromwell, CT

2014 Champion

Kevin Streelman
Sponsored Headlines
Now
Michael Collins
ESPN Senior Writer

The forecast was for sunny skies and 71 degrees but Mother Nature must have known what the Ryder Cup means so she set the tone perfectly as the first matches began this morning in Chaska, Minnesota.
Bob Harig
ESPN Senior Writer

What will Tiger Woods do all day? Well, even as a vice captain, he cannot give advice to players. The Rules of Golf only allow for advice from the caddie, or in a team event, your partner or partner's caddie. At the Ryder Cup, captain's Davis Love III and Darren Clarke can also give advice, and typically they rely on info from their assistants to pass on info.
Tom Haberstroh
@tomhaberstroh
#askwos are you feeling these Ryder Cup uniforms? do you know what the Ryder Cup is? twitter.com/BigWos/status/…
trey wingo
@wingoz
Love Ryder Cup weekend, love it
Jason Sobel
@JasonSobelESPN
Jordan Spieth making every putt he looks at could be a nice little boost for the U.S. side this week.
Darren Rovell
@darrenrovell
Amazing outfits this morning from Ryder Cup fans at first tee (via @GettySport) pic.twitter.com/ah8v9GKT7k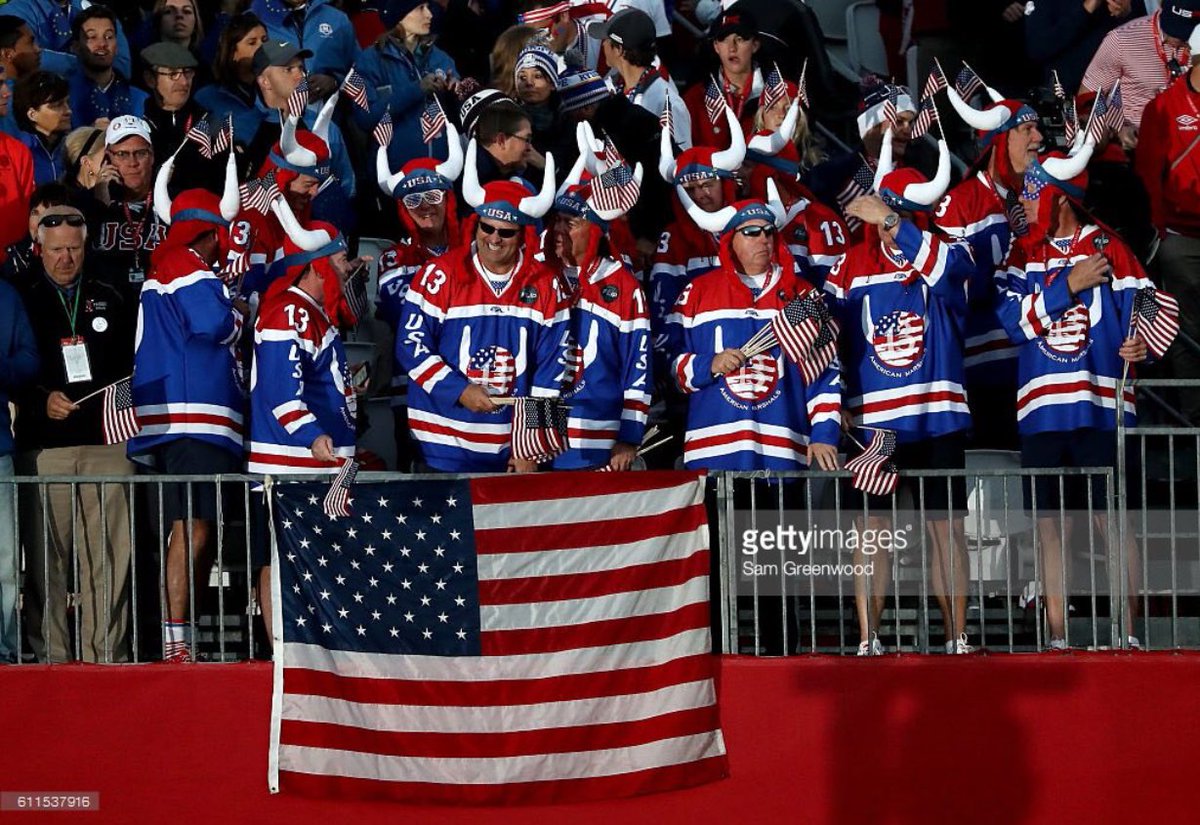 Michael Collins
ESPN Senior Writer

There's an eerie fog hanging around the golf course at the Ryder Cup this morning but it hasn't dampened the spirit of the HUGE and very boisterous crowd that's on site.
Jason Sobel
@JasonSobelESPN
Jordan Spieth rolls in the first birdie of the day. If the Ryder Cup ended right now, U.S. wins. Think they'll keep going, though.
Bob Harig
ESPN Senior Writer

Dustin Johnson getting in some last minute work on the range before heading to the first tee with Matt Kuchar
bubba watson
@bubbawatson

1st tee shot!! #RyderCup pic.twitter.com/6zTwvc09Rd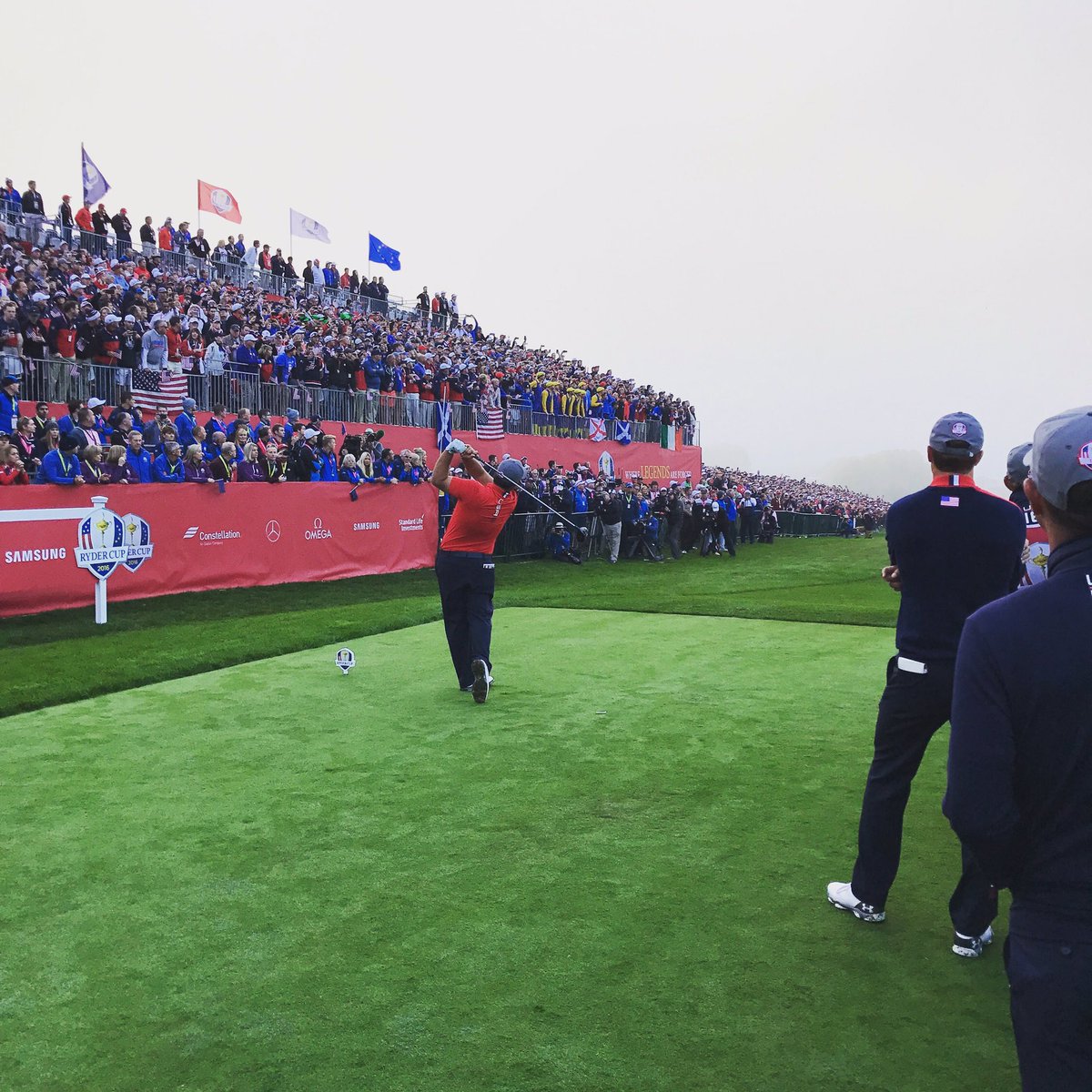 Bob Harig
ESPN Senior Writer

Arnold Palmer was Ryder Cup captain twice . His bag from 1975 when the U.S won at Laurel Valley is on the first tee at Hazeltine today.
Jason Sobel
@JasonSobelESPN
Classy touch: Arnold Palmer's Ryder Cup golf bag is standing alone on the first tee box.
Rory McIlroy
@McIlroyRory
Come on Rosey!!! #TeamEurope pic.twitter.com/Pa2iXqdxW4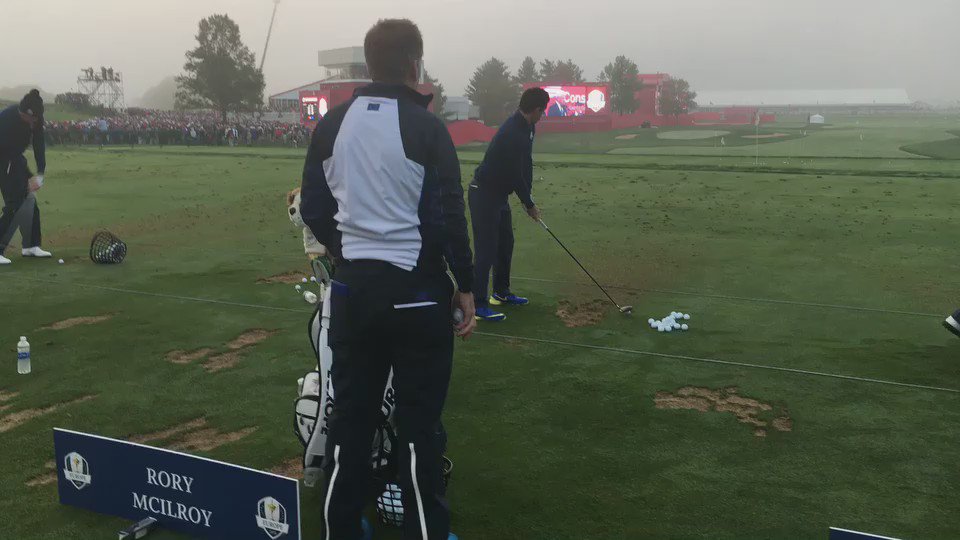 Jason Sobel
@JasonSobelESPN
Ryder Cup. First tee. pic.twitter.com/Tgp5KIy3oC

Michelle Wie
@themichellewie
Getting butterflies in my stomach seeing the first group get to the tee!!! #USAUSAUSA
Bob Harig
ESPN Senior Writer

A long day of vice-captaining ahead for Tiger at the Ryder Cup
ESPN UK
@ESPNUK

WATCH: Heckler holds nerve to win $100 from Justin Rose. #RyderCup es.pn/2dgw3si
Bob Harig
ESPN Senior Writer

Not to many golf tournaments look like this -- this early
Lexi Thompson
@Lexi
Some hamstring work! This exercise kills me , but it's a really good one. Try this one out next… instagram.com/p/BK-qlPHgL54/
SportsCenter
@SportsCenter
Best thing @notthefakeSVP saw today? A heckling Ryder Cup fan is challenged to make a $100 putt...and he sinks it. es.pn/2dbNXjZ
ESPN UK
@ESPNUK

Darren Clarke and Davis Love III saved the best til ... first, in the #rydercup pairings es.pn/2dE0qIP pic.twitter.com/L9SFt2Myu6