--- November 2004 ---

--- October 2004 ---

--- September 2004 ---

--- August 2004 ---

--- July 2004 ---

--- June 2004 ---

--- May 2004 ---

--- April 2004 ---

--- March 2004 ---

--- February 2004 ---

--- January 2004 ---
Masters Tournament
Augusta National GC - Augusta, GA

Defending Champion

Phil Mickelson
Sponsored Headlines
Now
Michael Collins
ESPN Senior Writer
There's a reason they call this place "Hot-Lanta" Every pro I spoke with about the key to playing the Tour Championship at East Lake Golf Club in Atlanta said rest and hydration were at the top.
Bob Harig
ESPN Senior Writer
Expect this to be noted more than a few times if Justin Thomas stays in contention. With a victory, he would become the first player to win six times on the PGA Tour -- including a major -- in a season since Tiger Woods in 2007. Woods also did it in 2006, 2000 and 1999. Vijay Singh accomplished the feat in 2004. They are the only players to do so in the last 20 years.
Michael Collins
ESPN Senior Writer
If you asked every caddie at the Tour Championship if they rather have a courtesy car or indoor plumbing, the vote wouldn't even be close.
Michael Collins
ESPN Senior Writer
Kevin Kisner put out on Twitter Friday that he needed a helicopter ride from the Tour Championship to Athens, GA so he could go to the Georgia vs. Mississippi State game. I asked him this morning if he had gotten that ride and he said, "Yeah, I did!" Then I asked if there was an extra seat so I could go too. He gave a sly grin and said, "There's an extra seat... but the helicopter has a weight restriction." Everybody's a comedian!
Bob Harig
ESPN Senior Writer
The five International members of the Presidents Cup team playing in the Tour Championship all began the third round outside the top 10 -- which may or may not mean anything next week at Liberty National. Jason Day, Adam Hadwin, Hideki Matsuyama, Marc Leishman and Jhonattan Vegas will represent the Internationals next week. Matsuyama, Leishman and Vegas were outside the top 20.
Bob Harig
ESPN Senior Writer
Jordan Spieth and Dustin Johnson are paired Saturday during the third round of the Tour Championship and the two players who combined have spent a majority of the year atop the FedEx Cup standings. But they need to make a move today to get back into contention for the top prize. Although they are just four strokes back of leaders Justin Thomas, Paul Casey and Webb Simpson, they are tied for 15th, with a slew of players in the mix. As projected right now, they would finish fourth and fifth, respectively, in the FedEx standings.
Mark Schlabach
ESPN Senior Writer
When you're three shots off the lead at the Tour Championship, but have equally pressing concerns on Saturday.
Michael Collins
ESPN Senior Writer
If Paul Casey get to the golf course too early Saturday, his caddie will tell him off... again! Trying to win the Tour Championship might be more about rest and how not to be bored off the course. I'm having way too much fun.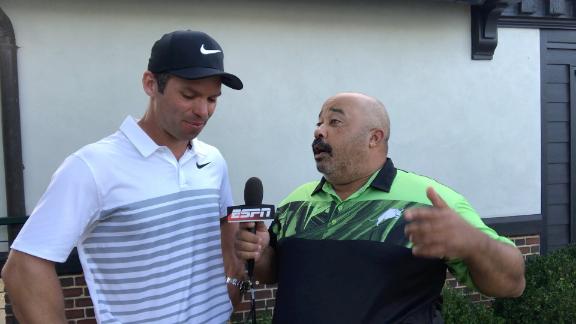 Michael Collins
ESPN Senior Writer
"Wait, you're not ALLOWED to practice after the round?" Paul Casey tells me he couldn't practice after Friday's round even if he wanted to. All because of his caddie "Johnny Longsocks".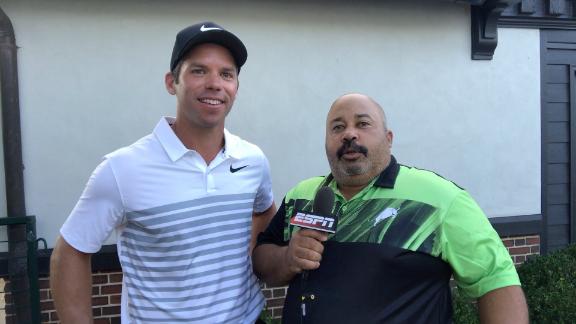 Michael Collins
ESPN Senior Writer
NBA player Kent Bazemore was all-in watching Steph Curry play in the Web.com Tour event and knows why he was able to play so well. "Baze" also has one pro golfer he hopes to one day tee it up with, keep it in the family per se.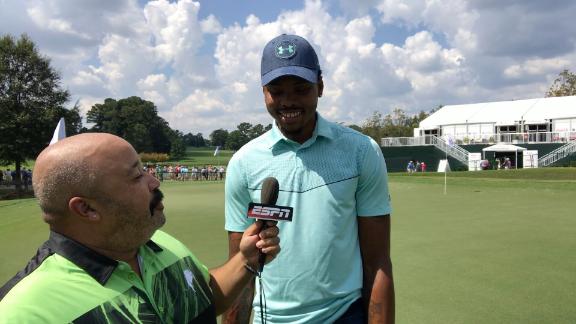 Michael Collins
ESPN Senior Writer
There's one club that always goes on the road with NBA player Kent Bazemore. Baze also got one of his teammates addicted to the game too!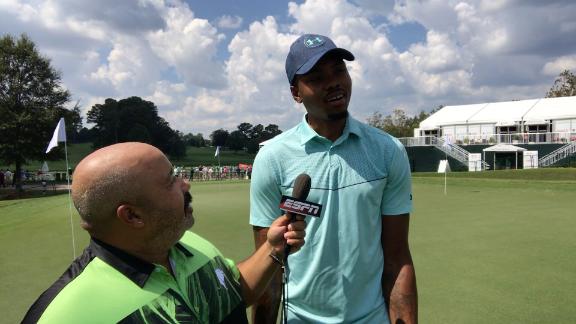 Michael Collins
ESPN Senior Writer
Why doesn't anyone go crazy low scoring at East Lake Golf Club where they're playing the Tour Championship this week? Webb Simpson has an idea and admits there's something he's NOT looking forward to this weekend!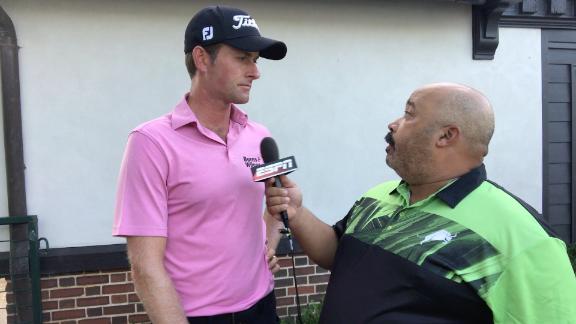 Michael Collins
ESPN Senior Writer
I caught the Atlanta Hawks Kent Bazemore hanging out at the Tour Championship at East Lake Golf Club. He's a golf addict?!? Yep, but it's the mental part of the game he loves.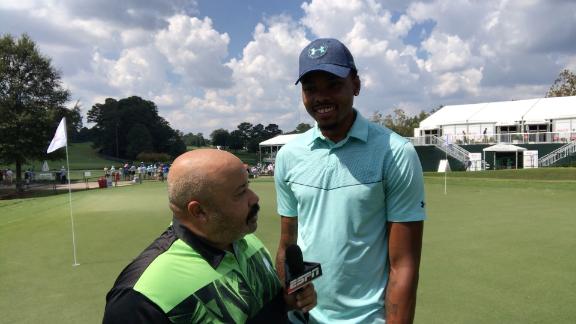 Michael Collins
ESPN Senior Writer
When do golfers feel like basketball players? After a mistake or two on the course. Paul Casey explains how he got thru a tough stretch of golf by thinking like a shooting guard!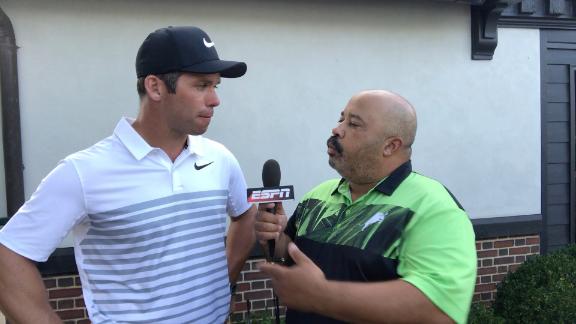 Bob Harig
ESPN Senior Writer
Through two rounds, Justin Thomas is the projected FedEx Cup champion. Of course, that is based on him being tied for the lead with Paul Casey and Webb Simpson -- who are projected second and third. Jordan Spieth -- who is tied for 15th -- is projected fourth with Dustin Johnson also tied for 15th and projected fifth.
Jason Sobel
ESPN Senior Writer
Webb Simpson is part of a three-way tie for the Tour Championship lead entering the weekend. He credits it in part to the old Allen Iverson theory: "Practice? We talkin' about practice?" Simpson prepared for East Lake by playing just a single nine-hole practice round before the tournament started. "We play so much golf," he explained. "You've got to take advantage of your rest. I've played here enough."
Jason Sobel
ESPN Senior Writer
With rounds of 66-67 to open the Tour Championship, Paul Casey is in position to claim his second career PGA Tour title and first since 2009. What would it mean for him to claim that long-elusive title against this star-studded field? "It would turn a good season into a great season," he said. So much that he admitted if given a choice between the FedEx Cup victory and the tournament title, he'd take the latter, even with the decisive monetary differential.
Jason Sobel
ESPN Senior Writer
Justin Thomas followed an opening-round 67 at the Tour Championship with a 4-under 66 on Friday, putting him in position to neatly wrap a bow on the entire PGA Tour season. With a win this weekend, he would not only earn his sixth title of the season, he would claim the entire FedEx Cup and certainly be named Player of the Year by his peers. "It's nice to have everything in my own hands," he said after the round. "If I take care of everything, then it's over with." And with that, he retreated to the practice range to work on his swing a little more.
Jason Sobel
ESPN Senior Writer
It's been a trying season for Jason Day, who this week is making one last-ditch attempt to salvage a winless campaign. He posted a 3-under 67 in the second round of the Tour Championship on Friday -- which was helpful, except for the rough patch. Day bogeyed the 12th, 13th and 14th holes, keeping him from a score that could've vaulted him near the top of the leaderboard entering the weekend. "Got to stop making these silly errors," he said afterward. "It's really frustrating, because I get really good momentum through the first part of my round and the mid-to-the late part of my round, I rattle off a couple bogeys."
Michael Collins
ESPN Senior Writer
My dreams of being a professional fútbol player, because I thought they were all short, was ruined today at the PGA Tour Championship. Harrison Heath, Kenwyne Jones, and Chris McCann of the MLS Atlanta United F.C. are also golf fans and golfers who took some time off to watch they're favorite guys play. Their next game is Sunday vs. Montreal here in Atlanta.
Jason Sobel
ESPN Senior Writer
Among those watching the Jordan Spieth-Justin Thomas pairing on Friday afternoon is Atlanta Hawks guard Kent Bazemore, who's also a big-time golf fan.
Jason Sobel
ESPN Senior Writer
How controversial could this week's FedEx Cup conclusion actually be? Consider this: At one point this afternoon, Webb Simpson was projected to be the season-long champion. As of right now, that projection favors Paul Casey. What do they have in common? Neither has won a single PGA Tour event all season.
Jason Sobel
ESPN Senior Writer
Hideki Matsuyama finished the PGA Tour regular season as the FedEx Cup points leader, but following results of MC-23rd-47th in the first three playoff events, he'd dropped all the way to seventh entering this week's Tour Championship. Reportedly dealing with a nagging hip injury, Matsuyama could only manage an opening-round 5-over 75 on Thursday, but showed signs of rounding into form today, posting a 68 that could at least help give him a little momentum entering this weekend -- and next week's Presidents Cup.
Jason Sobel
ESPN Senior Writer
Jordan Spieth and Justin Thomas are paired together at the Tour Championship today for the eighth time during these FedEx Cup playoffs, the 14th time this season and the 24th time in their PGA Tour careers. On these occasions, the two buddies have fared well against each other, with Spieth compiling a 69.10 scoring average and Thomas just off that pace at 69.70.
Jason Sobel
ESPN Senior Writer
A few years ago, East Lake Golf Club started giving the Tour Championship winner a replica of Bobby Jones' famous Calamity Jane putter as a gift for winning at his home course. This year, that gift has become an official trophy for the tournament. Sidled next to the FedEx Cup by the first tee all week, the putter will be presented to this year's tourney champion on Sunday evening.