--- December 2010 ---

--- November 2010 ---

--- October 2010 ---

--- September 2010 ---

--- August 2010 ---

--- July 2010 ---

--- June 2010 ---

--- May 2010 ---

--- April 2010 ---

--- March 2010 ---

--- February 2010 ---

--- January 2010 ---
The Barclays
August 26 - 29, 2010

CBS/TGC
Ridgewood CC - Paramus, NJ

Defending Champion

Matt Kuchar
Sponsored Headlines
Now
Minnesota Lynx
@
Register for @twin1532's Girls Holiday Clinic with the @WolvesLynxAcad on December 28th in Eagan! REGISTER:… twitter.com/i/web/status/9…
ESPN CollegeFootball
@
How did the Big 12's preseason No. 9 turn into a team that could beat OU and TCU? @CycloneFB's Matt Campbell expla… twitter.com/i/web/status/9…
Michelle Wie
@
Back to island livin in 3...2...1 🤙🏼🤙🏼🤙🏼 #homewardbound #luckywelivehawaii #offseason @ Lanikai… instagram.com/p/BbzQUb0DzfH/
Justin Rose
@
Great night at Happy Valley watching the night racing at Hong Kong Jockeys Club. Thanks for having us… twitter.com/i/web/status/9…
ESPN UK
@

Anyone in particular Alberto 👀 Moreno believes Liverpool only have themselves to blame for last night's 3 goal col… twitter.com/i/web/status/9…
Michelle Wie
@
HAHAHHAHAHHAHAAAHAHAHHAHAHAHAAHAHAHA BABY JT #youweresotiny twitter.com/justinthomas34…
ESPN FC
@
Marc-Andre ter Stegen's brilliance as a shot-stopper has played a big part in putting Barcelona atop La Liga and th… twitter.com/i/web/status/9…
ESPN.com's SweetSpot
@

Now that Shohei Ohtani's coming to America, where will he play? es.pn/2zXJJpg
Sam Bruce
ESPN Associate Editor
Jason Day talks about the rise of Justin Thomas and the huge competition there is for golf's No.1 ranking. Day is hoping to use this week's Australian Open as a springboard into the 2018 PGA Tour season, after he went winless this year.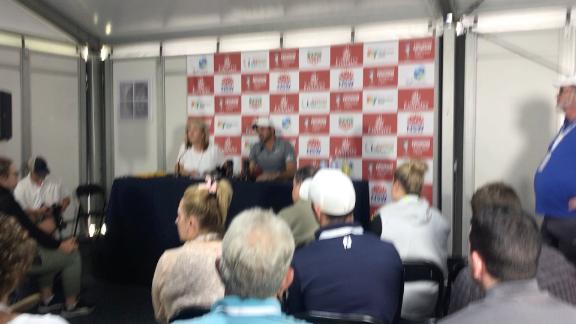 ESPN FC
@
Joe Willis' penalty save from Nico Lodeiro has kept Seattle's lead over Houston to 1-0. WATCH: es.pn/2zaReFD #HOUvSEA
Jordan Spieth's caddie Michael Greller is really disappointed not to be in Australia after the birth of his son. He's been texting Spieth daily asking for pictures from the Australian Open.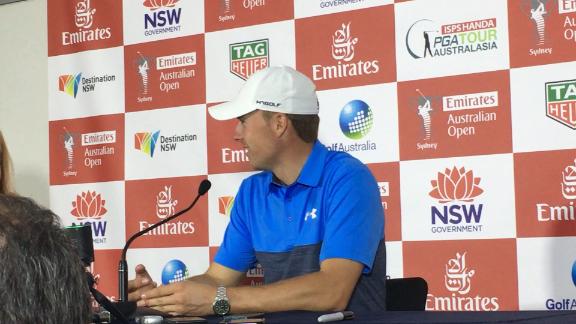 SportsCenter
@
Gabby Douglas has become the third member of the "Fierce Five" U.S. women's gymnastics team to say she was abused b… twitter.com/i/web/status/9…
The Undefeated
@
The new Nola Darling in @SpikeLee's #ShesGottaHaveIt is still challenging the same archaic, toxically masculine lan… twitter.com/i/web/status/9…
Jeff Carlisle
@

Michael Bradley's Boo Tour continues. #CLBvTOR
The Undefeated
@
Unfortunately, an injury sidelined Missouri's Michael Porter, but there is still plenty of talent for the 2017-18 c… twitter.com/i/web/status/9…
Sam Bruce
ESPN Associate Editor
Jason Day looks in great touch at today's Australian Open pro-am, the tournament's big drawcard, alongside Jordan Spieth, cut a relaxed figure playing with Lleyton Hewitt and Australia rugby sevens captain Ed Jenkins. Day had a kick in birdie after stiffing one on No.3, but did this birdie drop on 4?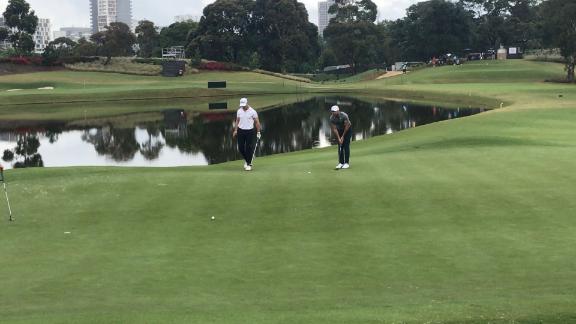 Rain has been persistent during the Australian Open pro am. Jordan Spieth is playing with former Australian cricket captain Ricky Ponting. Spieth has coach Cameron McCormick on the bag this week with Michael Greller on paternity leave back in the US.
Sam Bruce
ESPN Associate Editor
Jordan Spieth and former Australia cricket captain Ricky Ponting are playing together at today's Australian Open pro-am. Punter just found some serious cabbage off the tee on 10, so took up flag duties for the hole instead!
Lexi Thompson
@
The harder you work for something the greater you'll feel when you achieve it 👊🏽 @KWAYNE_FITNESS instagram.com/p/BbxD4degc9l/
Fleetwood reflects on 2017 success
Race to Dubai champion Tommy Fleetwood looks back on a fantastic year.