--- December 2011 ---

--- November 2011 ---

--- October 2011 ---

--- September 2011 ---

--- August 2011 ---

--- July 2011 ---

--- June 2011 ---

--- May 2011 ---

--- April 2011 ---

--- March 2011 ---

--- February 2011 ---

--- January 2011 ---
THE PLAYERS Championship
TPC Sawgrass - Ponte Vedra Beach, FL

Defending Champion

K.J. Choi
Sponsored Headlines
Now
Jason Sobel
@JasonSobelESPN
Jordan Spieth is just like us? Hits approach into third green and promptly says, "I have no idea where that is..."
ESPN UK
@ESPNUK

And so it begins... Jordan Spieth begins his final round as he looks to wrap up #TheOpen -- follow it here:… twitter.com/i/web/status/8…
Michael Collins
ESPN Senior Writer
Red is good when the weather at The Open is perfect as it is right now. Not a good sign when the last six groups on the course have NO red numbers on the board early.
Leo Spall
UK Correspondent
Silver medal winner Alfie Plant gives his brother a hug and enjoys the loud applause of the crowd as his Royal Birkdale adventure comes to an end. Few amateurs can have had more fun at The Open.
Jason Sobel
@JasonSobelESPN
Jordan Spieth turns 24 in a few days. Grizzled veteran compared with Haotong Li (21) and Austin Connelly (20), each T-3 right now.
Jason Sobel
@JasonSobelESPN
Opening bogey for Jordan Spieth. He wants to hit fairways and greens today. Did neither on the first hole.
Jason Sobel
ESPN Senior Writer
Today marks the 10th time since the 2015 Masters that Jordan Spieth has held or shared a 54-hole tournament lead. On those previous nine occasions, he's converted eight times for the victory. The lone outlier? Last year's Masters, when he famously lost on the back-nine. He enters today's final round of The Open with a three-stroke advantage.
Jason Sobel
@JasonSobelESPN
Henrik Stenson's shirt looks like it lost a fight with a Sharpie.
Leo Spall
UK Correspondent
It's been a long few days at Royal Birkdale! This guy might have a great view of the 15th green but his eyes are closed and he's missing all the action. Hopefully he'll wake up in time to see leader Jordan Spieth later on.
Michael Collins
ESPN Senior Writer
Here's the R&A's full explanation of how Royal Birkdale has been set up for the final round of The Open. Sunday it will play longer than any of the three previous rounds.
Leo Spall
UK Correspondent
Alfie's Army, made up of family and friends supporting British amateur Alfie Plant, has dwindled to something more like a specialist fan unit as he gets closer to claiming the silver medal, but they are still having fun and making themselves heard.
Bob Harig
@BobHarig
R&A announced that Open at Birkdale most attended of any outside of St. Andrews, surpassing 235,000. Record 239,000 at St. Andrews in 2000
Michael Collins
ESPN Senior Writer
Sunday is PAYDAY in golf. Wanna win The Open Championship? Well here's all the hole locations for the final round.
Mack Brown
@ESPN_CoachMack
Good luck today @JordanSpieth. Finish strong and win your 3rd Major! We are all pulling hard for you my friend! pic.twitter.com/1ry9QtvpdA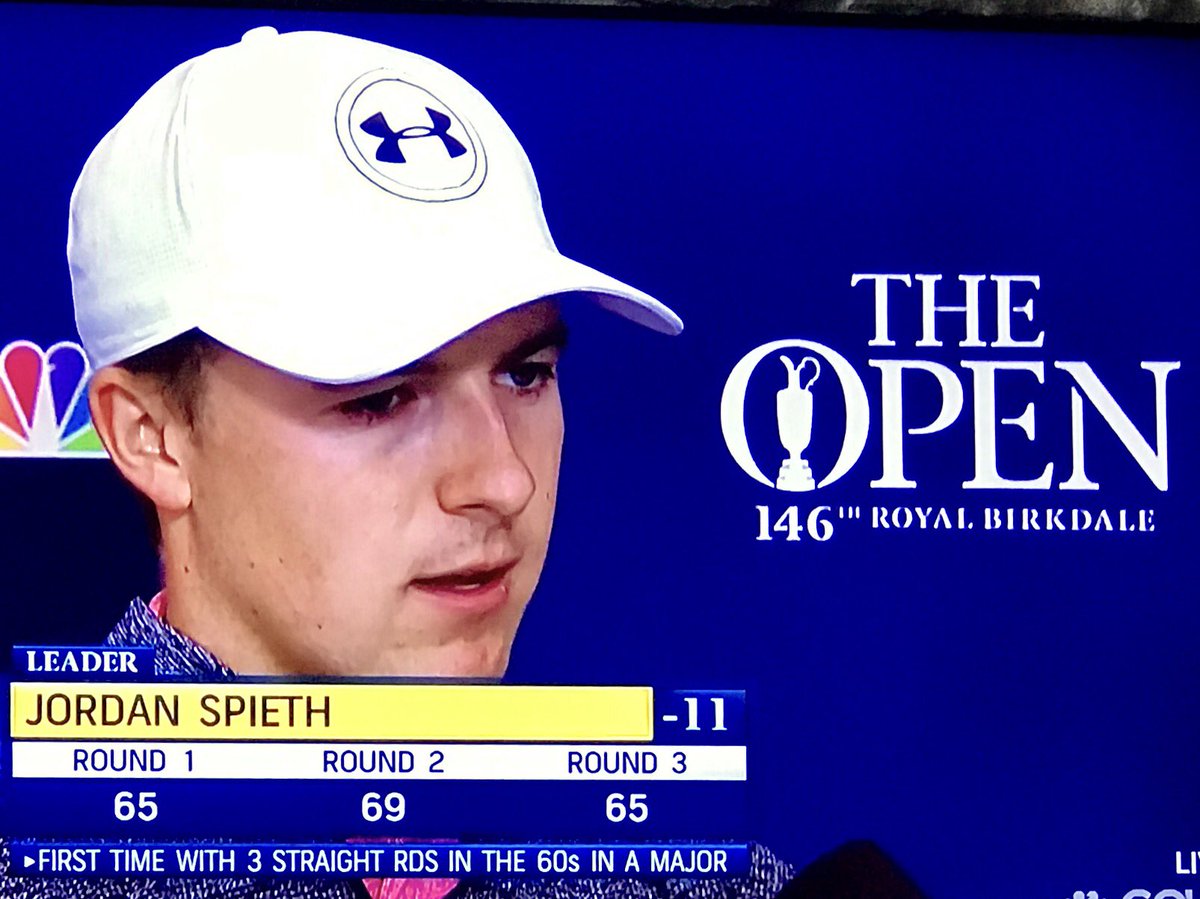 Steven Saunders
ESPN UK
Another superb morning for Open scoring at Birkdale, and Australia's Aaron Baddeley takes full advantage. Playing in the second match of the day, he signs for 6-under 64, finishing at +1 for the tournament.
Jason Sobel
@JasonSobelESPN
Aaron Baddeley posts 64 with two bogeys, in case you're wondering what kind of score is out there today.
Jason Sobel
@JasonSobelESPN
AM RT: Jordan Spieth is good at getting into a lead, holding a lead and -- as we'll see again -- converting a lead. es.pn/2ulghpC
Jason Sobel
@JasonSobelESPN
AM RT: Jack Nicklaus once missed a short putt for 62. Branden Grace made his – and the inevitable finally happened. es.pn/2uKSgcN
Kevin Van Valkenburg
@KVanValkenburg
Here's my Spieth could for today's final round. Thanks for reading this week. twitter.com/kvanvalkenburg…
Justin Rose
@JustinRose99
Last round warm up @TheOpen #TheOpen pic.twitter.com/fLN8MZEeL2