PGA Tour could proffer a better start to season

By Bob Harig
ESPN.com
Archive
The behemoth that is football in general and the NFL in particular caused the PGA Tour to retreat just a few years ago. Not wanting to compete with the pros in pads -- not to mention the college lads -- the tour shortened its season.
This Week's Tournaments
So where are the world's best golfers teeing it up this week?
• PGA Tour: SBS Championship, Thursday-Sunday, Kapalua Resort, Kapalua, Hawaii
• European Tour: Africa Open, Thursday-Sunday, East London GC, East London, South Africa

Instead of playing into November, the tour created the FedEx Cup and had its big finale in September, then let the rank and file play in obscurity while the rest of America turned its attention to the gridiron.
But if football scared the tour away from the fall, what about now?
In case you didn't notice, the start of the 2010 PGA Tour season begins Thursday in Hawaii at the SBS Championship. It is a great spot for a golf tournament, and Kapalua no doubt will captivate those who tune in.
And yet, if golf competes with football in the fall, it does not get any easier now.
Sure, there are fewer teams and games to follow, but all you have Thursday night is college football's national championship game between Alabama and Texas.
And on Saturday and Sunday, you have one of the best weekends of the NFL season -- the wild-card weekend of playoffs, with two games on Saturday and two on Sunday. Next weekend offers the same fare -- four more weekend games while the PGA Tour plays its second tournament of the season with little buzz.
If you don't want to go up against the start of the regular season, you certainly could argue not fighting the football games that are most meaningful.
Sure, it also doesn't help prominent players continue to take a pass on the SBS.
This year it is Tiger Woods, Phil Mickelson and Henrik Stenson. Woods, of course, has other worries, but he was unlikely to play anyway. The tournament has long been off Mickelson's schedule. And Stenson, who is not a PGA Tour member, is not unlike players such as Padraig Harrington and Sergio Garcia who qualified but did not show up last year.
There have been calls to change the format, invite more players, etc.
Why not simply delay the start of the PGA Tour season a few weeks? A perfect place to begin would be the week presently occupied by the San Diego Open. It is the open week between the NFC and AFC title games and the Super Bowl. No matter where a tournament is played that week, it would get a nice run, unopposed. The following week perhaps you could play a tournament that ends on Saturday, the day before Super Bowl Sunday.
Chat With The Expert

ESPN.com golf writer Bob Harig chatted with you, the readers this week. Read what he had to say. Transcript
To help, perhaps a new format for the season-opening tournament -- whether it is in Hawaii or elsewhere -- is in order. Does any sport have a meeker opening than golf? A winners-only event sounds fine, but just 28 players are in Hawaii this week.
Maybe one of the World Golf Championship events could kick off the season. And make it the only tournament of the season that is mandatory for those eligible. There certainly are hurdles to overcome to make it work, and nobody is suggesting they would be easy. But golf can do better.
Tiger and the Canadian doctor
PGA Tour commissioner Tim Finchem bristled when the subject came up in Hawaii this week, but questions surrounding Tiger Woods and his link to a Canadian doctor who allegedly has prescribed HGH to other athletes is fair game, especially with Woods nowhere to be found and doing nothing to quell all the negativity surrounding him.
Woods, according to The New York Times, was visited by Dr. Anthony Galea on several occasions to take part in a blood-churning procedure designed to help his surgically repaired knee heal more quickly. The procedure is allowed under the tour's anti-doping guidelines, but Galea has been linked to performance-enhancing drugs, hence the raised eyebrows where Woods is concerned.
"I had no concerns about the procedure that was reported," Finchem said.
The question that if Finchem had concerns about whether Woods used HGH or any other PED was not answered, although Finchem said during a December news conference, "There is no reason for me to be concerned because I have no information to be concerned."
You would think a doctor linked to HGH who has treated Woods would be of enough concern.
But keep in mind that Woods was one of the strongest proponents for the PGA Tour to begin its drug-testing program, which started on July 1, 2008. Finchem initially was against the idea.
In the summer of 2006, before the tour had put a policy into place, Woods said, "I don't know when we could get that implemented. Tomorrow would be fine with me."
Woods said he didn't believe anyone was using steroids at the time but thought it could be an issue in the future.
"I think we should be proactive instead of reactive," he said then. "I just think we should be ahead of it and keep our sport as pure as can be. This is a great sport, and it's always been clean."
Harig's Head-scratcher of the Week
We are now just shy of six weeks into the Tiger Woods offseason story and four weeks since he announced his indefinite leave from the game, and far more questions remain than answers.
But is anyone wondering about the way the Florida Highway Patrol has conducted its business as it relates to Woods? And does Woods himself -- or his people -- have any issues with it? Or go along with it?
Many thought last week's report by an Orlando television station recounting the FHP's handling of Woods' Nov. 27 accident was old news. But it wasn't. WESH-TV, an NBC affiliate in Orlando, got an exclusive interview with an FHP spokesperson who acknowledged that Woods had been interviewed on Dec. 1 -- the same day the organization announced that Woods had been fined and the case was closed.
But on that day, the FHP let the world believe that Woods never consented to be interviewed. And that led to a month of speculation about Woods' whereabouts, whether he had been more severely injured in the auto accident, if spousal abuse had been involved and if he needed surgery to correct any problems.
According to the Dec. 30 WESH report, Woods suffered only a "fat lip," which would seem to put to rest many of the wild theories that have been going around.
And it makes you wonder why anyone -- the FHP, the Woods camp -- would let it get to that point.
So you want to play ...
Kapalua. The site of this week's SBS Championship is one of the most scenic on the PGA Tour and sure to have snowbound golfers on the mainland pining for such an opportunity. One of the reasons a venue such as Kapalua gets into the tournament-hosting business is for the exposure a tournament brings -- with the hope that we will want to play there.
[+] Enlarge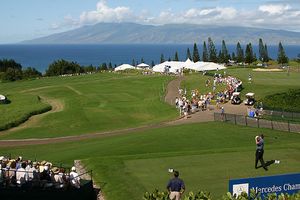 Kirk Aeder/Icon SMIKapalua's Plantation Course has the look of a little slice of paradise, especially while a majority of the United States suffers through a cold snap in January.
The Plantation Course at Kapalua is one of two on the property and where the PGA Tour pros will tee it up this week in the first tournament of the new season. Designed by Ben Crenshaw and Bill Coore, it has hosted PGA Tour pros in the season opener since 1999. It measures 7,411 yards and plays to par-73, although the regular tees play to 6,500 yards and the forward tees to less than 6,000.
How much? Rates vary based on the time of year, but the most recent green and cart fees for the Plantation Course were $298, with a discount to $238 for teeing off after 11 a.m. Registered guests at the resort, including the Ritz-Carlton Kapalua, pay $218 and $185. Caddies as well as junior rates are also available.
Click here for more information.
Bob Harig covers golf for ESPN.com. He can be reached at BobHarig@gmail.com.
Birdies And Bogeys
BIRDIES
1. The 2009 golf season is in the rearview mirror. That's the good news. But will we ever be able to move on from it?
2. Francesco and Edoardo Molinari. Because both were ranked among the top 50 golfers in the world on Dec. 31, they will become the first brothers to play in the same Masters since Jumbo and Joe Ozaki in 2000.
3. Golf in 3-D. The PGA Tour and Sony Open will partner to air events in 3-D beginning next year, with the technology to be showed on-site next week. That obviously has great potential in golf.
BOGEYS

Tiger Woods
1. The Tiger Woods scandal. The last time we compiled birdies and bogeys was the same week Woods won in Australia. The golf world has changed a great deal since then.
2. The short offseason. It wasn't that long ago that meaningful shots still were being struck. Doesn't golf need to create a viewing appetite by staying away a little longer?
3. Tim Finchem. Maybe the PGA Tour commissioner had to fly commercial, in coach, to Hawaii, but he seemed a bit testy in Kapalua judging by his responses to questions about Tiger Woods. That is unlike the commissioner, who surely must have known those questions were coming.
Notable

Mickelson
• The SBS Championship does not have Tiger Woods, Phil Mickelson or Henrik Stenson -- winners of 10 tournaments last year on the PGA Tour combined -- but it does have all four major championship winners: Angel Cabrera, Lucas Glover, Stewart Cink and Y.E. Yang.
• During a difficult time for securing sponsorships, the PGA Tour struck it big with SBS. Mercedes' deal was scheduled to end after this year's tournament, but the tour got the car manufacturer off the hook a year early and replaced it with Seoul Broadcasting System for a whopping 10 years. The company also extended its broadcasting contract with the tour to televise the PGA Tour to Korea through 2019.
• Foreign-born players are on a roll at the SBS and have won the tournament every year going back to 2002. Australia's Geoff Ogilvy (2009), Sweden's Daniel Chopra (2008), Fiji's Vijay Singh (2007), Australia's Stuart Appleby (2004 to 2006), South Africa's Ernie Els (2003) and Spain's Sergio Garcia (2002) are the most recent winners.
• Winning the season opener almost assures a successful season. Since the tournament moved to Kapalua in 1999, every winner except one -- Chopra in 2008 -- went on to qualify for the Tour Championship.
• The end of 2009 marked one of the qualifying deadlines for the Masters. Sixteen players who ranked among the top 50 in the world and weren't otherwise exempt received invitations to the first major championship of the year: Martin Kaymer (No. 13), Robert Allenby (21), Anthony Kim (24), Robert Karlsson (27), Ryo Ishikawa (30), Yuta Ikeda (33), Adam Scott (34), Francesco Molinari (38) Graeme McDowell (39), Anders Hansen (40), Oliver Wilson (41), Michael Sim (44), Edoardo Molinari (48), Miguel Angel Jimenez (49) and Ben Curtis (50).
• Padraig Harrington, Tom Watson, Ken Green and course designer Pete Dye have been honored by the Golf Writers Association of America. Harrington will receive the Jim Murray/ASAP Sports Award, which recognizes a golfer for his accessibility and cooperation with the media.
Watson and Green share the Ben Hogan Award, which goes to a player who has overcome serious illness or injury. Watson nearly won the British Open this past summer at age 59 after undergoing hip replacement surgery in 2008; Green was involved in a horrific auto accident during the summer that claimed the lives of his brother, girlfriend and dog. He lost the lower part of his right leg in the accident but has vowed to return to golf.
Dye has earned the William D. Richardson Award for his contributions to golf. All will be honored on April 7 in Augusta, Ga.
Quotable
"There is no question there was an aura about Tiger Woods over this incredible record he has, not just in majors but in other world events. That wall has been split slightly, and there are cracks. It gives us more opportunity to find ways of winning these events now, and I am thinking of myself as well as my peers."
-- European Ryder Cup captain Colin Montgomerie
Catching Up With The '09 Champ
Geoff Ogilvy cruised to a 6-stroke victory last year in Hawaii, then made an impressive run through the field in February at the WGC-Accenture Match Play, giving him two victories early in the year and seeing him rise to No. 4 in the world. But Ogilvy didn't do much after that and admits consistency is what his game lacks.
The Aussie had just three top-10 finishes the rest of the way and was not a factor in any of the major championships. He begins 2010 ranked No. 14 in the world.
SBS Championship Picks
Horse for the Course. Geoff Ogilvy. Kapalua sure appeared to the Aussie's liking last year as he romped to a 6-stroke victory.
Birdie Buster. Steve Stricker. Coming off the best season of his career, Stricker finished 2009 ranked third in the world and the FedEx Cup standings. He also won the Shark Shootout with Jerry Kelly last month.
Super Sleeper. Paul Casey had an excellent 2009 but only got to playing again late in the year after a rib injury forced him out of action after the British Open.

Cink
Winner. Stewart Cink. The British Open champion has played at Kapalua just three times since it became the season-opening event, with a tie for fifth his best in 2005. It's just a hunch, but Cink might be primed for a big year.
Numbers Game
Why would a player not want to win the PGA Tour opener -- the SBS Championship -- this week? ESPN.com's Justin Ray explains. Blog