With putter swap, changes continue for Woods

By Bob Harig
ESPN.com
Archive
ST. ANDREWS, Scotland -- Questions about his comportment, marital status and personal life dominated Tiger Woods' chat with the media on Tuesday at the Old Course, pushing into the background the golf news that the world's No. 1 golfer is changing putters.
[+] Enlarge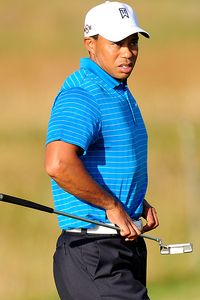 Stuart Franklin/Getty ImagesTiger Woods will play the 2010 British Open with a new Nike Method putter. His old Scotty Cameron putter was part of 13 major championship victories.
Although pro golfers are known to junk putters on a whim, whether it be yearly, monthly, weekly or even daily, Woods has gone more than 11 years with the same make and model.
That obviously makes his switch a pretty big deal.
In fact, although Titleist has made exact copies of the Scotty Cameron Newport 2 for Woods throughout the years, he says he can tell the difference and has never put another one into play. Except for changing the grip, it is the identical putter he began using at the Byron Nelson Championship in 1999.
During that span on the PGA Tour, he won 63 times, including 13 major championships, and earned more than $83 million.
There could not be a piece of sports equipment more valuable.
But Woods is switching to another putter at the Open Championship because of the relative slowness of the greens at the Old Course.
"It comes off faster, which on these greens … I've always struggled on slower greens," Woods said. "I haven't had to make that much of an adjustment because the ball is coming off a little bit quicker."
Woods will use a Nike Method putter. This is not like going from a conventional putter to a mallet or something as drastic as using a belly putter or longer putter. Nonetheless, the change is significant for Woods, even though the club looks very similar to the Titleist model he's been using.
It does say something that in recent weeks Woods has lost his swing coach, Hank Haney, switched to a Nike ball that has a harder cover and spins less, and opted for a different putter.
"It rolls the ball better and rolls it faster; it gets it rolling faster," Woods said. "I've had to make very little adjustment in how hard I'm hitting it compared to if I had my old putter. That's something [caddie Stevie] Williams and I have been talking about over the years together, is what can I do on slower greens? I always seem to struggle on them and can't wait to get to the fastest greens we play on tour.
"But this week has been a little bit different."
Woods used a different version of a Cameron putter in his 1997 Masters victory, then went to the Titleist model in 1999. Starting in 2000, he gradually phased Nike equipment into his bag, but he has held out on the putter for all this time.
When he began working on his game in March to prepare for the Masters, he practiced extensively with the Nike putter but decided at the last minute to go with his old standby.
Now it is on the shelf.
The question going forward will be whether he will go back or has simply moved on.
Who is this year's sentimental favorite?
For two years at the Open, the tournament has had a dominant storyline: A past-his-prime former champion surprisingly has a solid first round, then amazingly is in contention on Sunday.
First it was Greg Norman in 2008 at Royal Birkdale, then it was Tom Watson in 2009 at Turnberry.
Norman held a 2-shot lead going into the final round and led with nine holes to play before finishing third behind Padraig Harrington.
Watson led by a stroke heading into the final round and led by 1 on the final tee, needing only par to win his sixth Claret Jug. Instead, he bogeyed, fell into a playoff and lost to Stewart Cink.
Who, if anyone, will it be this year?
Watson's game appears to be in good shape. He won earlier this year on the Champions Tour at age 60, shot a first-round 67 at the Masters, made the cut last month at the U.S. Open and loves St. Andrews, where he finished second to Seve Ballesteros in 1984.
Perhaps this time it will be Mark Calcavecchia, the 1989 champion who recently turned 50. Calcavecchia has played a few events on the Champions Tour and will take part in his first British Senior Open next week at Carnoustie. But he's never fared particularly well at St. Andrews, his best finish a tie for 24th in 1995.
A true sentimental pick would be Scotland's Colin Montgomerie, who finished second to Tiger Woods here in 2005. Monty, 47, remarkably qualified for the Open by firing a second-round 62 at the European qualifying venue to make it into his 21st consecutive Open. But he's missed the cut in three of the past four years, and his second-place finish at St. Andrews five years ago is his only top-5 finish.
Still, Montgomerie knows the course as well as anyone. He made his Open debut here in 1990.
Harig's head-scratcher of the week
For a player of Phil Mickelson's talent and record, it always has been puzzling why he has performed so poorly at the Open Championship.
This will be Mickelson's 17th start in the championship and his fourth at St. Andrews, a place he loves but where he has never finished better than tied for 11th. His lone Open Championship top-10 came in 2004 at Royal Troon, where he finished third, a shot out of the Todd Hamilton-Ernie Els playoff. That year, Mickelson contended at all four majors and won the Masters.
But why the difficulty here? Mickelson's short-game imagination should serve him well on links courses, which can be played in many different ways. His length, obviously, would be an asset anywhere.
For a four-time major champion, there simply has been a strange lack of success on this side of the Atlantic.
"There's no question this one best suits my game because there's so much more room off the tee than other Open venues," Mickelson said. "You look at Royal Birkdale [where he tied for 19th two years ago], where you're constantly hitting irons trying to miss the rough. There's plenty of room out there. I don't feel restrained on the tee at all. I feel there's plenty of room to hit it, and it's more of a second-shot golf course. It also allows short game to be a factor.
"It wasn't until 2004 that I started playing the wind effectively. Even when I would hit low shots, I would have way too much spin on it. It wasn't until 2004 that I had kind of an epiphany of how to do that by taking more club and swinging easier."
Still, there's been just that one top-10 in his past five British Opens. Mickelson did not play last year at Turnberry while his wife, Amy, was undergoing cancer treatments.
But at age 40, Mickelson sounds like a player who is determined to get it figured out.
"I've struggled on the greens here," he said. "I've struggled on the thicker grain of grass. I haven't putted as well, so I've made some adjustments over the years to try to improve that, getting a little bit more loft on my putter, trying to get it above the grass so the ball starts on line a little bit better than it has."
So you want to play …
The Old Course. The home of golf is accessible in many ways, including through various tour groups, which can be very expensive. The best way for a visitor to play at the Old Course is to enter the daily lottery. It can be done in person or online with the results posted after 4 p.m. each day for the next day's play.
Potential golfers also can show up each morning with hopes of filling out a foursome or taking the place of those who cancel. The price is approximately 125 British pounds, which works out to about $200 at the current exchange rate.
Most believe that the Old Course is where golf was first played, and records show that the game has been played here in some form for centuries. The current layout of the course dates back to well more than 100 years, and the Open is being played here for the 27th time, the most of any of the nine current venues.
Bob Harig covers golf for ESPN.com. He can be reached at BobHarig@gmail.com.
Birdies And Bogeys
BIRDIES
1. Paula Creamer. Her victory in the U.S. Open was impressive on several levels, given the difficulty of the Oakmont course and the thumb injury from which she was recovering. American women have now won back-to-back majors for the first time since 1999.

Goydos
2. Paul Goydos. The veteran PGA Tour player put his name in the history books by shooting a 59 at the John Deere Classic, just the fourth time it has happened on the PGA Tour. And by finishing second in the tournament, he earned a spot at the British Open, his first at St. Andrews.
3. Steve Stricker. For the second straight year, he has won the John Deere heading into the Open Championship, setting a PGA Tour 54-hole scoring record in the process -- while shooting 60 in the first round.
BOGEYS
1. Michelle Wie. A 43 on her first nine of the U.S. Women's Open led to a missed cut in a season in which she has rarely contended.
2. Matt Every. The PGA Tour rookie was arrested last week at the John Deere Classic on a charge of misdemeanor drug possession. According to reports, a heavy amount of marijuana emanated from a hotel room he occupied with two caddies, and guests complained.

Daly
3. John Daly. The 1995 Open champion showed up for a dinner of past champions wearing a LoudMouth sport coat that looked a bit out of place among the jackets and ties.
Notable
• You have to love Lee Westwood's sense of humor. The Englishman, who picked up an award from the Association of Golf Writers on Tuesday night, welcomed PGA Tour commissioner Tim Finchem by congratulating him on Steve Stricker's victory Sunday at the John Deere Classic. "Lovely to see an American win on your tour," he said.
• U.S. Open champion Graeme McDowell has joined the PGA Tour for the remainder of the season, although he has earned no FedEx Cup points to this point and needs to be among the top 125 to qualify for the FedEx Cup playoffs.

McDowell
• Three 40-somethings have multiple victories this year on the PGA Tour: Steve Stricker, Jim Furyk and Ernie Els.
• The Royal & Ancient Golf Club announced Wednesday that it has removed the out-of-bounds stakes that bordered the controversial 17th hole earlier in the week. Had the organization not done so, a shot from the 16th that came to rest on the 17th tee -- a possibility -- would have been deemed out of bounds.
• England's Brian Davis is the first alternate.
• The top 10 finishers at the Open receive an exemption to next year's Open at Royal St. George's. The top four get a spot in the Masters.
Quotable
"This place is an incredible place. It's a spiritual place as well as a wonderful course, and [Jack] Nicklaus has said it -- that a career just doesn't feel complete unless you've won here at St. Andrews." -- Phil Mickelson
Catching up with the '09 champ
Lost in the disappointment of Tom Watson's loss last year at Turnberry was that Stewart Cink played beautifully down the stretch to put himself in position to win after Watson bogeyed the 72nd hole. Cink made a birdie at the last to give himself a chance, then knocked Watson out in the playoff.

Cink
The victory was the sixth of Cink's PGA Tour career and first major championship, and the question was whether it would propel him to further greatness.
The answer so far is no.
Although the victory led Cink to a strong 2009 season, he really has not been a contender in a tournament since then. This year, he has just three top-10 finishes, his best a tie for fifth at the WGC-Accenture Match Play. He tied for eighth at the Memorial last month but did not crack the top 40 in either of his past two starts.
Open Championship picks
Horse for the Course. Tiger Woods. Nobody has played it better in the past two Opens here, as the two-time winner at St. Andrews won by a combined 13 strokes.
Birdie Buster. Steve Stricker. He comes into the Open on a roll after his performance at the John Deere Classic, where he shot 60 in the first round and set a 54-hole PGA Tour scoring record.
Super Sleeper. Chris Wood. The Englishman is the only player in the field to finish in the top five at each of the past two Opens. He has yet to win in two years on the European Tour.
Winner. Ernie Els. The 2002 Open champion gets over his U.S. Open disappointment to win his fourth major.