For Tiger, the work continues with Foley

By Bob Harig
ESPN.com
Archive
It is the beginning of the end, the start of a three-tournament stretch of tournaments that will conclude the most tumultuous of seasons for Tiger Woods.
[+] Enlarge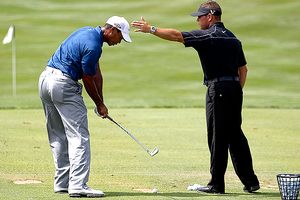 Chris Graythen/Getty ImagesSean Foley recently said he's worked with Tiger Woods on his swing several times in the past month at Isleworth, where Woods has a home.
And yet, you get the feeling that he views tournaments in China, Australia and California as a start of something new rather than the end of something old.
The No. 1 ranking is gone -- at least for the moment -- and Woods has not played an official tournament since the BMW Championship in early September. Where his game is at versus a star-filled field at the WGC-HSBC Champions will certainly be worth watching.
He does have that impressive stretch of golf during singles of the Ryder Cup, where he found himself 2 down through 5 holes to Italy's Francesco Molinari before going on the kind of run that has defined his career. Woods played the next 10 holes in 7 under and won the match 4 and 3.
"As much as I want to believe what we're doing helped some of that ... we're still talking about the greatest player who ever lived; he's going to be able to do that," said Sean Foley, Woods' swing coach. "He hit some beautiful shots that week. It was interesting to see when he got into his own ball and played Molinari, and I saw some definite improvements in the motion."
Foley said he has worked with Woods several times at Isleworth since the Ryder Cup.
"A couple of days a week -- some days I'm there for an hour, some days for two," Foley said. "I'm just making sure that we continue on the same track and can answer any questions for him."
Woods began working with Foley in earnest three months ago at the PGA Championship following his worst 72-hole tournament as a pro at the Bridgestone Invitational.
After a tie for 28th at the PGA, Woods tied for 12th at the Barclays, tied for 11th at the Deutsche Bank Championship, and then tied for 15th at the BMW Championship. He failed to qualify for the Tour Championship, then went 3-1 at the Ryder Cup.
During a media day for his Chevron World Challenge recently, Woods spoke with anticipation about the last three events on his schedule this year. And he seemed to embrace the work he's done with Foley after some initial reluctance to make any drastic changes.
"For me, it was about buying into a whole new system. I understand certain parts of it, and I didn't really understand all of what Sean was trying to teach, so I had to keep picking his brain, keep picking his brain," Woods said. "We had to do some work. A lot of stuff off the golf course, just talking and explaining what he likes to see and how things need to be positioned and the reasons why. I always want to know the reasons why.

Get all of ESPN.com's latest news, highlights and commentary about the world's most talked-about golfer. Tiger Tracker
"So after a little bit of time of trial and error on my part of hitting golf balls, I decided to go in that direction, and I'm still in it. I'm still working towards it. I don't have it all dialed in yet. But I figured if I could play the way I did in the singles match, which I hadn't done that all year, that's a positive sign."
Woods has suggested that he's picked up Foley's concepts quicker than expected, a notion that the teacher says is somewhat misleading.
"There is no way someone can get it this quick," Foley said. "What it means is he has patterns that were close to this ... and it's like this kind of makes sense. And that can change performance right away. I think the 14-, 15-, 16-, 17-year-old Tiger Woods was in these places [swing positions].
"It's obviously a little different at the top [of the swing] but the core movement of the legs and the hands ... he's been in these positions before. It was developed. It's just like peeling an onion. Getting rid of the things that don't need to be there. Once you do that with someone that great, they've already got the answer."
Still, questions persist. It has been a long time since Woods contended on a Sunday, the last time coming at the U.S. Open in June. Is it too much to expect him to do so this week in China or next week in Australia?
A big year gets bigger
For the first time in his career, Graeme McDowell has won three times in the same season after his victory Sunday at the Andalucia Masters on the European Tour.
The victory was significant in many ways for the reigning U.S. Open champion, who also earned the clinching point for Europe at the Ryder Cup. Perhaps most importantly, it was good for the Northern Irishman to get his first victory since Pebble Beach.
"It really has been a special season and I couldn't imagine it would have gone the way it has," McDowell said after his victory at Valderrama.
But McDowell's season is hardly complete. He has four big tournaments remaining on the European Tour, starting with this week's HSBC Champions in China, followed by tournaments in Singapore and Hong Kong before the season-ending Dubai World Championship, where the Race to Dubai winner will be crowned.
PGA Championship winner Martin Kaymer leads the Race to Dubai, or European Tour money list.
"I didn't want to rest on my laurels and just cruise to Dubai, I wanted to try and finish strong," McDowell said. "I'm very excited. I've punched a bit of a hole in Martin's lead and I'll go to Shanghai now and look to give him a run for his money."
McDowell trails Kaymer by 528,000 euros with those four events left. Lee Westwood, who just took over the No. 1 ranking in the world and is scheduled to play this week, is nearly 800,000 euros behind McDowell.
The Race to Dubai is a simpler version of the PGA Tour's FedEx Cup.
The top 60 players on the money list qualify for the season-ending Dubai World Championship, which offers a $7.5 million purse. The top 15 finishers in the Race to Dubai then share a $7.5 million bonus pool.
Head-scratcher
Golf likes to pat itself on the back for the numerous times players have called rules infractions on themselves in the name of honor.
But the game's players really ought to be ashamed of themselves for their lack of knowledge when it comes to that rulebook -- or for at least not consulting the local rules sheet more closely.
Among the things most remembered about this year will be Dustin Johnson costing himself a shot at a major title at the PGA Championship when he grounded his club in a hazard. As controversial as the circumstances were -- was it sand or wasn't it? -- Johnson was ultimately to blame. He admitted he did not read the local rules sheet, which clearly stated all sand on the course was to be treated as a bunker, or a hazard.
The stakes were not nearly as high at a 36-hole event in China called the Mission Hills Star Trophy.
Still, there was a substantial amount of prize money at stake, and victorious European Ryder Cup captain Colin Montgomerie cost himself a spot in a playoff due to an infraction that easily could have been avoided if he had read the local rules sheet.
Monty failed to realize that advertising signs for this event were deemed to be immovable. So when his caddie moved such a sign so Monty could more freely play his shot, he broke the rules, incurring a 2-stroke penalty.
Ryuji Imada had to add a whopping 26 strokes to his first-round score because he failed to realize that the lift, clean and place rules in use meant he could move his ball only the length of a scorecard -- not the length of a club, as is routine on the PGA Tour. It's an honest mistake, but if Imada had simply read the rules, he would not have cost himself two strokes for every time he moved his ball in such a manner.
Nick Faldo also got himself disqualified from the pro portion of the event because he failed to hole a putt on one green, picking up what would have been a gimme during a casual round.
Yes, celebrities were involved, and the event was mostly for giggles. But Lorena Ochoa pocketed over $1 million for her victory. And a bunch of players showed and didn't bother to read the rules. Kind of embarrassing, isn't it?
Bob Harig covers golf for ESPN.com. He can be reached at BobHarig@gmail.com.
Birdies And Bogeys
BIRDIES

McDowell
1. Graeme McDowell. The U.S. Open champion won for the third time this year at the European Tour event in Spain.
2. Lee Westwood. The Englishman is the first British player since Nick Faldo to hold the No. 1 ranking in the world.
3. Brendan Steele. Not only did he win the Nationwide Tour Championship, but he moved from 30th on the money list to sixth, assuring himself rookie status on the PGA Tour in 2011.
BOGEYS

Gardiner
1. Scott Gardiner. The Nationwide Tour player missed out on his PGA Tour card by just $2,010, finishing 26th on the money list. As it turns out, he missed his card by two strokes in the final event.
2. Tiger Woods. His fall from No. 1 was inevitable -- and somewhat anticlimactic, given his lack of victories in 2010. The good news is, he's got three more opportunities this year -- plus next year -- to get back on top.
3. Fall Series schedule. The two-week break -- after many in the late-season fields had to wait more than a month -- is something that needs to be addressed.
Senior moment
Rod Spittle nearly didn't get to experience the joy of winning on the Champions Tour on Sunday. With a 4-footer to win a sudden-death playoff over Jeff Sluman, the Monday qualifier from Canada had moved his marker out of Sluman's way. When he went to knock in the biggest putt of his life, he at first failed to return his marker to its original spot.
"I probably would have hit it," Spittle said. "I was kind of staring it down. But then it sounded like the posse coming to get me."
Spectators, rules officials and even Sluman came to Spittle's aid, making sure he replaced his marker and avoided a disastrous penalty at the AT&T Classic.
He then rolled in the putt to become an unlikely winner at age 55 on the Champions Tour.
The Rod Spittles of the world are not supposed to be factors on the Champions Tour. The system is too stacked against them. Without a regular tour pedigree, it is very difficult to force your way into the most closed of shops.
The Qualifying School offers only a handful of fully exempt spots, so for someone who never played the PGA Tour -- where career money is a qualification criteria -- there are no other options but to Monday qualify.
"The Monday qualifying system for this year had three or four spots available each week, which has kind of been my world since we started," Spittle said. "If we had listened to everybody a few years ago we probably wouldn't have started this. But that wasn't about to happen."
Spittle became just the 11th player in Champions Tour history to advance into the tournament through Monday qualifying and then go on to win the event. The victory gives him a one-year exemption through next year's AT&T Classic. Short of finishing among the top 30 on the money list, he'll have little status for the following year.
Although he played college golf at Ohio State and remained a competitive amateur, Spittle never turned pro until his 50th birthday approached. There has been a lot of second-guessing along the way. Until now.
"This just changes everything we've been doing," Spittle said. "It just changes everything and it totally hasn't sunk in yet. We've been working the last three or four years to do this. It's just amazing."
Notable
• The HSBC Champions is more than just a nice offseason event. Last year it became part of the WGC family. This year, a victory counts on the PGA Tour résumé -- for PGA Tour members. It is also an important event in the European Tour's race to Dubai. And world ranking points are at stake, meaning Lee Westwood, Tiger Woods, Martin Kaymer and Phil Mickelson all have a chance to be No. 1 when the tournament concludes.
• Although a win at the HSBC counts as an official victory for PGA Tour members, it is not retroactive to last year when Phil Mickelson won the title.
• If a non-PGA Tour member wins, he will not earn a PGA Tour exemption, but would still be eligible for the season-opening SBS Championship in Hawaii.
• With Westwood, Woods, Kaymer and Mickelson all having a shot to be No. 1 at the end of the week, it is the first time so many players had the opportunity since 1997 -- when Woods, Greg Norman, Ernie Els and Tom Lehman all occupied the No. 1 spot for a time.
• The Champions Tour season concludes with the Charles Schwab Cup Championship at Harding Park in San Francisco. It is the senior circuit's version of the Tour Championship, with the top 30 in Schwab points qualifying. Bernhard Langer leads and can be displaced only if Fred Couples wins and Langer finishes in a two-way tie for fourth or worse.
• Kaymer failed to win in Spain, ending a three-tournament victory streak with a 21st place finish at Valderrama, his worst since finishing 22nd at the WGC-Bridgestone Invitational in August. Still, it's been quiet the year for the German, who has had nine top-10 finishes, including four victories. He was eighth at the U.S. Open and seventh at the British Open in addition to winning the PGA Championship.
• Jamie Lovemark won the Nationwide Tour money title, a significant achievement and one that comes with a perk the other 24 players who earned PGA Tour cards don't get -- full status. Lovemark is treated as if he finished among the top 125 money winners, which means he is not subject to the reshuffle. Not even the Q-school medalist gets that, although both players get spots in the Players Championship.
Quotable
"As far as the world ranking is concerned, yes, I'm not ranked No. 1 in the world. In order to do that you have to win, and I didn't win this year." -- Tiger Woods on dropping from the No. 1 spot for the first time since June 2005