Troy Merritt dealing with cash conundrum

By Bob Harig
ESPN.com
Archive
Troy Merritt could win more money this week than he has all year on the PGA Tour and still not have a full-time job in 2011.
[+] Enlarge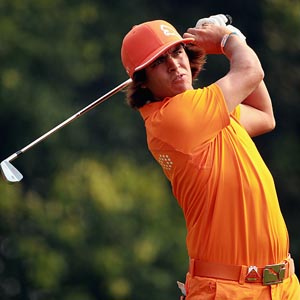 Andrew Redington/Getty ImagesRickie Fowler, coming off playing two weeks in the Far East, will tee it up this week at Walt Disney World in the hopes of earning his first PGA Tour win. Oh, and possibly clinching $1 million for capturing the Kodak Challenge.
If that seems a bit complicated, well, it's because of the two distinct competitions in play this week for the PGA Tour rookie at the Children's Miracle Network Classic.
Merritt, 25, finds himself in the precarious position of being No. 121 on the PGA Tour money list. He needs to remain among the top 125 upon the conclusion of this week's event at Walt Disney World to remain fully exempt next year.
But he also sits atop the Kodak Challenge standings, a year-long event that takes the best cumulative score on 18 of the 30 holes used.
Merritt leads by one stroke over Rickie Fowler and Aaron Baddeley. The catch is, it's a winner-take-all format. Fowler decided to go for the prize despite having played the past two weeks in Malaysia and China. Baddeley is skipping his country's Australian Masters to go after the cash.
Merritt, meanwhile, could hold his one-stroke lead in the competition but still miss out on his tour card, given the right -- or wrong -- circumstances.
And that, ultimately, is what will weigh more on his mind as the final official PGA Tour event of the year begins Thursday.
"I need to go out there and I need to play every single hole to get myself the best chance to stay inside the top 125," Merritt said. "As far as the Kodak goes, that depends on a few of the guys that are really close to me. ... I'm going in there, just going to try to play good golf and worry about the money list, since that was my main goal at the start of the year, just to keep my card; and if I perform well on the Kodak hole when it comes, then that's just an added bonus."
Merritt admitted, however, that he added events and changed his strategy over the course of the year as it became clear he was a factor in the Kodak Challenge. A final-round eagle in Las Vegas two weeks ago on that week's designated hole vaulted him into the lead.
This week's hole is the par-4 17th on Disney's Magnolia course. Competitors play the Magnolia and Palm courses during the first and second rounds, with the Magnolia the venue for the final two rounds.
The hole has plenty of options. It could be set up as a drivable par-4 of just less than 300 yards, or stretch all the way back to 480.
If Merritt is able to play the hole three times, that will be a good sign. It means he will have made the cut, and that will help his chances considerably.
With $760,798, Merritt has a $37,470 lead on No. 125 Troy Matteson -- who is exempt for next year due to his 2009 Frys.com victory. Matteson has a $50,461 lead on No. 126 Briny Baird.
If Merritt misses the cut, either of those players could pass him with a top-25 finish -- depending on how others fare.
Merritt, obviously, hopes to not be in this position, at least as far as the money list is concerned.
He learned that being the medalist at the PGA Tour Qualifying Tournament doesn't mean much once the tournaments get started.
"I didn't fully understand what the PGA Tour was all about until I stepped on the practice putting green on Thursday at Sony and saw guys like David Toms, Davis Love, Retief Goosen. . .guys I've watched on TV," he said of his rookie year in 2010. "Now I have to play against them and make a living."
Merritt shot 65 that day and finished 20th in his first tournament. He made the cut in his first three events, including a tie for 15th in San Diego. Then he missed seven straight cuts and 11 out of 13.
It's been a battle ever since, aided by a tie for 18th a few weeks ago at the Frys.com Open.
"It's gone from extreme highs to extreme lows, which I think a lot of tour players can say they feel," Merritt said. "It's definitely been a learning curve all year, and it's really helped me look at my overall game and determine what I need to do to be successful. I just need to play the game like I always have, put the ball in play, play solid golf, don't take a lot of risks, and count up all of the finishes at the end of the year."
If things go well, Merritt could be counting up a lot of cash as well.
European power
Picking up where they left off after a thrilling and tense victory over the United States at the Ryder Cup, Europeans grabbed the top five spots at the HSBC Champions, four of them occupied by members of the winning team. Winner Francesco Molinari was followed by Lee Westwood, Luke Donald and Rory McIlroy, with Scotsman Ritchie Ramsay -- who was not a member of the team -- tying for third.
The first American was Tiger Woods -- the only one to finish among the top 20 -- who tied for sixth along with Peter Hanson, who also played for the European Ryder Cup team. In all, Europe had eight of its 12 team members finish among the top 20.
What does it mean? Not much, other than what we already knew -- Europe has more than a handful of prominent players competing at a high level on the world stage.
Molinari's victory capped an incredible year for the Italian duo of brothers Francesco and Edoardo. Between them, they posted three victories, three thirds and five fourths. They both played for the European Ryder Cup team.
But for Francesco, the win was especially important. He had seen his brother win twice this year. He dealt with his own putting woes, which have kept him from more success. He saw another Italian, 17-year-old Matteo Manassero, win a European Tour event recently. And Francesco's lone victory had come four years ago.
"When they won, I wanted to win as well,'' he said. "I wanted to contribute to the golden moment of Italian golf.''
So you want to play ...
... Disney. There are four courses at the Walt Disney World Resort, including two used for the Children's Miracle Network Classic, the Magnolia and the Palm.
All are open to the public, with resort guests getting a break on fees.
Through the end of January, rates on each of the resort courses (the others are called Lake Buena Vista and Osprey Ridge) are $109 for resort guests and $124 for day visitors.
The tournament uses a pro-am format for the first two rounds (one pro, one amateur), so each professional in the field plays one round on the Magnolia and one on the Palm, before the final 36 holes are played over the tougher Magnolia course.
The Palm course is typically among the easiest on the PGA Tour. It measures just over 7,000 yards. The Magnolia is more difficult, and stretches to more than 7,500 yards.
But due to the amateur format, the pins are not overly tough the first two days, and while the Bermuda rough is deep, it is not overly difficult for a tour pro. A score of at least 18 under has been required to win in eight of the 10 years.
The Disney tournament has a long history, dating to 1971. This is the 40th playing of the event. Jack Nicklaus won it the first three years, before it became a team event for eight years. Among the tournament's winners have been Hal Sutton, Payne Stewart, Larry Nelson, Lanny Wadkins, Raymond Floyd, Mark O'Meara, Tiger Woods and Vijay Singh.
Three years ago, the tournament became part of the PGA Tour's Fall Series and has been the last event on the schedule.
Bob Harig covers golf for ESPN.com. He can be reached at BobHarig@gmail.com.
Birdies And Bogeys
BIRDIES
Molinari
1. Francesco Molinari. It was just the second victory of his career, but the Italian picked a big stage, holding off No. 1 Lee Westwood by a stroke at the HSBC Champions -- while nobody else was closer than 10 shots.
2. Jiyai Shin's victory at the Mizuno Classic in Japan was her second of the year and her eighth overall on the LPGA Tour. And she is just 22.
3. Bernhard Langer. He didn't win the Schwab Cup Championship on Sunday, but he did win the season-long points race after a five-victory season that included back-to-back major titles on the Champions Tour.
BOGEYS

Mickelson
1. Phil Mickelson. He still gets the benefit of the doubt due to health issues resulting from arthritis, but Lefty pronounced himself fit -- and then tied for 41st in defense of his HSBC title.
2. Tiger Woods. The good news is his tie for sixth at the HSBC was his best finish since a tie for fourth at the U.S. Open in June. The bad news: he finished 13 strokes back of the winner and was never in contention after the first day.
3. Stuart Appleby. A final-round 80 sent him tumbling down the leaderboard in China to a tie for 69th. Since shooting 59 during the final round of the Greenbriar, Appleby has broken 70 just twice in 30 official rounds.
Notable
• Tiger Woods, Martin Kaymer and Phil Mickelson would have moved to No. 1 in the world with a victory at the HSBC Champions. Neither came close, obviously, with Woods' tie for sixth still 13 strokes back. Woods defends his title this week in Australia, while Mickelson and Kaymer play in Singapore.
• No. 1 Lee Westwood is not expected to play again until he defends his title later this month at the Dubai World Championship.
• Kaymer, who is ranked third in the world and first in the European Tour's Race to Dubai, made it known last week that he would not be taking his PGA Tour card in 2011 -- like Lee Westwood. Kaymer was eligible to join by virtue of his PGA Championship victory, but will still likely be seen in a good number of U.S. events -- the majors, World Golf Championship tournaments and Players Championship. He simply won't be eligible for the FedEx Cup playoffs.
• Even more surprising is Rory McIlroy, the likely PGA Tour rookie of the year. He, too, will not take up membership in 2011.
• The Children's Miracle Network Classic is the last of five Fall Series events and the final official tournament of the 2010 PGA Tour schedule.
• A good bit of interest centers around players trying to finish among the top 125 money winners and earning full exempt status for 2011. Last year, however, only two players moved into the top 125 while two were bumped out. Those who finish 126th to 150th on the money list have conditional status for next year.
• Troy Matteson is 125th on the money list but he is fully exempt next year due a two-year exemption he received for winning the 2009 Frys.com Open. Michael Allen, who also played on the Champions Tour and finished second Sunday at the Charles Schwab Cup Championship, is 124th with $726,631. Briny Baird is at 126th with $710,337.
• Henrik Stenson (130th) and Nathan Green (139th) are also exempt for next year due to 2009 victories. Stenson won the Players Championship -- which comes with a 5-year exemption -- and Green won the Canadian Open last year.
• For a handful of players, there is still a chance to finish among the top 30 money winners. The perk for that is an invitation to both the Masters and U.S. Open next year for those not already exempt.
• Lorena Ochoa is putting retirement on hold -- for one week, anyway -- to play in this week's Lorena Ochoa Invitational, for which she was given a sponsor's exemption.
Quotable
"Playing Tiger in the Ryder Cup definitely helped me, because when you are playing No. 1 in the world, it's not easy to always stick to the game plan.'' -- Francesco Molinari, who lost 4 and 3 to Tiger Woods in Ryder Cup singles, after the Italian's victory Sunday at the HSBC Champions.
Catching up with the '09 champ
Stephen Ames is not defending his title at Disney due to back problems that forced him to withdraw from his last tournament, the Justin Timberlake Shriners Hospitals for Children Open. Ames had opened the tournament with a 66, so he obviously was not playing poorly.
Nonetheless, it was a somewhat frustrating year for Ames, who followed up his playoff victory at Disney a year ago with just a single top 10 -- and that was a tie for sixth in March at the Transitions Championship.
But on the strength of eight top 25 finishes, Ames managed to make it to the third leg of the FedEx Cup playoffs, where he tied for 57th at the BMW Championship. He ended up 68th in FedEx Cup points and ended the official season with $916,527.
Children's Miracle Network Classic predictions
Horse for the Course. Davis Love. He's played in this tournament 18 times, and won it just two years ago.
Birdie Buster. Rickie Fowler. The PGA Tour rookie might not know what day it is, but he's certainly playing his share of golf. From Las Vegas to Malaysia to China and now to Disney.
Super Sleeper. Michael Allen. He nearly won last week on the Champions Tour and now he's at Disney to try and keep his PGA Tour card. He is 124th on the money list.
Winner. Stewart Cink. The 2009 British Open champion makes his first start since the Ryder Cup. He's looking for his first victory since capturing his lone major title.