Solution for Villegas' DQ shouldn't be this hard

By Bob Harig
ESPN.com
Archive
Golf's sometimes peculiar rules and how they are applied again became the subject of interesting debate in the aftermath of Camilo Villegas' disqualification on Friday at the Hyundai Tournament of Champions.
The issue isn't so much the 2-shot penalty that Villegas incurred when moving a divot out of the path of his rolling golf ball -- it seems more than clear that he violated a rule (23-1) -- but the disqualification.
[+] Enlarge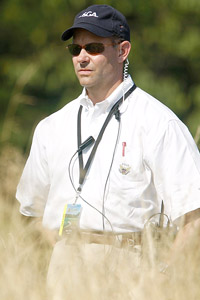 Scott Halleran/Getty ImagesMike Davis, the USGA senior director of rules and competitions, said protecting the field is of utmost importance when it comes to rulings.
After all, Villegas wasn't disqualified for moving the divot. He was disqualified because he signed a scorecard that did not include the 2-stroke penalty for the offense.
In Villegas' defense, he wasn't aware of the penalty, so how could he know to add it?
And that is why there are again cries to change golf's rules. In this case, simply add the penalty as opposed to disqualification. Seems simple enough, doesn't it?
Couldn't the PGA Tour create a local rule that allows for penalty strokes to be added even if a scorecard has been signed?
"We play under USGA rules, and we would be going against the rules if we did that," said Mark Russell, a longtime rules official on the PGA Tour who will officiate at this week's Sony Open. "I know that it is a very harsh thing, but you have the opportunity to sit down in the scoring area with one of our people, one of our officials, and if you have any questions about the rules, our staff is readily available.
"It sounds absolutely insane to a person out there who is a golf fan. 'They disqualified the guy? Are you kidding me?' But you've got to get your score right. He committed an infraction that was a 2-stroke penalty and didn't add them [to his score]."
The PGA Tour does have local rules that would not be used in a USGA event such as the U.S. Open. For example, if weather conditions warrant, the tour will invoke preferred lies or "lift, clean and place" -- something you'd never see happen at the U.S. Open.
The difference? The rulebook accounts for such an occurrence. Another example is the USGA rule which allows for practice putting after a hole has been played. At PGA Tour events, a local rule is enacted which prohibits such practice to help with pace of play.
But the signing of the scorecard in the rulebook is sacrosanct. Once that occurs, nothing can be done to change the score. There is no such allowance for a local rule, according to Mike Davis, the senior director of rules and competitions for the United States Golf Association.
Bob Harig's mailbag
Who will get off to a fast start to the 2012 PGA Tour season? Should the tour change how it opens the season? Drop ESPN.com golf writer Bob Harig a line, and he'll respond to some of the best questions. Ask Harig a question
"We don't want to incentivize not knowing the rules," Davis said. "It is ultimately not fair to the other players for somebody to get an advantage because he doesn't know the rules. As distasteful as it seems to have that violation called in, it's all about protecting the field in stroke play. What about the player who knows that rule and calls the penalty on himself, which happens all the time? He basically would be at a disadvantage because he knew the rule and somebody else didn't. Camilo didn't know the rule but would get an advantage there. It all goes back to being fair to the field."
OK, but what about the violation not being brought to Villegas' attention until well after he signed his card?
Many have wondered why golf's rules seem so inflexible on this. At the time he signed his card, he believed the score he wrote down on the 15th hole at Kapalua was correct. It wasn't until the next day it was discovered he was wrong. Why not just add the 2-stoke penalty -- signed scorecard be damned -- and let him remain in the tournament?
"We have had formal requests to review that," Davis said of both the USGA and the R&A, which governs the game outside of the United States and Mexico. "We've gotten it from the PGA Tour, LPGA Tour, European Tour … and we have looked at it. One thing that has been proposed is assessing the penalty, and then adding an additional 2-stroke penalty -- so it would be a total of 4 strokes [if the penalty came to light after the card was signed]. At least the player would still be in the field.
"We looked at it long and hard. At the end of the day, it just didn't gain traction. There are just so many ramifications. We don't really like how the golf world is viewing these type of things, but at the end of the day, it is the players' responsibility to know the rules."
There is nothing stopping the PGA Tour from instituting a local rule that is not covered in the USGA rule book.
But good luck with that.
"We could do that, but I don't know if we want to do that," Russell said. "It just doesn't work like that."
The Garrigus fist pump
There is no doubt that Robert Garrigus is emotional. We saw that when he blew the St. Jude Classic last year, redeemed himself with a victory at the season-ending Children's Miracle Network Classic, and again last week at the Hyundai Tournament of Champions.
Sony Open Predictions
Which players have the best shot to cash the winner's check on Sunday? ESPN.com's panel of experts share their insights into the field this at the Sony Open. Blog
There was Garrigus fist-pumping on Saturday when rolling in an eagle putt on the 18th hole. And again on Sunday, there he was screaming at his ball to find the green after hitting a second-shot approach to the par-5 finishing hole.
Turns out, however, that Garrigus may have gone a bit too far with his Saturday celebration. He holed a 60-foot eagle putt and understandably was elated, reacting with several fist pumps that apparently led to a sore shoulder.
"I feel embarrassed to admit it, but I hurt it on 18 [Saturday] after I made that putt," Garrigus told reporters after losing to Jonathan Byrd in a playoff. "I hadn't fist-pumped like that in a long time. I overdid it. It just didn't loosen up at all today."
Still, Garrigus performed well enough to get himself into a playoff, which got him a nice start to the year.
And although he missed out on an opportunity to get an invitation to his first Masters by winning (his victory at Disney did not qualify), Garrigus has now moved to 81st in the world, with the top 50 through March getting a spot in the year's first major.
Just wondering ...
... if it is really such a good idea for the LPGA to stage a tournament in which players don't get to keep any of the prize money. It is a heck of a thought, a noble gesture, and it is getting the tour plenty of publicity.
The RR Donnelley LPGA Founders Cup is a new tournament that will be played in March. The LPGA needs all the new tournaments it can get, but this one comes with a catch: All of the prize money will be donated to charity.
Players will get free hotel accommodations and stipends for their caddies. With a "mock" purse, players will "receive" prize money for their efforts that will be reflected on the money list. But they won't actually get any cash.
While the idea to help charity is appreciated, this doesn't seem like the way -- and certainly not the time -- to do it. Only a handful of players make a really good living on the LPGA Tour. Sure, 70 players topped $100,000 in earnings, but that is before expenses and taxes.
It is tough to feel sorry for professional athletes who make ludicrous amounts of money, but the point here is that very few of these players are raking it in. And among those who are, should they be told that a week pursuing their livelihood should be spent working for free?
Bob Harig covers golf for ESPN.com. He can be reached at BobHarig@gmail.com.
All rookies not created equal
Birdies And Bogeys
BIRDIES

Byrd
1. Jonathan Byrd. After posting three PGA victories in eight years, Byrd is now 2-for-2 in his past two starts with his win at Kapalua -- which also got him a spot in the Masters.
2. Graeme McDowell. In his first appearance at Kapalua, the U.S. Open champion nearly stole the title with a final-round 62, settling for third.
3. Louis Oosthuizen. He skipped the Hyundai, but Oosthuizen notched a victory in his homeland at the Africa Open, his first title since capturing the Open Championship last July.
BOGEYS

Garrigus
1. Robert Garrigus. It's tough to knock a guy for finishing second, but the guess here is that the long-hitting Garrigus rues his missed opportunity on the first playoff hole, which had proved to be an easy birdie hole for him during the tournament.
2. Armchair rules officials. It still is amazing that players -- in the latest case, Camilo Villegas -- get disqualified because somebody noticed something on television that wasn't picked up by anyone on site.
3. The LPGA's "phantom purse." Good intentions, bad timing.
Notable
• Jonathan Byrd can join Ernie Els, Vijay Singh and Jim Furyk as players who have won both the Tournament of Champions and Sony Open if he wins this week in Honolulu. Only Els has won both tournaments in the same year.
• With his playoff victory in Maui, Byrd became the first player since Tiger Woods in 1999-2000 to win consecutive starts in a playoff. Woods did it at the '99 WGC American Express Championship followed by the Mercedes (now Hyundai). Byrd won his last start in Las Vegas by making a hole-in-one in a playoff.
• At least two dozen rookies will be in this week's Sony Open field. There are 35 rookies on tour, ranking from 11 who have never teed it up in a PGA Tour event to international winners such as Louis Oosthuizen, Robert Karlsson and Charl Schwartzel.

Eichelberger
• Dave Eichelberger, 67, is in this week's field by virtue of winning the Aloha Section PGA Professional Championship in September. He shot his age that day to earn a spot in the field. He last played in a PGA Tour event at age 60. Eichelberger won six times on the Champions Tour.
• Then there is Hideki Matsuyama, an 18-year-old who is the youngest player in the Sony field. He was granted a sponsor exemption. Matsuyama won the Asian Amateur in October, thus qualifying for the Masters.
• Jesper Parnevik, 45, a five-time tour winner, is playing this year on a one-time exemption for being among the top 50 money winners all time. Parnevik's 2010 season was cut short due to back issues that threatened his career.
• Australians Matt Millar, Kurt Barnes and Rick Kulacz earned spots in the British Open on Tuesday at International Final Qualifying in Melbourne. They took the top three spots in a 51-player qualifier at Kingston Heath. Kulacz bested Stephen Leaney -- runner-up at the 2003 U.S. Open -- in a playoff for the final spot. This year's Open is at Royal St. George's.
• The European Tour's four-tournament swing in South Africa concludes at the Joburg Open, where Charl Schwartzel is the defending champion. Next week the tour moves to the Middle East and Abu Dhabi for the first of four tournaments.
Quotable

Els
"I think it's a great event to get their feet wet. You walk around the range and you think you're on a different tour." -- Ernie Els on all the new faces at the Sony Open.
Catching up with last year's champ
It was a strange year for Ryan Palmer in 2010. After capturing the Sony Open for his third career PGA Tour title, Palmer endured some maddening fits of poor play, at one point missing 10 of 11 cuts.

Palmer
Then he found his form again, finishing second to Hunter Mahan at the WGC-Bridgestone Invitational, tied for fifth at the Barclays and 28th at the Tour Championship. Although he was near the bottom at East Lake, just by getting there meant he would be exempt for the first three major championships this season.
Palmer ended the year with eight top-10 finishes and earned more than $2.9 million. He finished 23rd in the final FedEx Cup standings.
In the season opener at the Hyundai Tournament of Champions, Palmer finished 15th.